Description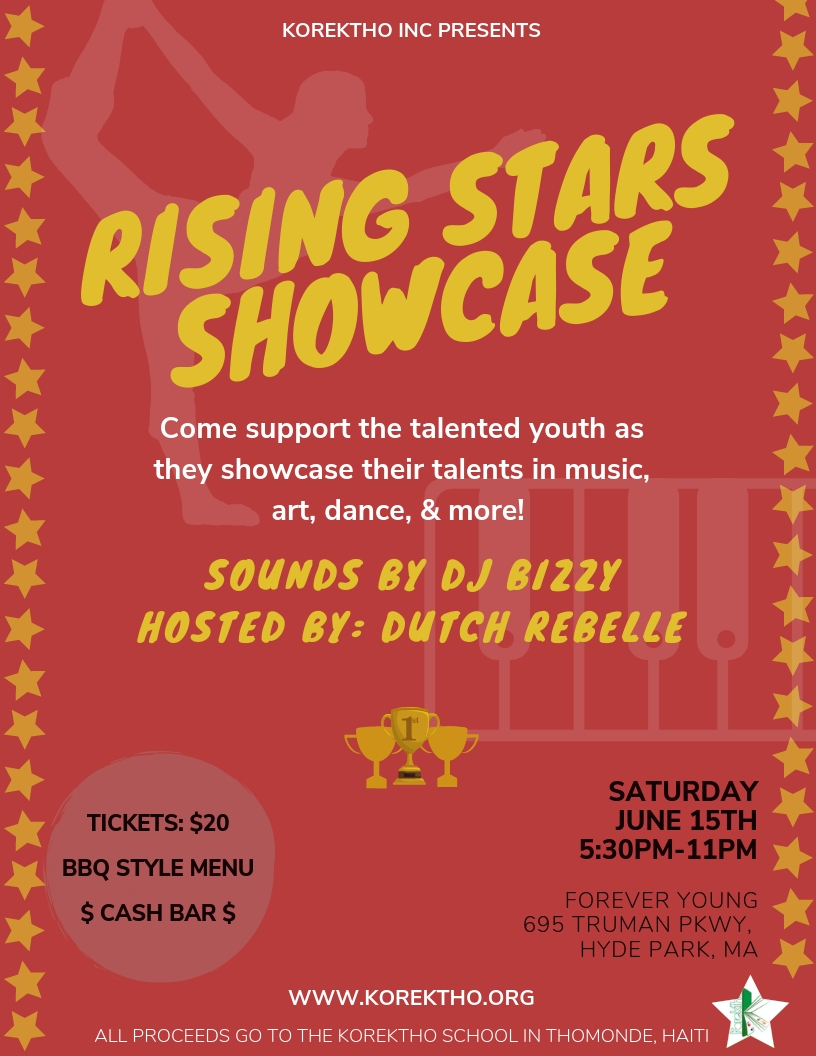 KOREKTHO IS HOSTING ITS FIRST "RISING STARS SHOWCASE" IN AN EFFORT TO PROMOTE CREATIVITY IN OUR COMMUNITY AS WE DO FOR OUR STUDENTS AT THE KOREKTHO SCHOOL IN THOMONDE, HAITI.
ON JUNE 15TH, COME OUT FOR A NIGHT OF FAMILY PACKED FUN SHOWCASING THE "RISING STARS" OF OUR COMMUNITY! JOIN US FOR MUSIC FROM DJ BIZZY, COMPLIMENTARY BBQ STYLE FOOD, GAMES AND PERFORMANCES FROM OUR "RISING STARS" HOSTED BY BOSTON MAGAZINE'S 2018 "BEST MUSIC ARTIST" DUTCH REBELLE!
PER USUAL, 100% OF PROFITS ARE GIVEN TO THE KOREKTHO SCHOOL IN HAITI TO COVER THEIR OPERATIONAL COSTS (SCHOOL SUPPLIES, LUNCH, TEACHER COMPENSATION + MORE). CASH BAR AVAILABLE!
*BUY 3 TICKETS GET 1 AT 50% OFF*
FIND OUT HOW YOU CAN GET INVOLVED WITH THIS EVENT AND/OR FUTURE EVENTS AT WWW.KOREKTHO.ORG OR EMAIL KOREKTHO@GMAIL.COM