About this Event
Korean Outdoor Pop Up Series,
The Family's Janchi #3
(Janchi , 잔치 means "gathering", "party" in Korean)
Galbi-jjim & Galbi-tang Platter
(Galbi-jjim is braised beef short ribs, Galbi-tang is beef short rib soup. )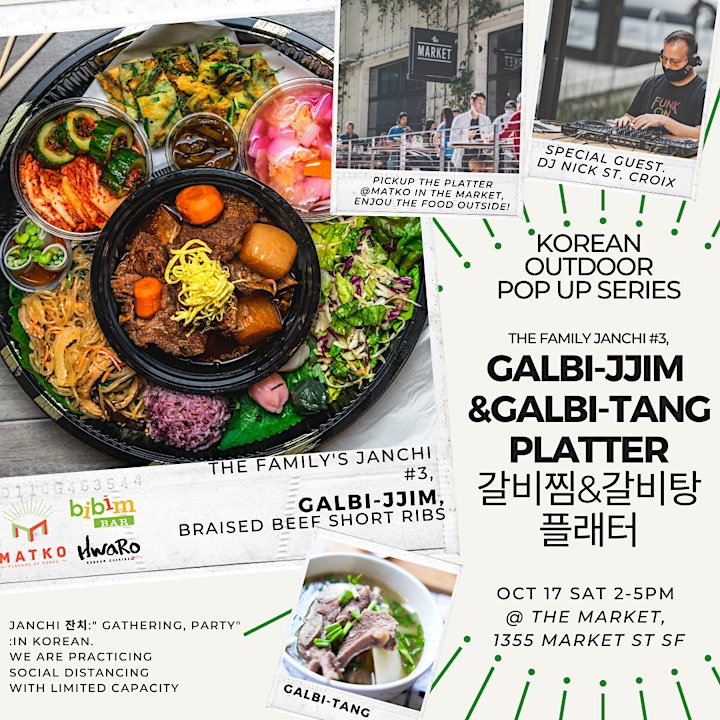 * Each ticket is good for 2 people
* Our last Janchi was a SOLD OUT EVENT, so we decided to do it again and make it even more special for those who missed the last one.
............................................................................................
Good Food is a Good Mood, especially with good people, good drinks, and good music ;)
We are excited to share our Korean culinary culture and love with the SF community. This outdoor food series will be held in the heart of San Francisco, with different types of special Korean food served that you would not be able to normally find in SF.
The Family's 3rd Janchi, what are we serving?
Galbi-jjim(갈비찜) : Galbi-jjim is braised beef short ribs, which is typically served during traditional holidays and on special occasions in Korea.
Galbi-tang (갈비탕): Galbi-tang is beloved Korean hearty beef short rib soup.
The Platter: includes purple rice, Japchae noodles, chive pancakes, 3 different types of Kimchi, lettuce salad, and rice cake.
Dessert: The famous Mitchell's vanilla ice cream topped with deep fried shredded sweet potato.
Come and taste the flavors of Korea!
* We also have an option for vegetarians. Make sure to select "vegetarian" when purchasing your ticket.
* Please note the last event was sold out, so make sure to get your ticket ASAP. You might not be able to get tickets at the door if we are sold out before your arrival.

Join us and enjoy our special Korean food in a safe outdoor dining area.
This Janchi will also include :
A special DJ (Nick St. Croix) will be playing music to highlight the Saturday vibes!
Outdoor dining tables and seating.
New experiences of Korean culinary culture.
A booth for The World Famous Vegan Kimchi (according to Mama An) for Kimchi-Holics.
Saturday afternoon with good people and good vibes.
Check-in Instruction:
Once you've arrived at the venue, check-in at the Matko counter in The Market and receive your food ticket. Locate some seating outside.
Once you're ready for your food, you can pick up the food with your ticket at the Matko counter.
Food will be available to be redeemed between 2pm to 3:30pm. Make sure to pick up your food during these hours.
You can purchase drinks or alcohol inside The Market to complement your meal.
* All pictures shown are for illustration purposes only. Actual products may vary due to product enhancement. Products and specifications subject to change without notice.


This event is a collaboration of the teams from three Korean Restaurants in San Francisco: Matko, Hwaro, and BibimBar.
Matko is a fast-casual restaurant, located in both One Market Street and The Market in the Twitter building, featuring Homestyle Korean Meals. Matko believes that homestyle cooking is the vehicle that brings people together over food and ultimately brings happiness to everyday life. Matko offers "Build Your Own Korean Bowl" (Dosirak), which combines fresh Korean Banchan (side dishes) and delicious proteins together for a balanced meal. Matkofood.com / @matkofood
BibimBar is a fast casual restaurant offering "Build Your Own BibimBap", BibimBap is a beloved dish in Korea generally served as a bowl of rice topped with vegetables, meat, fried egg and sauce and mix everything to enjoy. Bibimbar.com / @bibimbarsf
Hwaro is a Korean restaurant in Outer Mission featuring traditional cooking with a California twist.
Our goal is to spread positive energy through delicious Korean food that's made with love and care. Let's enjoy the food and experience the culture together on a beautiful Saturday afternoon! The food will be cooked by our own mama An and chef Ryan Lee. Come hungry!
Gunbae 건배! (cheers in Korean)!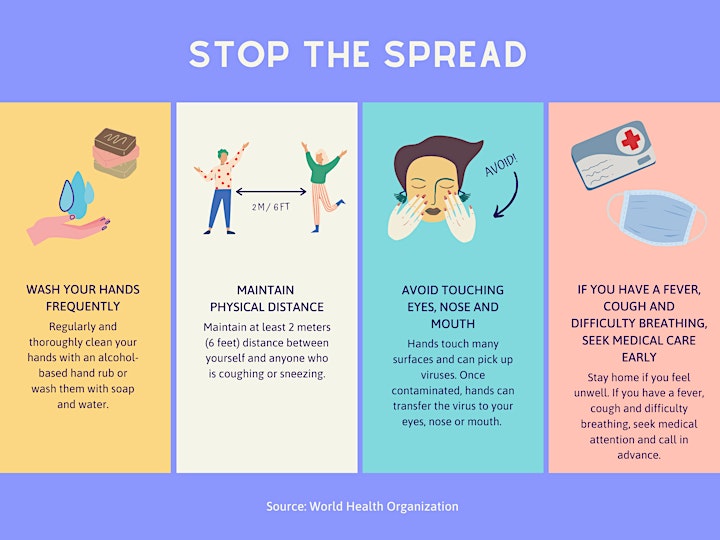 * * * Remember to be respectful of the recommendations for social distancing! We will do our part, so please do yours so that everyone can have a comfortable afternoon. * * *
This series is about our SF foodie community, your safety, and most of all, supporting each other during this difficult time.
We are strictly enforcing Health & Safety guidelines. Following the guidelines are necessary to keep us ALL safe and secure.
Attendance: Extremely limited at all our events, so please RSVP ASAP! :)
Face Coverings: Make sure you bring your own face cover with you. You are not allowed to join if you refuse to wear a face covering in common spaces outside of the dining area.
Spacing: We will ensure all tables are placed a safe distance of 6ft apart.