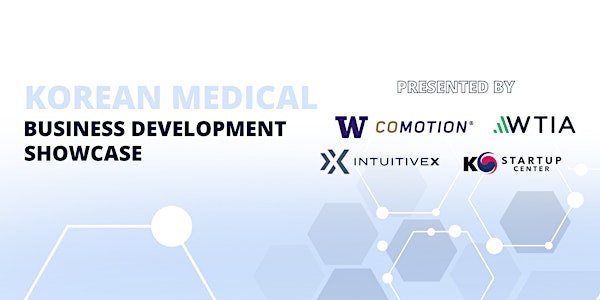 Korean Medical Innovation Business Development Showcase (Virtual Event)
Join IntuitiveX, Korean Startup Center, UW CoMotion, LSW, and WTIA for a business development showcase of five Korean health companies
About this event
1 hour 30 minutes

Mobile eTicket
Over the past four months, through a partnership with the Korean Startup Center (KSC), IntuitiveX alongside University of Washington - CoMotion and Washington Technology Innovation Alliance (WTIA) have been providing five Korean companies with strategic guidance, resources and a cohort of mentors to support with their commercialization efforts within the U.S. as they prepare for U.S. market entry.
On December 13, join us for an in-person and virtual showcase where the following five companies — Deep Bio, Olive Healthcare, VNTC, Orange Biomed, and Mezoo  — will share how their novel healthcare technologies are driving innovation to solve unmet challenges in healthcare.
After the pitches, join us for networking and discussion. This will be an opportunity to connect with the five Korean startups and identify opportunities to collaborate with them as potential customers, strategic partners, advisors, and more.
Agenda:
6:00 pm PST - 6:10 pm PST | Welcome remarks from IntuitiveX, KOSME, WTIA, and UW CoMotion
6:10 pm PST - 6:20 pm PST | Speaker: Dave Parker
Dave Parker is a Tech Entrepreneur, Investor, Board, and Advisory Board Member for dozens of companies. Formerly the Senior VP of Programs at UP Global (Startup Weekend + Startup America) that was purchased by Techstars.
6:20 pm PST - 7:20 pm PST | Startup Pitch w/ 5 Judges (5 min. each + Q&A + Feedback from judges) & 1st Place Prize
Judges: Dave Parker, Dr Jeffrey Roh, Rich Giersch, Nick Ellingson
_______________________________________
Featured companies:
Deep Bio Inc. is an AI healthcare company with in-house expertise in deep learning and cancer pathology. Our vision is to radically improve efficiency and accuracy of pathologic cancer diagnosis and prognosis, by equipping pathologists with deep learning-based IVD SaMDs (In Vitro Diagnostics Software as a Medical Device), for optimal cancer treatment decisions. Deep Bio is actively engaged in the research space and participating in ongoing collaborations with top US medical centers.
Olive Healthcare is a startup developing wellness and medical devices services for the quantitative measurement of body composition, an integral part of the new healthcare paradigm based on prevention. The portable scanner uses near-infrared spectroscopy to measure abdominal fat, a key marker associated with a variety of diseases and a problem area for dieters around the world
VNTC is the developor of a device that is effective in suppressing the progression of scoliosis. The startup's Spinamic brace helps scoliosis patients by correcting posture rather than surgery. Its design helps in correcting the posture of scoliosis patients. Compared to those braces available in the market, Spinamic is fabric-based, lightweight, comfortable, inexpensive, and easier to wear with improved mobility. Soundable Health
Orange Biomed is the developer of a medical device designed to measure the level of glycated hemoglobin. The company's point-of-care device offers glycated hemoglobin level results within minutes at the test site and requires a single drop of blood, making it convenient to use, enabling diabetic patients to get their diabetes diagnosed and prevent complications.
Mezoo is the developer of biomedical sensor technology designed to improve human race health by providing accurate diagnoses. The company's technology offer a small-sized, patch-type electrocardiogram that is attached to the test subject's chest and checks in real-time, enabling physicians to manage and prevent heart disease in patients.