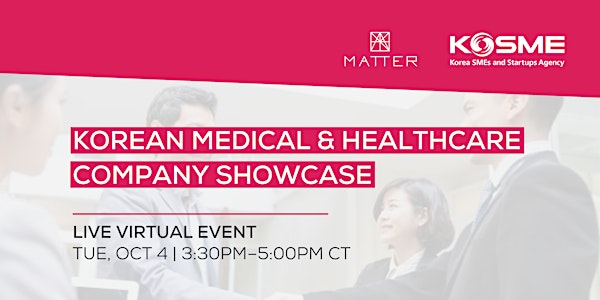 Korean Medical and Healthcare Company Showcase
Join MATTER and Korea Small-Medium Enterprises and Startups Agency (KOSME) for a showcase of five Korean health tech companies.
About this event
Over the past six months, MATTER provided five Korean small- to medium-sized enterprises with strategic guidance, resources and a cohort of mentors to advance their solutions and prepare for U.S. market entry. During the showcase, five Korean companies — AIRS Medical, Soundable Health, Emocog, Thyroscope and RF Medical — will share how their solutions are driving innovation and meeting the future needs of the healthcare industry. After the pitches, join us for networking and discussion via Zoom breakout rooms.
Agenda:
3:30 pm CT | Welcome remarks from MATTER and KOSME
3:45 pm CT l Korean venture pitches
4:30 pm CT l Virtual networking*
*If you wish to join virtual networking, make sure to opt in when you register.
Featured companies:
AIRS Medical has developed an AI-powered MRI acceleration that combines classic parallel imaging algorithms, compressed sensing algorithms and deep learning to produce robust and accurate final reconstruction results, enabling medical professionals with higher scan productivity, fewer motion artifacts and better image quality.
Emocog develops a digital therapeutic platform designed to help with cognitive impairment. The platform improves the cognitive ability of patients with mild cognitive impairment, provides offline and AI speaker services to elicit the patient's behavior or lifestyle changes and collects audio signals from the patient, thereby allowing them to receive attention from all over the world for the treatment of dementia.
RF Medical manufactures electrosurgical devices using radiofrequency. They offer radiofrequency generators for bone metastasis, thyroid nodule ablation, liver cancer, breast cancer and hypertension.
Soundable Health captures audible biomarkers through smartphones, empowering patients to manage their health. Current focus areas encompass urology and respiratory, enabling patients and their physicians to improve clinical workflow and care processes.
Thyroscope develops Glandy, a wearable digital therapeutic that monitors the thyroid gland and its complications. The company's therapeutic detects thyroid dysfunction and thyroid hormone levels using biometric information and heart rate, enabling users to receive a real-time diagnosis without blood tests.

MATTER's COVID-19 policy:
All visitors will be required to present proof of vaccination upon entering the MATTER office. Masks are optional.