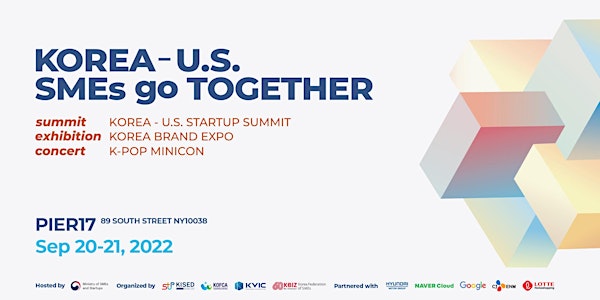 KOREA-U.S. STARTUP SUMMIT
Promoting global expansion through cooperation between Korea and the U.S. in the fields of venture and startup.
When and where
Location
Pier 17 89 South Street New York, NY 10038
About this event
K -POP Minicon is a SEPERATE event from the KOREA-U.S. STARTUP SUMMIT.
Registration for K-Minicon will be held on the 1st floor of the venue on September 21st.
Ticket for the K-Minicon is NOT included.
KOREA-U.S. STARTUP SUMMIT
20-21 September - 10:00-18:00 (Eastern Time) - Free event
Slogan : SMEs Go Together
Venue : Pier 17, New York
Organizer : Korea Institute of Startup and Entrepreneurship Development (KISED)
The 2-day 'KOREA-U.S. STARTUP SUMMIT' - event consists of 3 main parts: Startup Summit, Women Business Conference, and an Exhibition.
As the names suggest, the event will include conference presentations and speeches, demo day, showcases, events, and much more to keep the participants well entertained.
This event is a chance to deepen cooperation between Korean and American Tech businesses of all scales and provide them a place to network with each other.
We look forward to seeing you there.