Korea in Asia: Expanding Trade and Security Relations with ASEAN and India
About this Event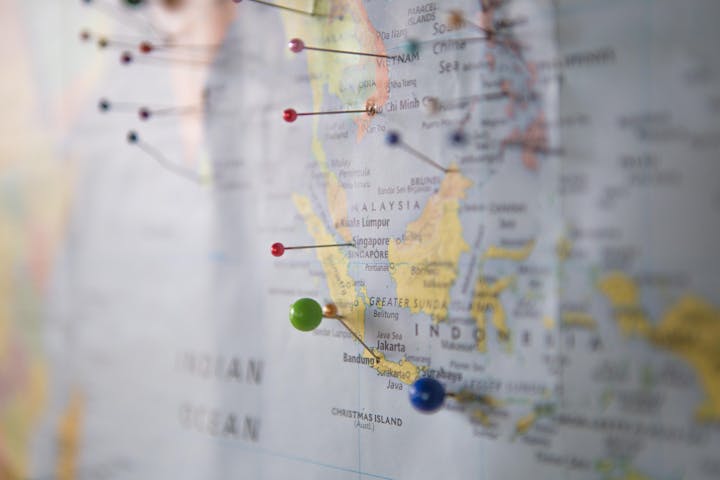 With superpower rivalries and regional tensions posing challenges to South Korea's broader interests, Seoul is placing ASEAN countries and India at the center of its foreign policy agenda. South Korea's New Southern Policy (NSP) aims to elevate South Korea's ties with India and ASEAN nations on par with Seoul's four major diplomatic partners, the U.S., China, Russia, and Japan.
Please join SAIS Korea Studies Program, SAIS Asia Programs, and the Korea Development Institute School of Public Policy and Management for Korea in Asia: Expanding Trade and Security Relations with ASEAN and India, which features three panels exploring avenues of expanding cooperation. The first panel focuses on economic cooperation—trade, investment, and flows of people—between the ROK economy and the economies of Southeast Asia and South Asia. The second panel will examine security cooperation, ranging from coordination on key foreign policy issues to defense imports and joint exercises. The third panel will bring in China, the U.S., and Japan and examine how South Korea, Southeast Asia, and South Asia might cooperate, especially if the China-U.S. and ROK-Japan relationships deteriorate further.
This is a free public event. Coffee break and lunch are provided.
Speakers:
Devesh Kapur, Director of Johns Hopkins University School of Advanced International Studies (SAIS) Asia Programs
Jong-Il You, Dean of Korea Development Institute School of Public Policy and Management (KDI School)
Vikram Nehru, Professor at SAIS Southeast Asia Studies
Sungil Kwak, Research Fellow at Korea Institute for International Economic Policy (KIEP)
Wook Sohn, Associate Dean of KDI School
Karl Jackson, Professor at SAIS Southeast Asia Studies
Joshua White, Professor at SAIS South Asia Studies
Hyung Jong Kim, Professor at Yonsei University
Stapleton Roy, Distinguished Scholar at Woodrow Wilson International Center for Scholars
Arvind Subramanian, Senior Fellow at Peterson Institute for International Economics (PIIE)
Sunjin Lee, former Republic of Korea Ambassador to Indonesia
Cinnamon Dornsife, Senior Fellow at SAIS Foreign Policy Institute
Agenda:
Welcoming Remarks
9:00 AM – 9:15 AM
Panel I: Trade, Investment, and Migration
9:15 AM – 10:45 AM
Coffee Break
10:45 – 11:00 AM
Panel II: Korean Security Cooperation with Southeast Asia and South Asia
11:00 AM – 12:30 PM
Luncheon
12:30 PM – 1:30 PM
Panel III: Regional Rivalries and ROK-ASEAN-South Asia Cooperation
1:30 PM – 3:30 PM
Directions:
The Washington, DC campus is located in the DuPont Circle area of Northwestern Washington, DC,
Our address: 1619 Massachusetts Avenue, NW, Washington DC 20036
By Metro
If you are reaching the campus by Metro, (Washington, DC's subway system), use the DuPont Circle South exit. Once you face the circle, the school will be to the east. Cross Connecticut Avenue and travel east on Massachusetts Avenue. The Washington campus is less than two blocks away, on the right side of the Massachusetts Avenue between 18th and 17th Streets.
By Car
The following directions can be used if you are driving to Johns Hopkins SAIS from a point of origin outside Washington, DC
From the North:
Follow I-95 South to the Washington Capital Beltway I-495 West. Take Exit 31 and turn left onto Route 97 South. Turn right onto 16th Street NW and proceed into Washington, DC Cross O Street NW, and turn right onto Massachusetts Avenue NW at Scott Circle. Johns Hopkins SAIS will be on your right, about a block and a half from DuPont Circle.
From the South:
Follow I-95 North, which turns into I-395 North and leads to the 14th Street Bridge and downtown Washington. Once you have crossed the 14th Street Bridge, continue north on 14th Street to the intersection of Massachusetts Avenue at Thomas Circle. Enter the rotary, go two thirds of the way around the circle and take Massachusetts Avenue west. Johns Hopkins SAIS will be on your left between 17th and 18th Streets.
From the West:
Follow Route 66 East over the Theodore Roosevelt Bridge to Constitution Avenue, and turn left onto 18th Street. Travel north on 18th Street until you reach Massachusetts Avenue. Turn right and travel east for about half a block. Johns Hopkins SAIS will be on your right.
From the East:
Follow Route 50 West, which leads to New York Avenue NW. New York Avenue NW becomes Mount Vernon Place NW, which becomes Massachusetts Avenue NW. Travel west on Massachusetts Avenue until you reach Johns Hopkins SAIS, which will be on your left between 17th and 18th Streets.