Description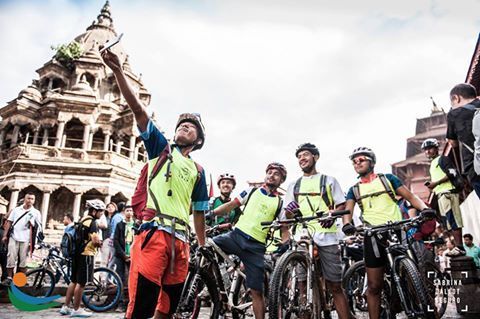 Every year, on the third Saturday in July, riders from Nepal and all over the world (ok, that sounds glamorous, but riders from different nationalities do participate) gather in Kathmandu (last year we were close to 2000 riders) to ride a personal challenge of 50 km | 75 km and 100 km around Kathmandu Valley. This is now popular as the KATHMANDU KORA, this year on its NINTH edition.
Started in 2011, a modest 35 riders challenged themselves and got pledged of around half a million Nepali Rupees for a school and an orphanage in Kathmandu.
Today, this is the biggest ride in the Himalaya, with over 3000 riders riding in five simultaneous locations in Nepal.

REGISTRATION
The registration form for the Kathmandu Kora Cycling Challenge 2019 is here. Please fill in all fields and read the small print before you press submit. We shall contact you via email (so please make sure that the email is accurate) to confirm your registration.
THERE IS NO FEE FOR PARTICIPATION! You just need to register. That's it! IDEALLY, please raise Rs. 100 for each km you ride by asking friends, family, companies to pledge the amount to help the causes we have selected for this year. This year, we are zeroing down on a cause | causes form the various proposals received. Once decided we will publish the cause for you to pursue.

We respect your privacy and do not tolerate spam and will never sell, rent, lease or give away your information (name, address, email, etc.) to any third party, nor will we send you unsolicited email.
Frequently Asked Questions
Q. What is a Kora?
A Kora is a circumambulation devotee makes around religious sites, usually clockwise.

Q. What is a Kathmandu KORA then?
This is a Kora of Kathmandu, of the three main religious sites of Soyambhunath, Boudha and Pashupatinath. It has that religious significance, but it is also meant to be a circumambulation of the power centre of Nepal - Kathmandu.

Q. When and how did this start?
In 2011, Maxim Jones and Shashank Lama, both 16, took this challenge, in the first ever Kora organised by socialtours and Chain Bikes, and raised awareness amongst the 35 riders and raised close to half a million Rupees in funds that were given to a school and an orphanage in Kathmandu.

2012 was around 300 riders who raised close to Rs. 1m for Rukum.
2013 was around 800 riders who raised close to Rs. 1.7m for Baitadi
2014 was around 1700 riders who raised close to 1.1m for Pyutar
2015 with 2500+ riders raised around Rs 0.99 million for Dolakha.

2016 was a slow year and even with 2500+ riders raised only Rs. 0.2 million.
2017 with 2600+ riders raised Rs. 0.45 million for Bungamati Trails.
2018 with 2300+ riders raised Rs. 0.35 million for the late national rider Narayan Gopal Maharjan.

Q. How do I participate?
One can register as a rider and take on the challenge, one can register as a sponsor or pledger and pledge an amount for each rider or just for the cause. Pledges can be made at Rs.100 per kilometre or just an amount.

Q. What do I get out of this?
The pleasure to have participated in something really big, and meaningful, as this will save lives with very minimal investment and in a fun event.

Q. Do I need my own bike?
Ideally, but you can also hire cycles from different cycle shops in the city. We will put out a list of cycle shops and how many cycles they can spare for the Kora soon.

Q. What is the route?
For the 50k ride: starting from Patan Durbar Square, the route goes to Kirtipur via Chhobar, into Naikap, Behind Soyambhunath, the White Stupa, then to Balaju water gardens, and then Manamaiju, Dhapasi, over the road into Budanilkantha towards Boudha. A lunch stop at Boudha and then its a return towards Patan Durbar Square from behind the airport and Pepsi Cola.
The 75 k and the 100 k have more technical variations of this ride, and of course longer distances.

And no, this is not on the ring road, but just outside of it, through sub-urban Kathmandu. We will end at Patan Durbar Square and then move somewhere for some celebration.
Q. I am not a professional cyclist, can I still participate?
Absolutely. This is a personal challenge we have developed on a very easy route, good for novices and also for experts. There will be support staff who will guide you along the way.

Q. Do I need to cycle the whole route or can I shorten it or stop in the middle?
You do not have to ride the entire circuit in case you cannot. The KORA is designed for the possibility of truncating whenever required. At any point, you will be no further than an hour from home, if you live in Kathmandu that is. That is the big advantage of doing a circuit in Kathmandu.

Q. Who can make a pledge or a donation?
Anyone really. The rider, friends and family, a corporate, individuals from abroad. Anyone. Details will come out on the pledging page on our website soon.
Organiser of #kora19 | Kathmandu Kora Cycling Challenge 2019
socialtours is a five-time Responsible Award nominated company with mentions in Lonely Planet, National Geographic Adventure and a UNWTO publication on Sustainable Tourism Companies in Asia, not to mention several media. Established in 2002, we have played lead roles in Responsible Tourism practice in Nepal, in the sub-continent and in the world of responsible tourism. We are soft adventure specialists based in Kathmandu, offering trips in Nepal, Tibet, Bhutan and India. 
Cycle City Network Nepal is a non-profit youth network with a dedication to improving the quality of environment, health and infrastructures by promoting the use of eco-friendly means of transport, the bicycle. The aim of this group is to justify, influence and encourage people to do cycling and lend hands in policy making, infrastructure development for the secure, reliable and attractive depiction of bicycles among the people of all ages and groups. It aims to develop cycling as a sustainable and viable means of urban transportation.
Event Organizer: Pangro Pangro was founded in 2016 by a group of outdoor enthusiasts. Since then Pangro has been involved in a majority of outdoor events in Kathmandu, specializing in mountain biking. We expertise in sporting control of cross country Olympic (XCO), Downhill Mountain biking (DH), Trail Running and Obstacle race.