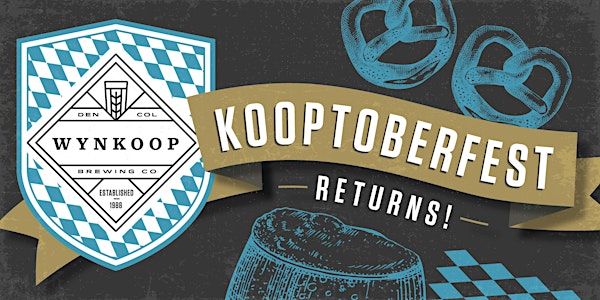 Kooptoberfest
Oktoberfest at WYNKOOP, Thursday, September 15th at 6PM
When and where
Location
Wynkoop Brewing Company 1634 18th Street Denver, CO 80202
About this event
KOOPTOBERFEST RETURNS! Come celebrate the greatest beer drinking holiday of the year with us at Wynkoop. Our second annual Oktoberfest bash is happening Thursday, September 15th starting at 6PM.
Join us for 4 German Beer Tappings + Traditional Fare. First 30 RSVPs receive free pint card good for any Oktoberfest tappings that day.
FEST FRIENDS FOREVER Festbier 5.0% ABV
Celebrating the traditional style of beer brewed for Oktoberfest in Munich, our festbier is brewed with Munich Malts, Tettnang and Saaz hops, and Rocky Mountain water. Malty, rich, and smooth, and best enjoyed with friends. Prost!
Paired with Festbier Glazed Pretzel with sliced Bratwurst and Beer Mustard $15
THE FUN DUNKEL Dunkelweizen 5.5% ABV
Literally translating to "dark wheat", our dunkelweizen is brewed with the same German hefeweizen yeast strain in our Wixa Weiss. The hefeweizen yeast creates intense aromas of clove and banana, while a touch of chocolate malt in the grist bill gives off a slight chocolate flavor.
Paired with Pork schnitzel sandwich, beer braised onion, beer mustard, emmantaler cheese, choice of side $16
WIXA WEISS Hefeweizen 4.5% ABV
An unfiltered wheat beer, weiss beer is a Bavarian tradition. Our version is immensely refreshing and authentic, delivering the classic weiss aromas of clove and banana. A two-time Great American Beer Festival Medal winner in the German Style Wheat Ale category.
Paired with Apple Fritters, Vanilla Bean Ice Cream, Hefecaramel $10
UBER LAGER Helles Lager 5.0% ABV
Our German-style lager combines the elegant hoppiness of a classic lager with super drinkability. Made with German malt and German hops, Uber lager gets a special treatment of at least four weeks lagering in one of our tanks. A super session beer for craft beer nuts and newcomers alike!
Paired with Rouladen gebraten (fried roulade), bison loin stuffed with cambozola and blackberry, koop mashers, mustard gastrique, dunkel roasted cabbage $26
Free to attend and open to all ages. Don't miss this most wonderful time of the bier.
Be sure to follow us at @WynkoopBrew on IG for latest up-to-date info and tappings.