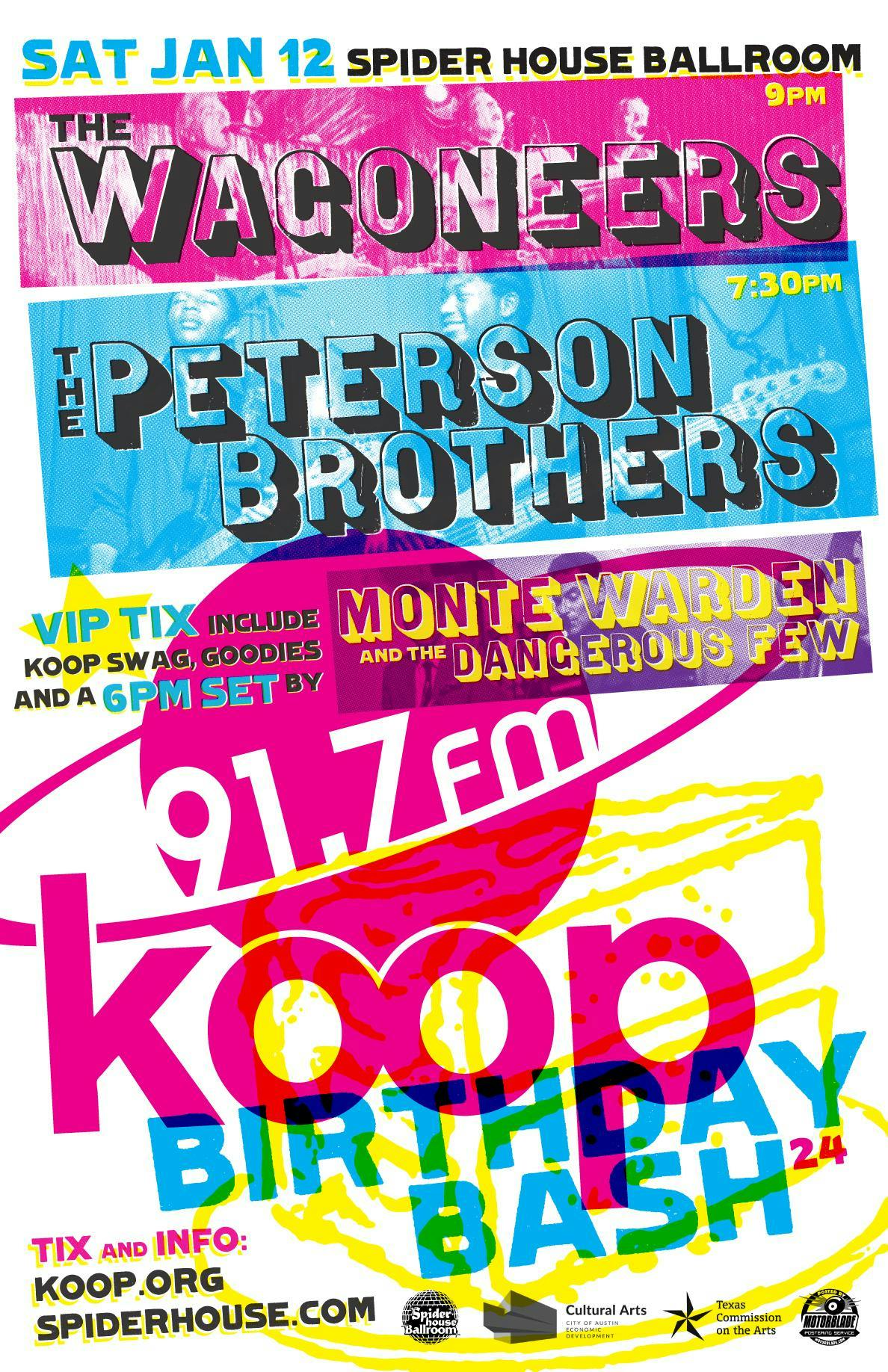 About this Event
We're turning 24!!!  Come celebrate with us on Saturday, January 12th at Spider House Cafe and Ballroom with country legends The Wagoneers & blues phenoms Peterson Brothers Band plus an intimate VIP-only pre-show with Monte Warden and The Dangerous Few.  Tickets on sale now!
General Admission: $20
VIP: $50
VIP Tix include:
-An intimate, seated concert with Monte Warden & The Dangerous Few
-Artist-signed poster
-One-of-a-kind Birthday Bash t-shirt screen printed live on-site by Fine Southern Gentlemen
-KOOP Swag
-& more!
6 PM to 7 PM - VIP reception & seated concert with Monte Warden & The Dangerous Few
7 PM - GA Doors
7:30 PM - The Peterson Brothers
9 PM - The Wagoneers
The Wagoneers - This legendary Austin band pioneered the Americana movement with its special brand of rockin' country when they made their first record in 1988. It's thirty years later, and they still sound great, and like our very different VIP act, they are fronted by Austin native Monte Warden!
The Peterson Brothers - These brothers from right here in Central Texas are amazing blues and soul players. Glenn is a first class guitarist in the Texas blues tradition, but his brother Alex brings fiery soul and funk on the bass. Catch 'em in town while you still can!
Monte Warden and the Dangerous Few - All original music in the classic crooner tradition, songs that could just as easily be sung by Sinatra or Ray Price. Legendary Austin musician Monte Warden created this outlet for this special category of songs. This VIP set will be a listening experience ahead of the more raucous part of the evening.
Poster by Arturo of Crate Digger's Gold