About this Event
This is a standing show with an open floor. The Cedar always reserves a section of seats for patrons who require special seating accommodations. To request seating or other access accommodations, please go to our Access page.
General Admission tickets are available online, by phone, Electric Fetus, and at The Cedar during shows.
VIP tickets are available online here.
VIP Package Includes:
-One (1) General Admission Ticket
-Meet and Greet w/ Koo Koo Kanga Roo
-Enamel Pin
-11x17 Tour Poster
-VIP Laminate w/ Lanyard
-Early Entry
PLEASE NOTE: All sales are in USD. All VIP items will be given out at the meet and greet. All tickets will be at Will Call. Meet and greet info will be sent 2-3 days before the concert.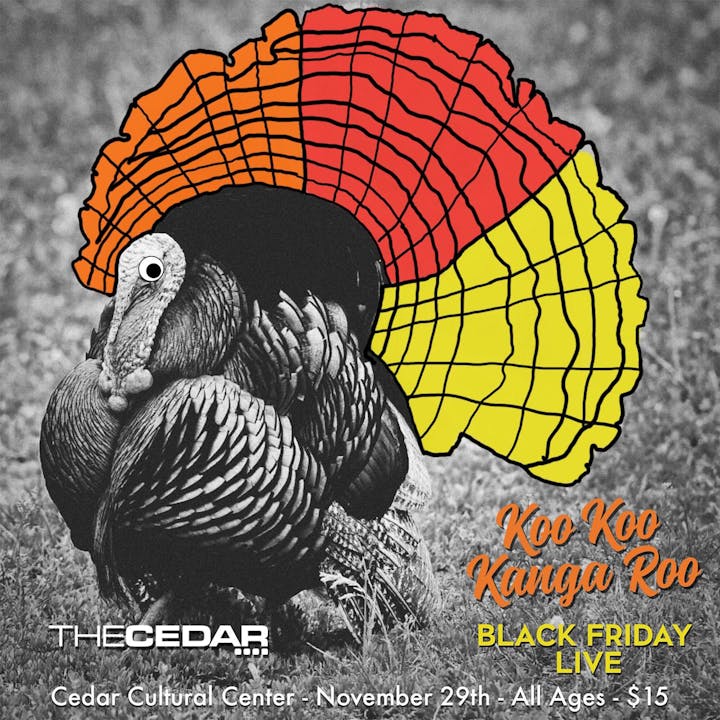 About Koo Koo Kanga Roo
Koo Koo Kanga Roo is the dance-a-long show from Bryan and Neil, two friends who set out to experiment with live music and make it more fun. Armed with nothing more than an iPod, two mics, one giant rainbow and some gold sneakers, Koo Koo Kanga Roo puts on an all-ages dance party that invites everyone to join in. Whether you know them from "brain break" videos in your classroom, the Warped Tour or a late night bar show, you've probably gotten sweaty dancing to their jams at some point.
Since 2008, Koo Koo Kanga Roo have been touring and putting on shows at clubs, theaters, schools, bars, colleges, church basements, dumpsters and even nursing homes. The duo has toured stateside and internationally with the likes of Frank Turner, The Aquabats, Reel Big Fish, MC Lars, Yo Gabba Gabba Live and have been featured on the Vans Warped Tour.
Koo Koo Kanga Roo performing "Salad" courtesy of Koo Koo Kanga Roo's YouTube channel.
About Purple Funk Metropolis
WTF is PFM?
Purple Funk Metropolis is a charismatic six-piece instrumental band with a lively sound inspired by rock, jazz, funk, and old-school soul. With driving melodies at the forefront of the groove they build the party from the ground up with every performance. Whether in a Como basement or a downtown dive bar, Purple Funk's energy notoriously gets the whole room dancing.
From the raw energy of "Morsels" (May 2017) to the explosive, vintage sounds of "Mumbojumbotron" (July 2018) and the artisan-woven "Magic Carpet" (December 2018), the many flavors of Purple Funk leave your palette cleansed and thirsty for more.
Currently in the studio working on new tunes, rest assured PFM is always keeping it silly, keeping it light, keeping it funky, keeping it tight.
Keep your eyes peeled for new happenings.
Purple Funk Metropolis performing "Astro Turf" courtesy of Purple Funk Metropolis' YouTube channel.
Performers
Date and Time
Location
Refund Policy