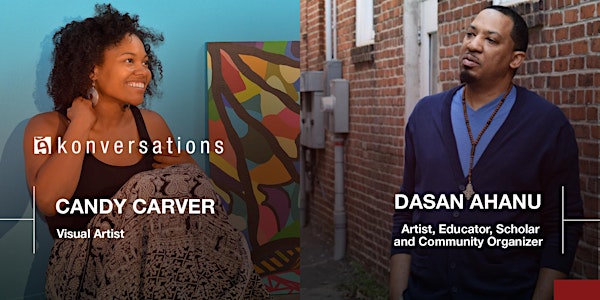 Konversations: I'm a Business, Man
When and where
Location
Kompleks Creative 106 West Parrish Street Suite 2 Durham, NC 27701
Description
Konversations is a free monthly discussion with our principal and creative director, Tobias Rose, and special guests on a variety of topics. From entrepreneurship to digital strategy and everything creative and technical in between, we will discuss a different subject during each Konversation.
This month, we're going to talk about business. Jay-Z said it best, "I'm not a businessman. I'm a business, man." Artists are trendmakers and before entrepreneurship was cool, they did it out of necessity. Art reflects and challenges culture, which is constantly shifting. So, with the changes in culture and society, how do artists "flip the script" to function as businesses? It's easier said than done, and it's easier done than successfully accomplished. We're going to sit with two Durham artists, Candy Carver and Dasan Ahanu, to talk more about the creative economy and their roles in building their respective businesses, revenue streams, marketing and branding.
An artrepreneur (artist/entrepreneur) since 2014, Candy Carver attributes much of her inspiration to her own love for excitement, color and beauty found in the human form. Working primarily with acrylic and various surfaces from canvas to vinyl, she creates vibrant, contemporary pieces that touch the soul and excite viewers. Her goal is for the viewer to grow and be engulfed by the tangibility of strength, power, boldness and resiliency. She wants the viewer to leave feeling "full" of whatever they lack.
UNC-Chapel Hill visiting professor and Hayti Heritage Center resident artist Dasan Ahanu has hosted and coordinated many poetry, jazz, hip-hop and cultural arts events. His work has been featured on National Public Radio (NPR) and in several online and print publications. He is co-founder and managing director of Black Poetry Theatre, a Durham-based theatre company that creates and produces original poetry and spoken word based productions.
If you're interested in networking, be sure to arrive at 6:30pm. The hour-long discussion will begin at 7pm. Konversations are open to the public, but a ticket is required for entry. Each discussion is filmed and published to our YouTube channel.
To learn more about future Konversations, visit https://komplekscreative.com/konversations/.