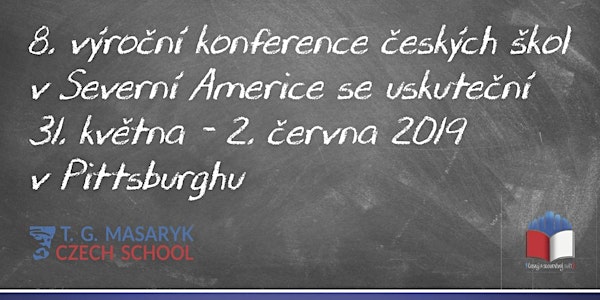 Konference českých škol v Severní Americe 2019- Czech and Slovak School of...
Location
The University Club
123 University Place
Pittsburgh, PA 15260
Refund policy
Refunds up to 30 days before event
Description
Vážení zástupci českých škol v USA a Kanadě, vážení hosté,

přijměte pozvání na již osmou konferenci českých škol v Severní Americe, která se uskuteční 31. května – 2. června 2019 v Pittsburghu.

PROGRAM
Pod tímto odkazem naleznete předběžný program našeho setkání. Zaměření přednášek a dílen budeme specifikovat nejpozději na začátku dubna, nicméně již teď vám časové rozložení jednotlivých bloků umožní zakoupit si včas letenku tak, abyste o nic nepřišli. Zatímco oficiální zahájení konference je plánováno na páteční odpoledne, společné poznávání Pittsburghu a kulturní akce letos začínají už ve čtvrtek 30. května!

UBYTOVÁNÍ
Zvýhodněné ubytování je zajištěno ve Wyndham Pittsburgh University Center (100 Lytton Avenue, Pittsburgh, PA 15213). Hotel se nachází v docházkové vzdálenosti od místa konání konference (5-10 minut chůze).
K rezervaci hotelu použijte tento link: https://www.wyndhamhotels.com/groups/hr/8th-annual-conference-of-czech-schools-in-north-america.
Cena pokoje je $139 (+daň) a jiný slevový kód již není potřeba.
V ceně registračního poplatku je:
vstup na slavnostní zahájení a následná recepce
snídaně a oběd v sobotu a v neděli
V případě jakýchkoliv dotazů nás neváhejte kontaktovat! Těšíme se na viděnou v květnu!

Tým Českého a Slovenského Světa – Czech and Slovak School of Pittsburgh
a
Klára Moldová – koordinátorka konference, viceprezidentka České školy T. G. Masaryka v Chicagu