Description
Monday, March 19th at 7:00pm

After years of doing their live show, the Kondabolu Brothers (Hari & Ashok) have signed a deal with Earwolf to do a live podcast! Be part of history! Watch the Brothers share family stories. Watch them get into heated conversations about gentrification. Watch them go off on tangents. Watch them discuss the news of the day on a poorly constructed powerpoint. Watch them go on tangents again. Anything is possible & everything will be recorded!


---
Hari Kondabolu is a Brooklyn-based, Queens-raised comic who the NY Times has called "one of the most exciting political comics in stand-up today." In March 2014, he released his debut standup album "Waiting for 2042" on indie-label Kill Rock Stars. He is currently NYU's APA Institute's "Artist in Residence" for the 2014-2015 Academic Year.
Hari has done standup on the Late Show with David Letterman , Conan , Jimmy Kimmel Live, Live at Gotham and John Oliver's New York Standup Show. His Comedy Central Presents half-hour television special debuted on the network in February 2011. He was also a writer and correspondent for the Chris Rock-produced Totally Biased with W. Kamau Bell on FX.
In 2014, he was interviewed on Fresh Air with Terry Gross on NPR. A regular on the public radio circuit, he has also appeared on Morning Edition, All Things Considered, Studio 360, Bullseye and Soundcheck. He has also appeared on popular podcasts like WTF with Marc Maron, You Made it Weird with Pete Holmes and Too Beautiful to Live with Luke Burbank.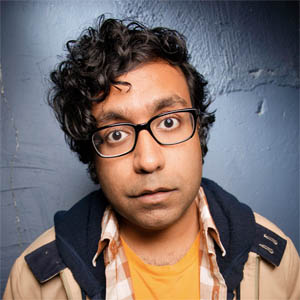 FOR PARTIES OF 10 OR MORE booking more than 48 hours in advance: Contact our Group Sales Coordinator for information on ordering as a Group!
---
TICKET INFORMATION
Once you purchase, you will receive an order confirmation email from Eventbrite on behalf of the theater.
Your e-ticket(s) will be attached to your order confirmation email. No need to print! Just give your name at the door.
IMPORTANT: If you do not see your order confirmation in your inbox, make sure to check your junk/spam folder.
If you do not see your order confirmation in your inbox, click here to access the Eventbrite help center.
If you are having any other technical ticketing-related issues with your order, click here to contact Eventbrite.
Need to view or update the information on your order? Click here for instructions.
CONTENT DISCLAIMER
We like our comedy edgy. Our improv, sketch and standup shows are geared towards adult senses of humor. If possible profanity and riskier subject matter isn't your thing or you'd prefer not to enable your kids' uncouth tendencies, we highly recommend the Family Show and All Access Improv.