Kolokium Dimensi Politik Baru

Saturday, September 13, 2014 from 10:00 AM to 5:00 PM (Malaysia Time Malaysia (Kuala Lumpur) Time)
Event Details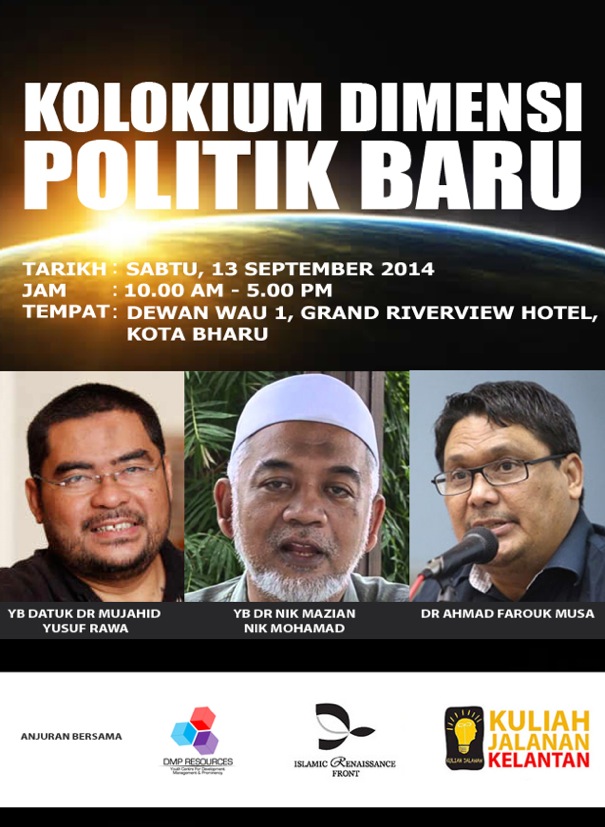 Lanskap politik negara mutakhir ini dihidangkan dengan pelbagai insiden yang mencemaskan. Isu perkauman dan agama dimainkan hampir setiap tahun. Politics of Fear yang dijadikan praktis normatif saban tahun ini tidak lain merupakan sesuatu alat yang sangat berpengaruh membentuk wacana dan mentaliti awam tentang Bangsa Malaysia itu sendiri.
Walaupun ketegangan antara agama dan kaum ini dilihat makin menjadi-jadi, perkara ini juga sebenarnya bukanlah sesuatu yang baharu, malah ia adalah perkara yang sebati dalam rencam politik Malaysia. Kerana akarnya adalah pada sistem dan pengamalan politik yang dilihat hanya kekal dalam hegemoni wacana yang sama semenjak zaman sebelum merdeka lagi iaitu dalam kerangka "divide & rule", walaupun tentunya apa yang berlaku kini bukan lagi pemaksaan dari penjajah, tetapi ianya telah berevolusi menjadi sebuah radas kenegaraan hingga menjajah minda bawah sedar tiap warganya, menjadikan mereka secara tidak langsung bersifat fragmented antara satu sama lain.
Melihat kepada situasi yang mencemaskan ini, timbul beberapa watak dalam masyarakat yang cuba menjadi anti-tesis terhadap pengamalan politik yang tidak sihat tersebut.
Walaupun demikian, suara-suara moderat dan progresif ini masih dilihat sebagai minoriti dan kurang mendapat tempat dalam kalangan penggubah dasar dan pemain utama dalam arena politik Malaysia, yang dilihat masih kekal selesa mempengaruhi rakyat dengan retorik yang sama sejak berdekad-dekad lalu.
Memikirkan dimanakah kelemahan konsep dan pengamalan yang sedia ada, kolokium ini dianjurkan supaya dapat mengangkat dan memikirkan semula wacana konsep kenegaraan ideal yang pragmatis buat tanah air kita.
Program: 
1000-1030: Pendaftaran & Minum Pagi
1030-1130: Seminar Rang Undang-undang Harmoni Nasional

                    YB Dr Mujahid Yusuf Rawa, Dr Ahmad Farouk Musa
1130-1230: Soal Jawab
1230-1430: Makan Tengahari dan Solat
1430-1600: Forum Penilaian Semula Konsep Kenegaraan
                    YB Dr Mujahid Yusuf Rawa, YB Dr Nik Mazian Nik Mohamad, Dr Ahmad Farouk Musa
1600-1700: Soal Jawab
1700: Bersurai
---
Tempat terhad kepada 30 orang peserta terpilih sahaja.
Sebarang pertanyaan sila hubungi shuhaibarumy@gmail.com
When & Where

Grand Riverview Hotel

Kota Bharu, KN 15000
Malaysia

Saturday, September 13, 2014 from 10:00 AM to 5:00 PM (Malaysia Time Malaysia (Kuala Lumpur) Time)
Add to my calendar
Organizer
IRF echoes the voice of reason and compassion, and is committed to liberating the Muslim mind from rigid orthodoxy and conservatism. IRF is also dedicated to the revival and reform of Islamic thought and appreciation in order to enable the Ummah to confront their present challenges more meaningfully towards the progress and happiness of all.