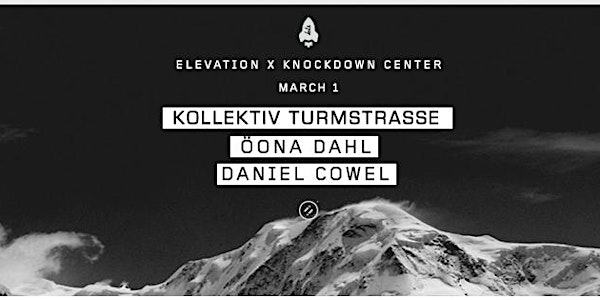 Kollektiv Turmstrasse / Öona Dahl / Daniel Cowel
Ages 21+
Elevation x Knockdown Center
21+ with ID.
When and where
Location
Knockdown Center 52-19 Flushing Ave Queens, NY 11378
Performers
Headliners
More Performers
About this event
Knockdown Center and Elevation welcome Hamburg/Berlin duo KOLLEKTIV TURMSTRASSE (Christian Hilscher and Nico Plagemann) to its Main Space on March 1, 2019 with support from Öona Dahl and ZERO resident, Daniel Cowel.
■ KOLLEKTIV TURMSTRASSE ■ Operating in the house/techno milieu, but offering much beyond functionality in their music, Kollektiv Turmstrasse are one of those rare acts whose music caters for both body and soul. 
Their cinematic take on 4/4 electronica has won praise from all quarters via releases on Diynamic, Connaisseur and their own Musik Gewinnt Freunde imprint. Their sense of emotion - informed by their upbringing on Germany's visually arresting Baltic Sea coast - lends their productions a human warmth, allowing them to slot effortlessly into both club and home listening scenarios. Electronic music is an art for them; not a science.
■ ÖONA DAHL ■ With an open mind and a vast range of music knowledge, Öona Dahl knows how to connect on another level when playing her music to the crowd. Testing traditional musical limits with extended mixes, isochronic tones and melodies, Öona's breadth of skill behind the decks is hard to match. Her original production spans broad dance floor territory, from Techno, Deep House to Experimental Electronica. Finding the balance between light and dark with both her solo work and as Slumber has kept her inspired and able to express both arrays of emotions through her sound.
■ DANIEL COWEL ■ A true perfectionist, Daniel Cowel has traveled the world in search of the deepest roots of music and matched his geographical education with a deep study of the nature of the art, which is reflected in the breadth and integrity of his sets. An extremely humble and gracious human being, Daniel Cowel has built an international name for himself with his ZERO residency opening sets, carefully warming rooms and crafting slow boiling vibes, each set individually handled with delicate care and respect for whoever comes next. Yet, when his moments to shine arrive, Daniel Cowel delivers, giving us some incredible memories.