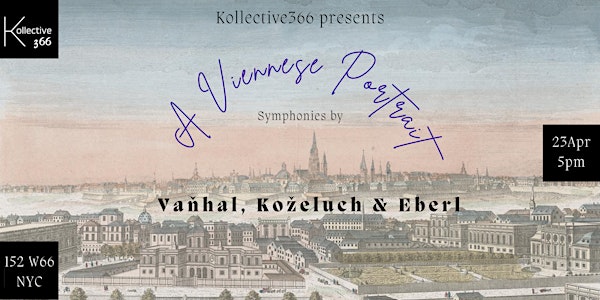 Kollective366: "A Viennese Portrait"
Kollective366 performs rarely performed symphonies by lesser known 18th century Viennese composers - Vaňhal, Eberl, and Koželuch.
Date and time
Starts on Sunday, April 23 · 5pm EDT
Location
Good Shepherd-Faith Presbyterian Church 152 West 66th Street New York, NY 10023
Refund Policy
Contact the organizer to request a refund.
Eventbrite's fee is nonrefundable.
About this event
Don't miss "A Viennese Portrait," a program of rarely performed symphonies by lesser known 18th century Viennese composers - Vaňhal, Eberl, and Koželuch. These composers were critical influencers of their time who helped shepherd a new era of composition, each exhibiting their own different flavors of the classical era.
Bohemian composer Johann Baptist Vaňhal composed his Symphony in D minor in 1767. Famous for his fiery Sturm und Drang style — an Austro-German specialty displaying turmoil and high emotionalism — Vaňhal composed many symphonies in minor keys, even more than Haydn. Praised in popularity during their time, Vaňhal's symphonies profoundly influenced musical thought in the 1760s and 1770s. If you're curious to know where Mozart's famous Symphony in G minor came from, listen to this outraged and violent music. This work is unique in that it features an ensemble of four horns, rarely utilized at the time.
Leopold Koželuch was a Bohemian composer, pianist, and publisher who rose to notable fame in 1780s Vienna. Koželuch composed about thirty symphonies out of a catalogue of roughly 400 works he left behind. His Symphony in C Major is both nostalgic in his use of the baroque concerto grosso like wind solos and prophetic in his foreshadowing of Beethovenian orchestral exuberance. Though he was one of Mozart's most sworn enemies, Koželuch inherited his position at court as Kammermusikus after Mozart's death.
Anton Eberl was a gifted pianist who is believed to have been a pupil of Mozart's. Originally trained as a lawyer, Eberl chose instead to focus on music. He served as kapellmeister in St. Petersburg and, upon returning to Vienna, started a concert series with the support of the city's predominant musical figure: Antonio Salieri. His compositional style mimicked that of Mozart's so greatly that his works were commonly published under Mozart's name. Eberl's Symphony in C Major was one of these misattributed works and remained as such as late as 1944. This lively and theatrical tribute to his dear mentor is derived from Mozart's final symphonies with its last movement evoking the opening theme of Mozart's "Haffner" Symphony.
About the organizer
Kollective366 is a NY-based orchestra founded in 2021, which provides dynamic programming with historical considerations to performance practice. With a variety of repertoire performed by Kollective366 will also come a variety of interpretive approaches, which will manifest in a fusion of historically informed performance practices and an exchange of ideas among principal players and the conductor. For the achievement of this artistic vision, the Kollective is committed to hand picking musicians who are both closely acquainted with the individual styles of earlier repertoire and are keen to explore brand new music of today's established and emerging composers. We want our patrons to feel like they are a part of our family and that we are a staple in their community. We are committed to welcoming the next generation of music enthusiasts to historically informed performance practice.