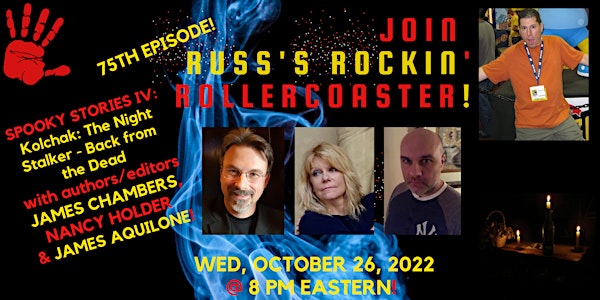 Kolchak: Back from the Dead w James Chambers, Nancy Holder, James Aquilone
Author Russ Colchamiro hosts a panel discussion about the resurgence of Kolchak: The Night Stalker and its impact on horror and sci-fi
About this event
JAMES CHAMBERS received the Bram Stoker Award® for the graphic novel, Kolchak the Night Stalker: The Forgotten Lore of Edgar Allan Poe and is the author of the collection On the Night Border, described by Booklist as "a haunting exploration of the space where the real world and nightmares collide."
NANCY HOLDER is a New York Times bestselling author. She has won 7 Bram Stoker Awards, including the Lifetime Achievement award, from the Horror Writers Association, and she was named a "Faust" Grand Master by the International Association of Media Tie-In Writers. She is also a Baker Street Irregular. She has written and edited dozens of novels and book projects, hundreds of short stories, essays, comic books, and online games, and worked on properties such as Sherlock Holmes, Zorro, Buffy the Vampire Slayer, Wonder Woman, Crimson Peak, Kolchak the Night Stalker, Green Hornet, Hellboy, and many others. She is currently writing pulp fiction and two comic book/graphic novel series, Johnny Fade for Moonstone Books, and They Call Me Midnight for IPI Comics, with her writing partner, Alan Philipson.
JAMES AQUILONE is the owner of Monstrous Books, writer of the Dead Jack Zombie Detective series, and editor of the anthologies Classic Monsters Unleashed, Shakespeare Unleashed, and the 50th anniversary Kolchak: The Night Stalker graphic novel.
RUSS COLCHAMIRO is author of the Sci-Fi mysteries Crackle and Fire, Fractured Lives, and Hot Ash, the ongoing series featuring intergalactic private eye Angela Hardwicke. Russ is also the author of the rollicking time travel/space adventure, Crossline, the SF/F backpacking comedy series Finders Keepers: The Definitive Edition, Genius de Milo, and Astropalooza, is the editor of the Sci-Fi mystery anthology Love, Murder & Mayhem, and co-author and -editor of the noir anthology Murder in Montague Falls.
Russ has also contributed to several other anthologies including PRISM, Tales of the Crimson Keep, Pangaea, Altered States of the Union, Camelot 13, TV Gods 2, They Keep Killing Glenn, Thrilling Adventure Yarns, The Phenomenons, Footprints in the Stars, Devilish and Divine, Badass Moms, and Brave New Girls.
Russ is a member of The Mystery Writers Association, The Private Eye Writers of America, and the author collective Crazy 8 Press. He also hosts and produces his Russ's Rockin' Rollercoaster podcast, where he interviews best-selling and up-and-coming Sci-Fi, fantasy, crime, mystery, and horror authors.
For more on and Russ's books and his podcast, visit russcolchamiro.com, and follow him on Facebook, as well as Twitter and Instagram @AuthorDudeRuss.
He lives in New Jersey with his wife, two ninjas, and black lab, Jinx.