About this Event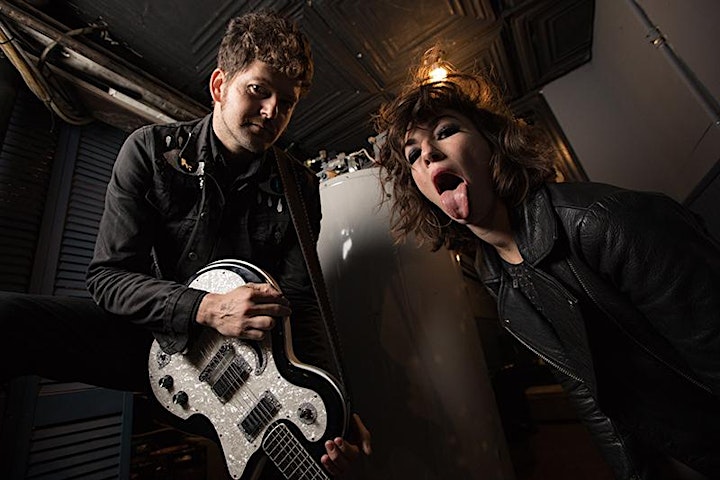 When it became clear that glam folk act He's My Brother She's My Sister was heading towards a hiatus, band members Rob Kolar and Lauren Brown decided to go off and find their own beat. What they learned from their previous outfit was that even folk fans want to find music that makes them move. That's the dictum that's guided the duo into the creation of KOLARS. As KOLARS, the pair create a kinetic brand of disco-inspired rockabilly they loving dub glam-a-billy. Kolar provides the soaring, fuzzy guitars while Brown pounds and literally stomps the percussion — she actually stands and tap-dances on a bass drum. Far from a gimmicky trick, the clacking feet add familiar moments one might expect from a hi-hat or the clapping of hands. Even without Brown's unique method of performing, the band's sound remains uniquely driving. Take their latest single "One More Thrill". Crafted like a grooving '70s country song carved out of the gleaming vibrations of modern rock, the track pulsates right into your chest. It takes your heart by the hand and leads you to the dance floor, daring you to not feel motivated to dance, shimmy, just escape the mundane. "'One More Thrill' is about someone who wants to break free from the monotony in their life to pursue their dreams," the band tells Consequence of Sound. "The video uses imagery and creatures to symbolize that struggle and the excitement of taking that chance.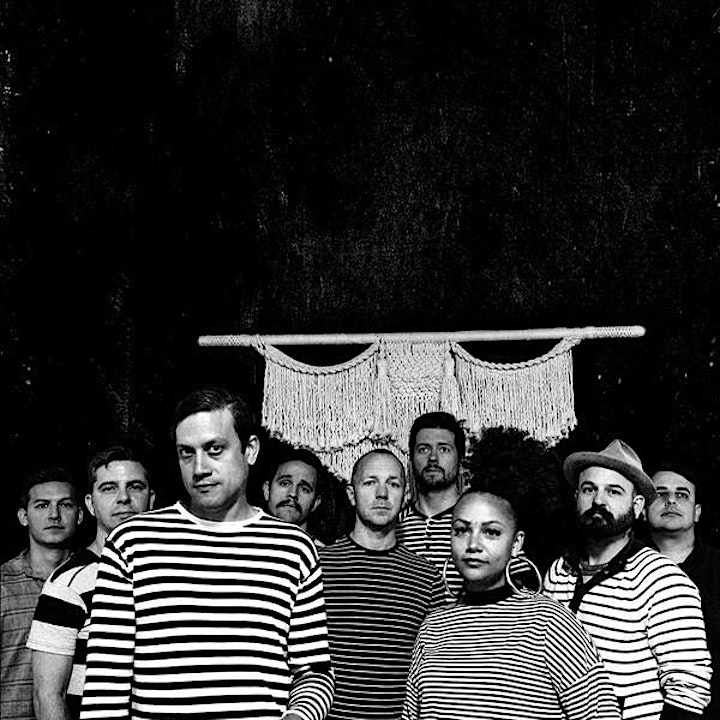 There's this dynamic that churns hard in The Blurred Odyssey. The music pumps with the hot, red blood of life irrepressible. But there's a cloud on the horizon, the doomed sense of life's finitude, that fueled these songs. Rather than dead-end nihilism, though, it's resulted in the kind of urgent, creative friction that Hunter S. Thompson could get down with. In making this album, The Sh-Booms have dug through the blur of life, swam through a sea of booze, to find love and truth in the shadow of the void.
Since their 2011 inception, The Sh-Booms have become kind of a thing in their native scene and beyond. Besides perennial winners of "Best Soul Act" in the Orlando Weekly's big annual 'Best of Orlando' issue, they've been tapped to share the stage with national names like The Roots, Of Montreal, Talib Kweli, KRS-One, Jacuzzi Boys, Budos Band, Big Freedia, Lee Fields, St. Paul & the Broken Bones and The B-52's (whom the band toured with in 2017 and 2018). They've been featured on NPR, their music has made it on TV (CW's Supergirl) and they've played Austin City Limits, Okeechobee Music Festival, SunFest and Gasparilla Music Festivals.
Although a soul band through and through, the grease and bite they've been picking up in the years leading up to this big step out have been forged in the bad company of punk and garage bands. From that underground now rises a new hurricane of big orchestration, maximum stomp and fresh intent. It's a little ache and a lot of party all wrapped up in a wrecking ball.
When powerhouse singer Brenda Radney joined The Sh-Booms in 2015, the band's course was locked, their date with destiny set. She was signed to Justin Timberlake's Tennman label, even appearing on his album, The 20/20 Experience, Pt. 2. But after clicking with band leader Al Ruiz while recording separately in the same studio, she jumped aboard The Sh-Booms to turn this train into a true locomotive. After the release of their 2016 Usage Fee EP and a countless number of shows in the Southeast, the 10 songs along The Blurred Odyssey were produced by Grammy-nominated Alan Armitage (AA Villain) over an 18-month span that cemented the band as a tight-knit unit. That chemistry achieved is where The Sh-Booms are now, and The Blurred Odyssey is their testament.
Performers
Date and Time
Location
Refund Policy