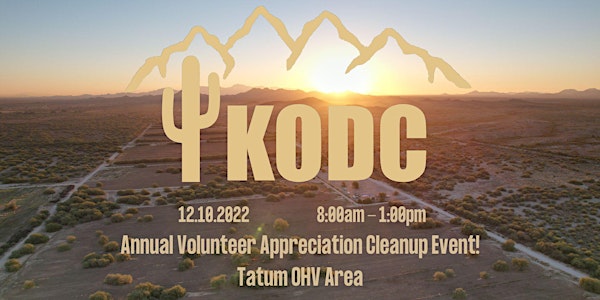 KODC ANNUAL VOLUNTEER CLEANUP EVENT
Your Help Is Needed! KODC (KeepOurDesertClean) Annual Volunteer Appreciation Cleanup Event is here!
When and where
Location
START HERE follow written directions from here North Tatum Boulevard & East Pinnacle Peak Road Phoenix, AZ 85054
About this event
JOIN US! Saturday 12/10/2022 We are cleaning the OHV area surrounding Tatum Blvd and Pinnacle Peak Rd.
EVENT DIRECTIONS AND INFO:
We recommend NOT following Apple/Google or eventbrite maps directly to meeting location coordinates. They will potentially lead you down longer less maintained dirt roads. GO TO THE INTERSECTION OF TATUM BLVD & PINNACLE PEAK RD. Once there, Head North on Tatum Blvd approx. 0.8 miles. TURN RIGHT at powerlines onto Dirt road. Turn will come up quick but will be marked. Head down dirt road following KODC signs and Powerlines directly to event location!
Dirt road leading to meeting location is not maintained often potential for loose dirt, sand and rain ruts. Drive with care. 4WD recommended but NOT required. NO low clearance vehicles. Once cleanup has started explore ALL surrounding areas and trails finding and removing all foreign objects. Area map of large dump sites and dumpster locations will be provided at event sign in.
Meeting Location Coordinates: 33.71289, -111.95865 (follow our written directions to get there)
Event Time: 8:00am - 1:00pm
On Site Sign in Required, Sign in starts @ 8:00am
Cleaning starts once signed in
Lunch begins @ 11:45am
Group photo and Raffle starts @ 12:00pm
Depart by 1:00pm
All cleanup supplies provided
Return ALL supplies by 12:00pm.
Hydration Station (water) and Sunblock provided
Kids Corner with coloring competition and prizes
We will have designated 40-yard dumpsters for everyone to put their trash in so we can get an accurate weight of the amount of trash everyone helped remove.
HUGE CHARITY RAFFLE starting at 12:00pm
Raffle Rules:
Donate a Toy get a Raffle ticket. YES bring a toy to the event in order to claim your raffle ticket! One ticket per person no matter extent of toy donation.
Raffle starts at 12:00pm Must be present to win. Over $10,000 of prizes donated by all types of companies and individuals. Majority of prizes being of the camping, outdoors and off-road type
ANY DONATIONS MADE DIRECTLY TO KODC IS AN INVESTMENT IN ARIZONAS FUTURE!
AND HELPS FUND FUTURE CLEANUP EVENTS!
All donations may be tax deductible under 501(c)(3) Federal EIN: 87-1544510
What to wear: Check the forecast & dress accordingly. We recommend wearing clothing & shoes that can get dirty, muddy, and possibly wet depending on rain. Wear long pants, thick-sole & closed toe sturdy shoes (no flipflops/sandals), a hat, sunglasses, and sunscreen. (sunscreen provided)
What to bring: We will have a hydration station with coolers full of bottled water and other options if anyone needs it. We will provide gloves, bags, trash grabbers, buckets, rakes, shovels, magnets, all needed cleanup supplies. You will likely be near your vehicle the entire time so you could bring a small cooler with cold beverages and snacks if you'd like.
Bathrooms: We will have a porta potty on site for volunteer use. There are also numerous bathroom options approx. a mile east surrounding the intersection of Scottsdale Rd and Pinnacle Peak Rd.
If you have any other questions, please click on the CONTACT button at the bottom of this page or email us at info@keepourdesertclean.com
We THANK YOU so much for your interest and support in KODC (KeepOurDesertClean) We cant wait to see you and are excited to make a huge positive impact with you come 12.10.22