Description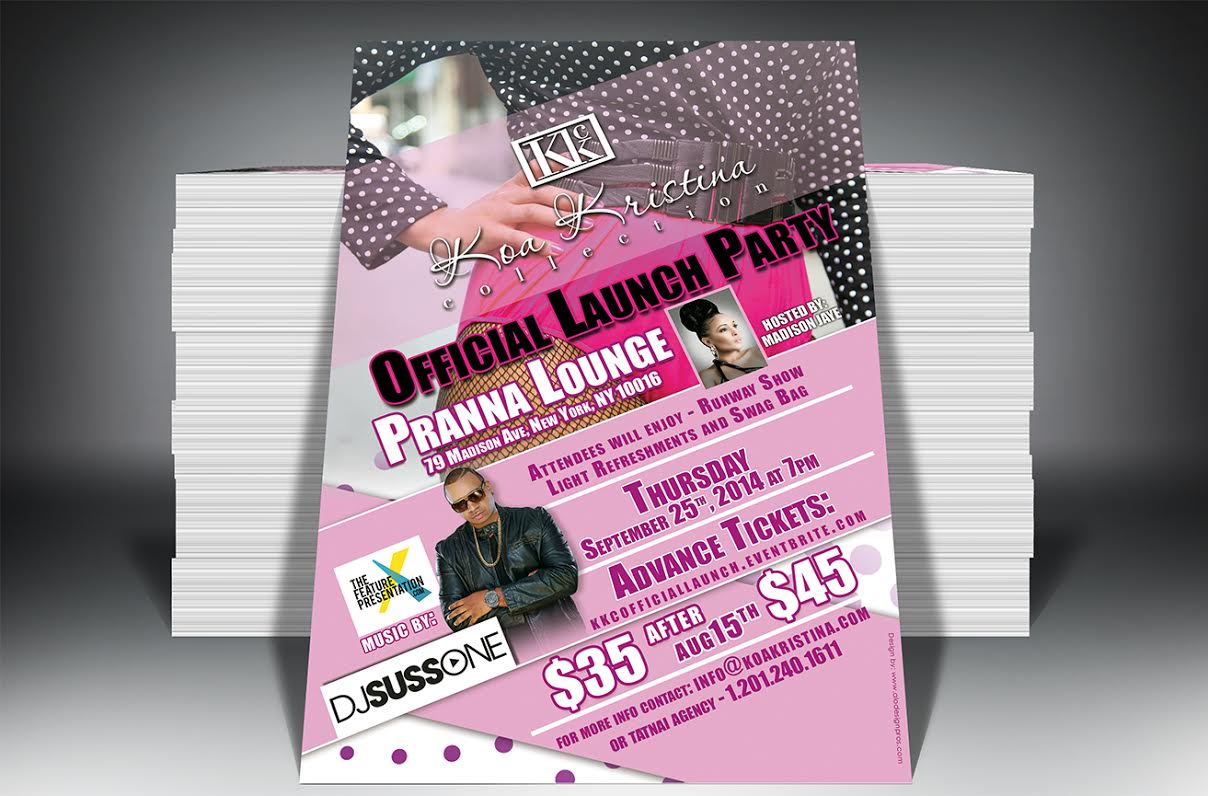 The Koa Kristina Collection (KKC) is extending an invite to you to attend this explosive fashion event!
KKC is always Bold in our fashion approach and our designs are only for the Fierce and BOLD.
We are looking forward to showcasing this new apparel line this Fall 2014.

Come out to this EXPLOSIVE event. Light refreshments will be served, Swag bag giveaways and an exclusive runway show.

Hosted by the fabulous " Princess of Entertainment" Madison Jaye and Music by Power 105.1 DJ Suss One.
Come out! Network and meet some AWESOME people.

Organizer of Koa Kristina Collection Official Apparel Launch Party
About
Koa Kristina Collection is an online Boutique that specializes in providing extravagant handcrafted clutches with exquisite designs. We specialize in Classic eloquence to savvy trendy pieces. Our goal is to focus on handcrafted clutches that are UNIQUE and hard to find in most stores. Our company continued pride is in offering quality products at competitive prices. We are committed to supplying our customers with the latest trends, blended with a unique touch. Our success is largely based on outstanding long-term relationships that build trust and reliability with our customers.
Who is Koa Kristina?
Koa Thomas is a woman of bold talent and extraordinary dreams. As a child she always wanted to do two things in life—design and help female teens. It is clear that these dreams have catapulted into reality.
 Koa's unique eye for fashion has transformed her into a savvy entrepreneur. Today, Koa is the creator, owner and operator of Koa Kristina Collection; a unique line of snazzy, trendy, upscale fashions, polished handbags, classy modern clutches, and swank, accessories.
 When Koa is designing, she is inspired by shape, architecture and color. Every design focuses on flattering a woman's body. Koa's knowledge of silhouette fit and design combined with her innate creative abilities, results in an effortless and modern fashion line that reflects the; strong, sexy, fun, and fearless women she manifests.
 The Koa Kristina Collection has been featured across television, radio, internet and print media through various forums such as: BKS1 Radio, NJ News 12 Spotlight with Della Crews, Unheard Voices Magazine, Everything Girls Love with Yandy Smith of VH1 Love and Hip Hop and a plethora of fashion blogs. The invaluable experience gained from working with these design houses and media outlets inspires Koa to continue her lifelong aspirations.
 Koa Kristina Collection will unveil its most urbane, cultured, chic, yet voguish clothing line in the Fall of 2014. Her work with this boutique venture represents just a few of the special facets of Koa; there's much more behind this rising CEO.
 Handbags from the Koa Kristina Collection are now available at copious boutiques in New York City and New Jersey. The Koa Kristina Collection is also accessible online at www.KoaKristina.com.
 Most importantly, Koa believes in the importance of community involvement, inspiring others and giving back. When she is not designing, she serves as founder of The Emeralds; a youth mentorship that empowers young girls ages 12-16 through mentoring and various enrichment programs.
Koa's altruistic nature has always been "to whom much is given, much is required"; to that respect the Koa Kristina Collection donates ten percent of its proceeds to The Emeralds on select items.
 Koa Thomas has attained a Bachelor of Arts Degree from William Paterson University. Koa is currently pursuing a master's of Arts from St. Peters University.
 Koa looks forward to continuing her work as a designer and mentor to provide guidance in helping other young, aspiring fashion designers to realize their dreams.