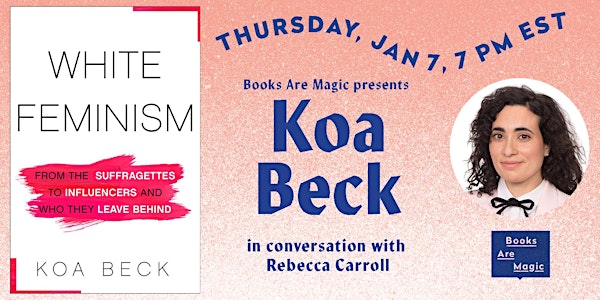 Koa Beck: White Feminism w/ Rebecca Carroll
Join Koa Beck and Rebecca Carroll for the launch of Koa's book White Feminism!
Refund Policy
Contact the organizer to request a refund.
About this event
Community Guidelines:
By registering for this event, you agree to be respectful towards authors and other audience members and to refrain from inappropriate or disruptive behavior and/or harassment of any kind including, but not limited to: hate speech, spam comments, slurs, obscenities, etc. Any attendees who violate these community guidelines will be immediately ejected from this event and barred from attending all future Books Are Magic events.
To request accessibility accommodations, please contact assistant@booksaremagic.net.
A timely and impassioned exploration of how our society has commodified feminism and continues to systemically shut out women of color—perfect for fans of White Fragility and Good and Mad.
Join the important conversation about race, empowerment, and inclusion in the United States with this powerful new feminist classic and rousing call for change. Koa Beck, writer and former editor-in-chief of Jezebel, boldly examines the history of feminism, from the true mission of the suffragettes to the rise of corporate feminism with clear-eyed scrutiny and meticulous detail. She also examines overlooked communities—including Native American, Muslim, transgender, and more—and their difficult and ongoing struggles for social change.
In these pages she meticulously documents how elitism and racial prejudice has driven the narrative of feminist discourse. She blends pop culture, primary historical research, and first-hand storytelling to show us how we have shut women out of the movement, and what we can do to course correct for a new generation—perfect for women of color looking for a more inclusive way to fight for women's rights.
Combining a scholar's understanding with hard data and razor-sharp cultural commentary, White Feminism is a witty, whip-smart, and profoundly eye-opening book that challenges long-accepted conventions and completely upends the way we understand the struggle for women's equality.
Koa Beck is the former editor-in-chief of Jezebel. Previously, she was the executive editor of Vogue, the senior features editor at MarieClaire.com, and co-host of "The #MeToo Memos" on WNYC's The Takeaway.
Her literary criticism and reporting have appeared in TheAtlantic.com, Out magazine, The New York Observer, TheGuardian.com, Esquire.com, Vogue.com, MarieClaire.com, among others. For her reporting on gender, LGBTQ rights, culture, and race, she has spoken at Harvard Law School, Columbia Journalism School, The New York Times, and The Metropolitan Museum of Art, among other institutions. She has also been interviewed by the BBC for her insight into American feminism.
Koa was a guest editor for the 2019 special Pride section of The New York Times commemorating the 50th anniversary of the Stonewall riots, editing such prominent voices as Kate Bornstein, Gavin Grimm, Julia Serano, and Barbara Smith, among other activists.
Koa is a Joan Shorenstein Fellow at the Harvard Kennedy School. Her book White Feminism: From the Suffragettes to Influencers and Who They Leave Behind is forthcoming from Simon & Schuster in January 2021 and available for preorder now. She lives in Los Angeles with her wife.
Rebecca Carroll is a writer, creative consultant and host of the podcast, Come Through with Rebecca Carroll: 15 essential conversations about race in a pivotal year for America. Previously, she was a cultural critic at WNYC, and a critic-at-large for the Los Angeles Times. Her essays and criticism have appeared in the Atlantic, the New York Times, Ebony, Essence, the Guardian, and New York magazine, among many other publications. She's the author of several books about race in America, including the award-winning Sugar in the Raw: Voices of Young Black Girls in America, and Surviving the White Gaze: A Memoir. She lives in Brooklyn with her husband and teenage son.