Description
We are so excited to announce the details of our first outdoor Fall Festival at the beautiful Tate's School Campus on Sunday, October 15th at 3pm. This is an event you don't want to miss!
If you haven't visited Tate's Campus you are in for a treat! We will have bounce houses/inflatable for the kiddos to enjoy, a fun game area, outdoor music, a hill slide, watermelon, and SO MUCH MORE!
Our lovely sponsors are also bringing fun fall games and snacks: Children's Dentistry of Knoxville, Campbell Cunningham with a game of corn hole, Whole Foods with some tasty treats, Angela Floyd Schools, Smart Toys & Books, Chick Fil A (maybe a cow sighting, too!), and what event wouldn't be complete with out popsicles! This year we are welcoming Artistic Pops to this event with gourmet popsicles for the families to enjoy. Jennifer Hultz, children's book author to Hopkins Goes to the Beach will also be there to discuss her book!
Need a break, change a diaper, or just need to tend to a baby or child? Baby+Co will have an area set up just for you to nurse your baby or if you need to relax and rest!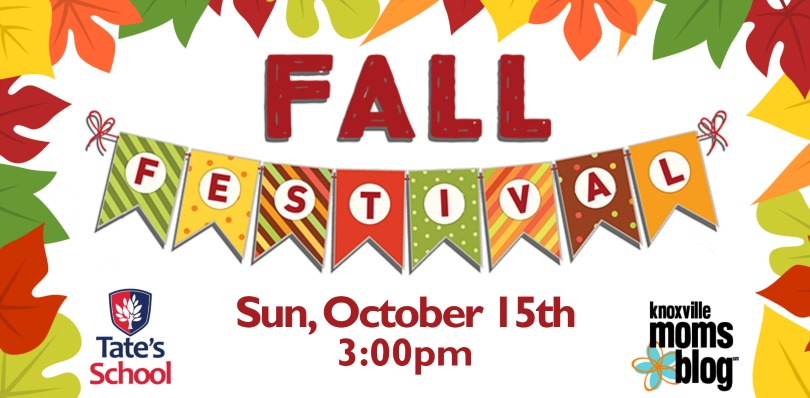 East Tennessee is beautiful in fall, so be sure you get to a chance to join us for a fun afternoon—don't miss out because our family event sell out quick!
General Admission Tickets :: One ticket covers up to
four

immediate children in your family. If you have more, please purchase a second ticket so we will have the correct amount of supplies. Adults are including in this General Admission Ticket.

*BUY PURCHASING A TICKET YOU ARE SIGNING A WAIVER THAT IF YOUR CHILD SLIDES DOWN THE HILLSIDE WATERSLIDE (WEATHER PERMITTING) OR INFLATABLES YOU HEREBY RELEASE KNOXVILLE MOMS BLOG & TATE'S SCHOOL FROM LIABILITY, CLAIMS, DEMANDS, CAUSES OF ACTIONS AND POSSIBLE CAUSES OF ACTION WHATSOEVER ARISING OUT OF OR RELATED TO ANY LOSS, DAMAGE, OR INJURY THAT MAY BE SUSTAINED BY YOUR CHILD DURING WHILE PARTICIPATING IN THESE ACTIVITIES.