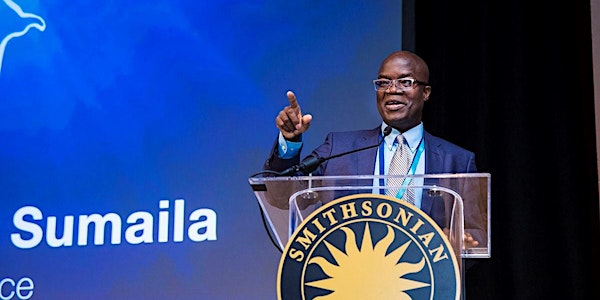 Knowlton-Jackson Distinguished Speaker Lecture: Dr. Rashid Sumaila
By Center for Marine Biodiversity and Conservation
Date and time
Friday, January 11, 2019 · 3 - 5pm PST
Location
Scripps Seaside Forum 8610 Kennel Way San Diego, CA 92037
Description
The Center for Marine Biodiversity and Conservation (CMBC) at Scripps Institution of Oceanography announces the 6th Annual Knowlton-Jackson Distinguished Speaker lecture event.
This year's distinguished speaker is Dr. Rashid Sumaila
Dr. Rashid Sumaila is Professor and Director of the Fisheries Economics Research Unit, Institute for the Oceans and Fisheries & School for Policy and Global Studies, University of British Columbia. He specializes in bioeconomics, marine ecosystem valuation and the analysis of global issues such as fisheries subsidies, illegal fishing, climate change and oil spills. Sumaila is widely published, with over 230 articles in peer-reviewed journals, including in Science, Nature and the Journal of Environmental Economics and Management. Sumaila has won a number of awards such as the 2017 Volvo Environment Prize; the 2017 Benchley Oceans Award in Science, the 2016 UBC Killam Research Prize, and the 2013 American Fisheries Society Excellence in Public Outreach Award, the Stanford Leopold Leadership Fellowship and the Pew Marine Fellowship. Sumaila was named a Hokkaido University Ambassador in 2016.

Title: Interdisciplinary collaborative ocean economics research with examples from the 'ocean trenches'.
Abstract: A crucial question still facing humanity is how to successfully manage the ocean to ensure long term sustainability while meeting the needs of people from same. Here, I explore this question couched around three key issues, i.e., how we tackle global warming and climate change; how we implement public policies such as the provision of government subsidies to the fisheries sector; and how we manage the high seas. I argue that the chance of managing our ocean successfully for people and nature depends strongly on our ability to tackle these three and related issues that affect the conservation and fair sharing of benefits from our ocean in such a way that positive feedbacks are transmitted between the two. The alternative is for negative feedbacks from conservation to people and vice versa to fester, to the detriment of both people and nature.

Since 2016, we have included a short talk by a CMBC graduate. This year's Alumni Speaker, is Dr. Sheila Walsh-Reddy. Sheila Reddy, Ph.D. is Associate Director of Strategic Initiatives, Chief Strategy Office, The Nature Conservancy. Sheila is leading an initiative to transform how we measure conservation impact using remote sensing and artificial intelligence. She also supports strategy development by ensuring strategy teams have the science they need, especially sciences newer to conservation such as economics and other behavioral sciences.
Title: New Science and Technology for Conservation Solutions


FAQs
What are my transportation/parking options for getting to and from the event?
Parking is NOT provided. We encourage car pools and public transportation. Otherwise, please provide time to find parking in the neighborhood.

Do I have to bring my printed ticket to the event?
Registration is required but a printed ticket is not. (Save tree and reduce trash)