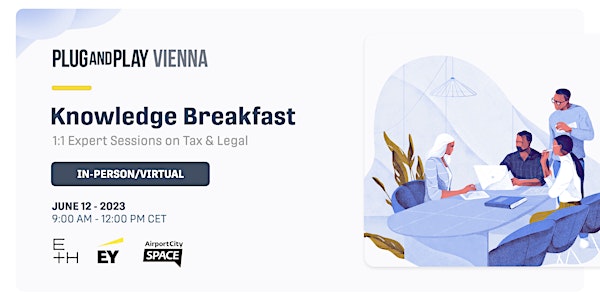 Knowledge Breakfast | Free Tax & Legal Advice for Startups
Are you a (Co-)Founder in need of tax or legal advice? You can join our Knowledge Breakfast!
Date and time
Monday, June 12 · 9am - 12pm CEST
Location
AirportCity Space 3 Towerstraße Plug and Play Austria Office 1300 Schwechat Austria
About this event
📢 Startups listen up!
Plug and Play Vienna wants to support young and talented entrepreneurs like you on your way to success.
By attending our Knowledge Breakfast, hosted at the AirportCity Space, you will get a chance to meet like-minded entrepreneurs, grow your network over coffee, and benefit from private 1:1 sessions with leading experts from:
- Ernst & Young (EY) for tax advice
- E+H for legal support
The workshop will include breakfast, drinks, and snacks, as well as the opportunity to use our co-working space until lunchtime.
It is all free of charge, so secure your spot before June 12, 2023!
👉🏼 How to apply for your slot:
Step 1: Sign up for virtual or in-person attendance
Step 2: Select all time slots that you are potentially available
Step 3: Tell us who you are, indicate your pain points and needs to get experts prepared
Step 4: Wait until we confirm your meeting slot
📆 Mark your calendars:
Date: Wednesday, February 22 from 09:00 AM to 12:00 PM to lunchtime (you are welcome to use the co-working space for the duration of the event)
Audience: All startup founders
Language: English & German
Attendance: In-person or virtual
Venue: AirportCity Space, Towerstraße 3, 1300 Vienna Airport
Please note that this is not an invitation and you need to register to participate!
For further questions regarding our Knowledge Breakfast, please contact Ludovica (l.vanicore@pnptc.com).
About the organizer
Find out more about the events we are hosting in Vienna.