Know Your Child's Rights! A Year-Long Training Program in Special Education...
Description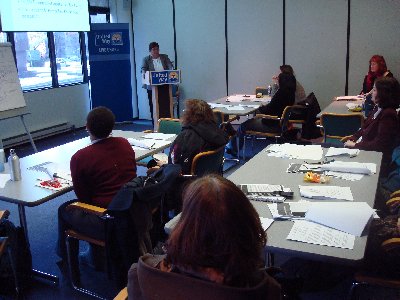 Know Your Child's Rights! is a unique, year-long training program focused on specific issues faced by parents, teachers, advocates, lawyers and other professionals involved in special education. Hosted by the Public Interest Law Center of Philadelphia, the program trains all these people together in the same classes, creating connections between the many groups of people working to provide a better education for students with disabilities.
Program Information
All sessions are taught by Sonja Kerr, Director of the Disability Rights Project at the Public Interest Law Center of Philadelphia, generally in conjunction with another advocate, educator, or attorney. Each session will offer 4 substantive CLE credits, and an application to provide Act 48 credits for educators is pending.
All sessions are available by webinar, but unfortunately we currently are not able to provide CLE credits for attorneys who do not attend in person.
Where: The United Way Building, 1709 Benjamin Franklin Parkway, Philadelphia PA 19103
When: 12:00-4:00pm, on the dates listed below

Price: To make this seminar series available to as many people as possible, we're letting you pay whatever price you feel you can afford. Suggested prices for multi-course packages are listed above, and suggested prices for individual sessions are $100 for general admission and $200 for attorneys.
DISCOUNTS are available for nonprofit affiliation and multi-session registration, and SCHOLARSHIPS are readily available for those who cannot afford to attend otherwise.
Contact the Law Center's training coordinator now for more information or for a price quote for a multi-session package not listed above!
2011-2012 Schedule
Click on the titles below to find information or to register for individual sessions!

SETTLEMENTS: SIGNING ON THE DOTTED LINE (OR NOT)
April 24, 2012
This session will review the legal means of reaching settlements between school districts and parents. Participants will come away with knowledge about how settlements can be crafted and what not to do. Ways of settling including IEP meetings, mediation and resolution sessions will be discussed. Chuck Pugh, a local attorney with significant expertise in settlement matters, will join Sonja Kerr.

PRO SE PARENTS: DOING IT ON YOUR OWN
May 29, 2012
This session is specially designed for parents of children with disabilities who may have a need to request a hearing on behalf of their student and who do not have the ability to access counsel or who choose not to access counsel. The participants will come away with basic skills enabling them to proceed through the process. Teachers, advocates, and lawyers are invited to join us in the discussion.
NOTE: June 27th seminar has been CANCELLED. Sorry for any inconvenience.
Past Sessions
(Contact cle-training@pilcop.org for details about purchasing course materials.)

BACK TO SCHOOL
August 30, 2011
This session is designed for parents, attorneys, teachers, advocates to provide an overall update of the state of special education law as we head into a new school year, and a dialogue/discussion about the most pressing matters.

ASSISTIVE TECHNOLOGY
September 20, 2011
This session will provide parents, attorneys, teachers, speech pathologists, and advocates the opportunity to discuss the legal aspects of assistive technology for children with disabilities. Pam Cook, from ABC Consulting Services, will join Sonja Kerr to provide current strategies and information about AT for children.

DISCIPLINE, ZERO TOLERANCE & TRUANCY: DEVELOPING AND IMPLEMENTING POSITIVE, EFFECTIVE BEHAVIORAL SUPPORTS FOR STUDENTS WITH DISABILITIES
October 18, 2011
This session is designed to assist participants, who may be parents, school principals, counselors, teachers, probation officers, police officers, social workers, advocates, attorneys, psychologists, understand the specifics of the disciplinary system as it applies to children with disabilities. Critical to the discussion will be development of positive behavioral support programs for children with disabilities to increase learning and decrease inappropriate behavior. We will also discuss when truancy is an issue for the IEP team rather than the court system.
DYSLEXIA, LEARNING DISABILITIES AND READING: RESEARCH BASED INSTRUCTION
December 6, 2011
This session is designed to address the legal aspects surrounding the needs of children with dyslexia, and other learning disabilities (ADHD, non-verbal learning disabilities). Kathleen Carlsen from the Philadelphia Dyslexia Association will join Sonja Kerr to explain dyslexia/learning disabilities, the research and what we can do about it.

EXTENDED SCHOOL YEAR: WHO DOESN'T NEED IT?
January 24, 2012
This session is focused on the need and process to ensure extended school year (individualized summer programming) for students with disabilities. We schedule it in January because parents and schools must make timely and early decisions about ESY for students with disabilities, rather than waiting until spring. Ben Geffen, another attorney at the Law Center experienced in special education law, will join Sonja Kerr in teaching this session.

ADAAA, 504 AND CHAPTER 15: SERVICES NEEDED, DISCRIMINATION AVOIDED
February 21, 2012
This session recognizes the critical role of the ADAAA, 504 and Chapter 15 to meet the needs of students with a variety of disabilities who do not qualify for special education services. Parents, advocates, teachers, and attorneys are invited to learn about recent cases and practical strategies in formulating 504 service agreements. Charles Weiner, a local attorney experienced in ADA/504 matters, will join Sonja Kerr to discuss ADA/504 and Chapter 15.

CHILDREN WITH EMOTIONAL/BEHAVIORAL NEEDS, AND THE COURTS
March 20, 2012
This session will help the participants, who may be parents, foster parents, probation officers, police officers, judges, social workers, advocates, attorneys, and teachers, to navigate special education so that they may assist children who are either in the foster system or the juvenile court system.
Organizer of Know Your Child's Rights! A Year-Long Training Program in Special Education Law
The Public Interest Law Center uses high-impact legal strategies to advance the civil, social, and economic rights of communities in the Philadelphia region facing discrimination, inequality, and poverty. We use litigation, community education, advocacy, and organizing to secure their access to fundamental resources and services.
The Law Center, which opened its doors in 1969 as one of the eight original affiliates of the Lawyers' Committee for Civil Rights Under Law, works in employment, environmental justice, healthcare, housing, public education and voting.