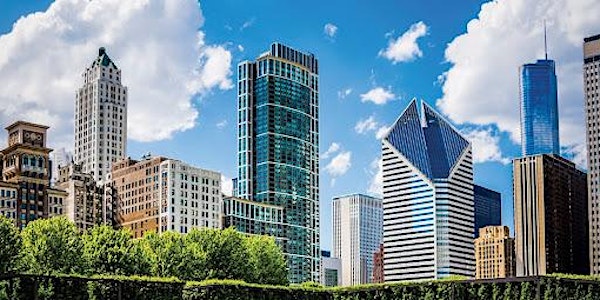 Know Your Chicago 2021 Digital Season
Timely topics on Chicago brought to you by the Know Your Chicago Committee with support from the University of Chicago Graham School.
Refund Policy
Contact the organizer to request a refund.
Eventbrite's fee is nonrefundable.
About this event
2021 Know Your Chicago Season
The Know Your Chicago committee takes great pleasure in welcoming you to our 72nd season of civic engagement with the Chicago community. This tour season will be unlike any we have offered before, bringing our unique brand of expertise and experiential learning to your personal computer. Over the course of our Tours, registrants will learn more about two important topics: the fate and future of architectural gems on Chicago's South Side and the vital role that equal access to the internet plays in our communities and City's future.
Tour 1: Hiding in Plain Sight: Architectural Jewels of the South Side
Going my way? Join noted architecture critic and photographer Lee Bey as he takes us on a personal virtual tour of Chicago's special places based on his recent book, Southern Exposure: The Overlooked Architecture of Chicago's South Side. He'll take us to rarely visited sites and show us how to see neighborhoods in new ways. Presented on September 15th, this unique tour includes the virtual video program, interviews with experts, an interactive discussion with Q&A and downloadable reading materials including building information, maps, and biographies.
Live event: Wednesday, September 15, 12:00 - 1:10 pm CDT
*Recording available to all registrants*
Tour 2: Broadband: Our Most Important Invisible Infrastructure
This Know Your Chicago virtual tour will take you on a deep dive into how and why access to high-speed internet has changed our lives forever and what to do about those who have no internet access, cannot afford it, or both.
Session 1: September 29, 12:00 - 1:15 pm CDT
Our first session will outline the stakes of our conversation. What is broadband internet, why isn't it equally accessible, and how are Chicago and the state of Illinois leading the nation in solving this?
Session 2: October 6, 12:00 - 1:15 pm CDT
Our second session investigates the importance of internet access to the vital services of education and telemedicine. The ongoing pandemic has fundamentally altered our relationship to these services, making reliable digital access more critical than ever and arguably the "civil rights issue of the 21st century."
To tackle this issue, experts will host short presentations on broadband and the digital divide in Chicago, alongside selected readings and live Q&A.
*Recordings available to all registrants*
Pricing and Tickets
Tickets for Tours 1 and 2 are available individually or as a season package. The price is $30 per individual Tour or $50 for the Season Pass giving access to both Tours.
Click the green "Get Tickets" button at the top right of this page to make your selections. You may register up to eight friends with your registration. Please have email addresses ready for any guests. They will also receive a copy of the digital ticket and access information.
Access and information
All Tour sessions will be accessed digitally. Information will be sent to you via email prior to the Tour.
South Side Architecture Resources: Research materials will be sent to registrants following our program to provide further information on this topic.
Broadband Resources: Optional pre- and post-readings will be sent to registrants to better familiarize them with the subject.
Questions? Reach out to grahamschool@uchicago.edu.