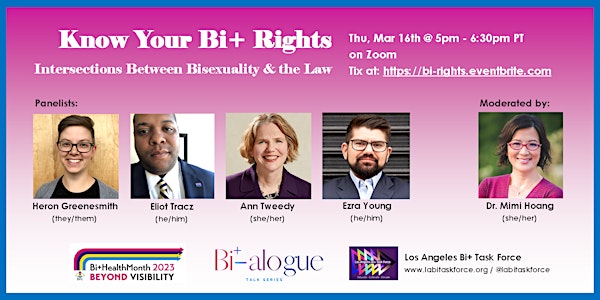 Know Your Bi+ Rights: Intersections Between Bisexuality and the Law
How does the law impact the lives of bisexual and pansexual individuals? Come learn from legal experts and get your questions answered!
By Los Angeles Bi+ Task Force
When and where
Date and time
Thursday, March 16 · 5 - 6:30pm PDT
About this event
For #BiHealthMonth this year, LABTF is hosting a Bi-alogue panel called "Know Your Bi+ Rights: Intersections Between Bisexuality and the Law" on Thu, Mar 16th from 5pm-6:30pm PT on Zoom. This year's theme is "Beyond Visibility" and we believe that educating yourself on LGBTQ rights is one of things our bisexual, pansexual, fluid, and queer community can do beyond visibility. Our panel features prominent bi+ legal experts and scholars Heron Greenesmith (they/them), Ann Tweedy (she/her), Ezra Young (he/him), and Eliot Tracz (he/him), and will be moderated by LABTF Co-Founder Dr. Mimi Hoang (she/her). We'll discuss how biphobic and monosexist laws and regulations have historically impacted our community and how recent anti-LGBTQ legislation affects our lives moving forward. Our event will be recorded and there will be 15-20 min at the end for Q&A.
PANELISTS:
Heron Greenesmith, J.D. (they/them)
Heron Greenesmith is a policy attorney & advocate who specializes in providing support for bi+ communities. Currently monitoring anti-LGBTQI rhetoric, networks, and communities as the Senior Research Analyst for LGBTQI Justice at Political Research Associates and teaching at Boston University School of Law, Heron has worked in progressive advocacy spaces for over a decade with the National Coalition of Anti-Violence Programs, the Movement Advancement Project, Family Equality Council, and the National LGBTQ Task Force. Heron is an agender parent who uses queer as a personal label and bisexual as a community label.
Ann E. Tweedy, J.D. (she/her)
Ann E. Tweedy is a Professor of Law at University of South Dakota Knudson School of Law. She is a noted scholar on both tribal civil rights and tribal jurisdiction and on bisexuality and the law. Before coming to USD, Ann served as an in- house attorney for Muckleshoot Tribe and as an adjunct professor for University of Tulsa College of Law. She has also taught at Michigan State University College of Law and California Western School of Law, and she has served as an Associate Professor at Hamline University School of Law (now Mitchell Hamline). Ann also previously served as a Tribal Attorney for Swinomish Indian Tribal Community and as an Associate Attorney and as Of Counsel at Kanji & Katzen, PLLC. Additionally, she is an award-winning poet. After law school, Ann clerked for Hon. Ronald M. Gould of the U.S. Court of Appeals for the Ninth Circuit and for Hon. Rex Armstrong (retired) of the Oregon Court of Appeals.
Ezra Young is a nationally recognized scholar and civil rights attorney based in New York. He is currently a visiting assistant professor of law at Cornell Law School where he teaches Constitutional Law, Critical Race Theory, and Transgender People and the Law. On the side, Ezra maintains a boutique private practice. Ezra's scholarly work has two strands. The first explores the rights of trans persons and is situated in the nascent field of critical trans theory. The second strand looks at innovative equitable remedies and is at the intersection of federal courts, civil procedure, remedies, and constitutional law. Ezra's academic writing has appeared in or is forthcoming in books and articles published by the Routledge, Oxford University Press, the New Press, American Psychologist, California Law Review Online, Cleveland State Law Review, Jotwell, Journal of Law, Medicine and Ethics, JURIST, Plastic and Reconstructive Surgery, and University of Chicago Legal Forum. Ezra's litigation centers on trans rights and focuses on rights of recognition, employment protections, and health care and insurance coverage issues. Ezra currently serves as vice president of the board of the Jim Collins Foundation and on the board of the African American Policy Forum. He is a founding board member and past co-chair of the National Trans Bar Association. He previously served as legal director of the African American Policy Forum, research director of the Columbia Center for Intersectionality and Social Policy Studies, and director of impact litigation of the Transgender Legal Defense and Education Fund, Inc. www.ezrayoung.com
Eliot Tracz is a Faculty Fellow at New England Law Boston, where he teaches courses in Property Law and Sexual Orientation, Gender Identity, and the Law. Prior to teaching, he clerked for Judge Kathy Wallace of the Minnesota Third Judicial District, worked in private practice litigating property disputes and providing transactional services on trademarks, and served as Associate General Counsel in the Office of Gov. Walz and Lt. Gov. Flanagan in Minnesota. Eliot is a graduate of Coe College and DePaul University College of Law. Outside of teaching, his research focuses on statutory and constitutional interpretation, property rights in outer space, and LGBTQ issues. Eliot is particularly interested in the intersection of bisexuality and the law. His article, The Inscrutable Bisexual: an Essay on Immutability is forthcoming in the Seattle Journal for Social Justice. Eliot's non-scholarly writings have appeared in The Hill, Minnesota Bench and Bar, and Trial: The Journal of the Illinois Trial Lawyer's Association.
MODERATOR:
Dr. Mimi is an internationally-recognized psychologist, educator, author, and grassroots activist specializing in the LGBTQ+ and Asian Pacific Islander (API) communities. Since the 1990s, she has co-founded three organizations in Los Angeles for bi+ individuals - the Los Angeles Bi+ Task Force (LABTF), amBi (LA's Bisexual Social Community), and Fluid at UCLA. Dr. Mimi has authored multiple publications, and earned a seat at the landmark 2013 White House Bisexual Community Roundtable. Dr. Mimi's steadfast leadership has earned her multiple awards and being named "One of the Most Significant Women in the Bisexual Movement." She currently works as the Interim Coordinator of Training at Loyola Marymount University's Student Psychological Services, Clinical Supervisor of the LGBTQIA+ Affirmative Therapy Center at Airport Marina Counseling Services, is the creator of the "Bi on Life" self-empowerment series.
TICKETS:
This is a ticketed event in order to help raise funds and offset speakers fees because we believe that bi+ speakers deserve to be paid for their time. Ticket tiers are available so attendees can pay-what-they-can. LABTF is a completely volunteer-run grassroots 501(c)3 organization and all proceeds are tax-deductible. Tickets are considered donations and therefore non-refundable.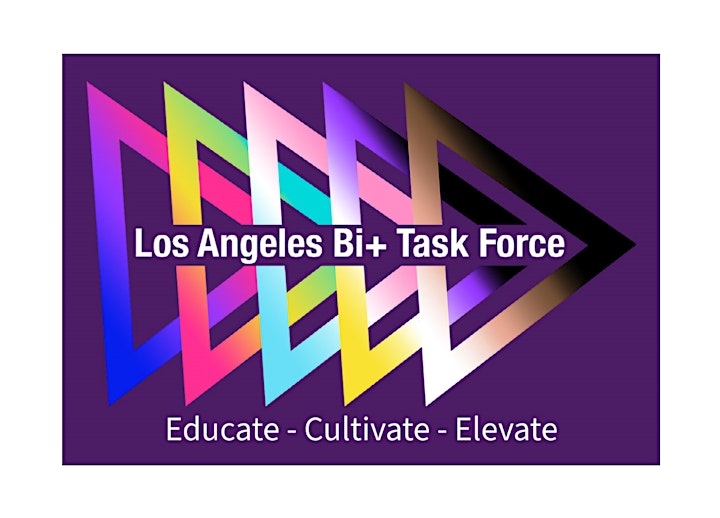 About the organizer
The Los Angeles Bi+ Task Force (LABTF) is a grassroots 501(c)3 non-profit organization that promotes education, advocacy, and cultural enrichment for the bisexual, pansexual, fluid, queer, and other non-monosexual ("bi+") communities and allies in the Greater Los Angeles area, which includes Los Angeles, Orange, San Bernardino, Riverside, and Ventura Counties. LABTF has been a "virtual tenant" at The Village at Ed Gould Plaza / Los Angeles LGBT Center in Hollywood since 2010.