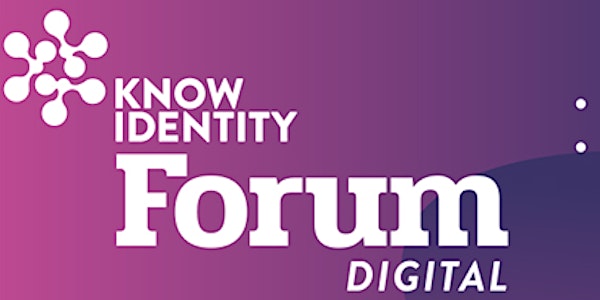 KNOW Identity Summer Government Digital Forum
Join KNOW Identity virtually for a day of learning and networking
About this event
As the summer heats up so do the hot takes and bold insights from our digital forums! We're putting the focus on the government this July.
Agenda
12:00 PM EST - The new normal: modern identity approaches in response to changing times
Digital identity is at an exciting moment, in line with sea changes in consumer expectations for approachable, equitable government services. Join us as we explore how modern identity approaches can improve shared services, facilitate remote identity proofing, reduce identity theft, and more - all while promoting privacy and equity across diverse American communities.
Speakers:
Sarah Chu, Manager, Cybersecurity at Easy Dynamics Corp.
Philip Lam, Executive Director of Identity Technology Transformation Services at U.S. General Services Administration
Juliet "Jules" Okafor, Chief Engagement Officer at RevolutionCyber
Mansi Thaker, Chief Operating Officer at Women's Society of Cyberjutsu
1:00 PM EST - Building for Inclusion: Public Private Partnerships
Join OWI for a fireside chat with David McCourt, for an in-depth discussion on his work to bring broadband to every single home in Ireland, and his strategic approach to building successful public private partnerships.
Speaker: David McCourt, Chairman and CEO of Granahan McCourt Capital and Chairman of National Broadband Ireland
2:00 PM EST - Stopping Fraud at the Front Door: Protecting Prosperity and Privacy with Better Digital Solutions
The COVID-19 pandemic has brought to the fore alarming gaps in public sector adoption of technologies that could better protect Americans' access to critical services and information. Right now, we are facing a reality where the very government that regulates identity and customer information programs for banks suffers from not employing those same digital ID and fraud prevention innovations internally. In this session, we discuss and effortlessly apply lessons from the financial sector, and how to prevent fraud attacks at scale in that industry. We will connect the dots between rampant identity-based fraud schemes, massive data breaches, private sector best practices, and protecting citizen privacy and data security.
Speakers:
Annie C. Bai, Senior Counsel & Privacy Lead at Socure
Erick Soto, VP of Product at Socure
3:00 PM EST - The Evolution of Background Screening & Identity Services – How Government Can Deploy New Capabilities to Support Their Mission
In this session, we explore how government and businesses can use identity and background screening services to fill critical roles in an increasingly competitive hiring environment, with special emphasis on best practices, and a compelling glimpse at the direction identity and screening is headed in the time of COVID and beyond.
Speakers:
Taylor Liggett, General Manager at Sterling
Brian Williams, General Manager, Government at Sterling
4:00 PM EST - Dedicated Networking Hour
We'll be wrapping the afternoon with an opportunity to connect and virtually meet your fellow attendees! Once logged into our online platform, you can chat, request a meeting and have a virtual 15-minute 1:1 discussion.
Can't make this event? Be sure to check out our other virtual events at https://know.oneworldidentity.com/upcoming-events/