About this Event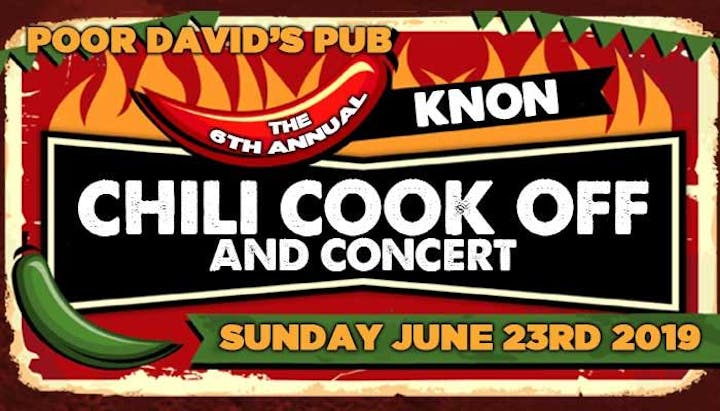 KNON 89.3FM Presents The 6th Annual Chili Cook Off and Concert!!Sunday June 23rd 2019!! At Poor Davids Pub!!
We'll have a Turlingua Sanctioned Chili Cook Off where Tolberts Rules Apply! There'll be live music from The Squeeze Box Bandits, Left Arm Tan and Ej Matthews!!
There will be plenty of free chili to go around!! Another new addition to this years event is Free Chili from Love and War Texas!! They will be serving their famous chili for you to sample!!
New this year the Hormel vs Wolf Brand Chili tasting contest. You the people will decide who has the better chili. Wolf Brand from Texas or Hormel from Minnesota.
Also added a People's Choice Chili Cook Off!! All and any types of chili are accepted. Doors open at 2PM! Come out and help judge some chili!!Get your chili registered today!!
Poor Davids Pub is Located at 1313 S Lamar in Dallas!!
For more info Kane at 469 487 6516
Peoples Choice Cookoff has no rules except you must bring enough Chili for at least 75 people to sample to vote for you. KNON will provide _4 oz cups to use for Chili samples. Best Chili selected by an audience vote. There will be plaques for 1rst, 2nd and 3rd place.
10:00am Chili Load In
Front Lot
12:00pm Cooks Meeting
PDP Patio Deck
1:30pm Turn In
2:00pm Doors Open/ Judging Begins
2:00pm- 3:00pm Public Tasting
3:00pm Act 1- Ej Matthews
4:00pm Turlingua Winners
4:15pm KNON Raffle
4:30pm Peoples Choice Winners
4:45pm Act 2- Squeezebox Bandits
5:45pm Vs Brands Winner
5:50pm Raffle
6:00pm Act 3 - Left Arm Tan
Official Turlingua Rules Below!!
RULES FOR TOLBERT CHILI COMPETITION
A. PAPERWORK
1. Head cook or designee must register (name, address & e-mail) at Cookoff
Headquarters for chili and/or showmanship.
2. Head cook or designee will draw their judging cup and initial for receipt at
Registration, Head Cooks Meeting or as determined by Cookoff. Remove the
numbered ticket from the cup, write your name on the back and put in a safe place.
Winners will be announced by this number and it must be presented to claim the
award.
3. Cooks must not "mark" cup in any way. If cup is damaged, a replacement can be
obtained by turning in damaged cup and numbered ticket.
4. Cooks must be at least 18 years old to enter a cookoff.
B. PREPARING CHILI
1. Chili must be cooked on site the day of the cookoff from scratch. "Scratch" means
starting with raw meat and using regular spices. "Scratch" means starting with raw
meat and spices. Commercial chili powder is permissible, but complete commercial
chili mixes are NOT permitted.
2. Chili must be prepared out in the open in as sanitary a manner as possible.
3. No beans, pasta, rice or other similar items are allowed.
4.The head cook must prepare the chili to be judged.
C. TURNING IN CHILI
1. No more than one judging sample can be taken from any one pot.
2. Each cook may turn in only one cup of chili.
3. At turn-in time, fill your cup 3⁄4 full (or leave at least 1 inch head space) and take
it to the Cookoff Headquarters. Do not be late.
4. Your chili will be judged on AROMA, CONSISTENCY, RED COLOR,
TASTE and AFTERTASTE.
The First place Chili winner at a sanctioned Cookoff is automatically qualified for the
Original Terlingua Championship Chili Cookoff that is held the first Saturday in
November in Terlingua, Texas.
SHOWMANSHIP COMPETITION RULES
1.Show teams must have a chili cook entered in the cookoff and team be registered
in order to qualify for showmanship points.
2.Showmanship Teams MUST enter all cookoffs under the same show name and
show captain who must be in attendance.
3.Show teams will be identified for judging by an assigned number. The number is
to be prominently displayed on the show booth or worn by the participant if traveling
away from their booth.
4.Showmanship shall be judged on: THEME (Originality, etc.), COSTUME, BOOTH
SET-UP, ACTION, and AUDIENCE
APPEAL
5. Judging shall be on a continuous basis for a minimum of 30 minutes, with a
maximum of 2 hours during the cookoff at the discretion of the promoter, ending at
least thirty minutes prior to chili turn-in time or beginning thirty minutes after chili
turn-in time. At the Terlingua Championship, the time limit shall be set at 2 hours.
6.Sound amplification may be used, with limited volume, so as not to interfere with
surrounding cooks or show teams.
7.Showmanship must be limited so as not to interfere with other show teams, or to
cause hazardous or unsafe conditions to exist.
8.Show teams must not offer or dispense any alcoholic beverages to spectators
during their show.
9.A team discharging firearms, or using any other explosives or pyrotechnics will be
disqualified. (No guns, capable of
firing bullets or blanks, will be allowed at the Terlingua Championship for show.)
10. Nudity and lewdness is banned from showmanship.