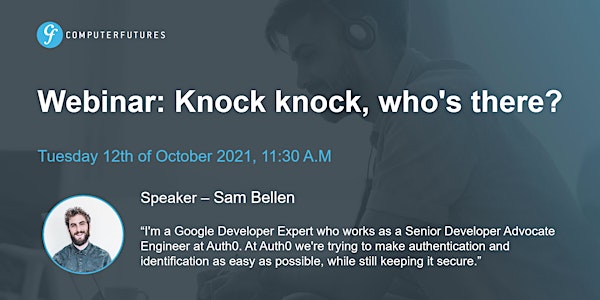 Knock knock, who's there?
When it comes to writing code, there's nothing we take more seriously than authentication and security.
About this event
Modern single page applications bring along new challenges. By using solutions like the OpenID Connect protocol and JSON Web Tokens we can improve the user experience when authenticating with your apps, providing a seamless authentication process.
In this talk, we will try to explain in-depth, the way JSON Web Tokens work and can be used to secure your single-page apps. We will explain the difference between using opaque tokens and JWTs. The talks will also give an overview of a modern authentication flow and a step by step breakdown of how it works exactly. No specific previous knowledge is required, but it helps the audience has some experience with authenticating users.
Why:
Authentication is one of the fundamentals of modern (and not so modern) applications. While a lot of apps are becoming modern single page applications, the way we authenticate these is still stuck in the past. No more server-side cookies or abusing OAuth. OpenID Connect and JSON Web Tokens provide a way to handle the authentication of SPAs in a seamless and secure way.
About the speaker
My name is Sam Bellen. I'm a Google Developer Expert who works as a Senior Developer Advocate Engineer at Auth0. At Auth0 we're trying to make authentication and identification as easy as possible, while still keeping it secure.
After office hours I like to play around with the web-audio API, and other "exotic" browser APIs. One of my side projects is a library to add audio effects to an audio input using JavaScript.
Schedule
11:30 - Welcoming by Karlien Janssen , Java Recruiter at Computer Futures Belgium
11:35 - Talk and presentation by Sam Bellen
12:20 - Q&A and closing
12:30 - End