Description
Start learning a craft you'll cherish for a lifetime. Knitting is not just a hobby: it and it's close cousin, crocheting, can also be used as meditation to help minimize the effects of stress in your daily life. (See link at bottom for more on the benefits of yarn craft.)
If you've never tried knitting or are fairly new to this handicraft, this is the class for you! We'll meet on three consecutive Monday nights beginning February 29, from 6:00 to 7:30 p.m.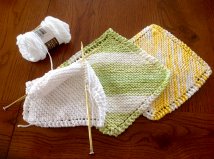 You will learn the basic cast-on, knit and bind-off stitches needed to create and complete your first project---an easy-to-make, gift-worthy dishcloth. According to our guest instructor, "These dishcloths are the Best and get rave reviews from long-time users to newbies!"
You decide if you want to attend all three sessions (recommended for beginners) or just weeks #2 & #3 (for those with previous knitting experience). Choose the ticket type that applies to you when you complete your registration.
Week 1 - Intro to knitting technique & terms
Bring practice yarn & needles
Homework - practice knit stitch
Week 2 - Intro to project pattern (Knitters with some experience welcome to start here. Advanced patterns will be available.)
Week 3 - Learn to bind-off and complete your first dishcloth pattern/project!
We'll provide: lite refreshments and experienced instruction.
You bring the following supplies:
Practice yarn - any type (Your choice of color);
Sugar 'n Cream Cotton Yarn, 1 skein (Your choice of color);
Pair of Knitting needles, size 7-9.
Ask a friend to register and come along with you. The more, the merrier!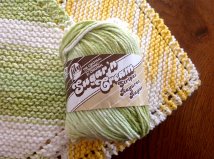 Instructor: Denice Sherksnas
Your instructor for beginning knitting is a lifetime-long crocheter and a self-taught beginning knitter. Working with needles and hooks has given her the chance to create and give gifts from the heart, including baby blankets, afghans, dish towels and dish cloths. Denice has had the opportunity through her church organization to teach life-skills and crafting to hundreds of women and youth over the past 25 years. Some of these classes have included crocheting, quilting, woodworking, bread-making, journaling, and genealogy. She is delighted to have the opportunity to teach and share her love of craft to a new audience.
See more about the benefits of yarn craft: http://blog.lionbrand.com/2014/05/20/10-most-important-health-benefits-of-yarncrafting/