Open house and site visit at the proposed location for a wetland and habitat restoration project in Knightsen, CA.
About this event
UPDATED WITH DIRECTIONS TO THE EVENT
Event Date: December 4, 9:30-11:30
Event Description: Please register for this event so we can provide follow-up information including directions, parking information, and updates if we need to cancel due to weather.
The East Contra Costa County Habitat Conservancy and East Bay Regional Park District invite you to join the Wetland Restoration Project Team at an open house event. You will be able to talk with the project team, view informational material, and see a portion of the project site. More information about the project can be found online on the project's webpage.
This is also an opportunity to take a self-guided walking tour from the information station at the site entrance to No Name Slough to the eastern portion of the site. The total roundtrip distance is approximately 1.5 miles.
This event will be held outside. There will be no facilities or amenities available as this is an undeveloped site. The ground surface is predominantly an all-weather gravel road. The walking tour is mostly level, though the surface may be uneven in places. Please use caution when walking on the site. Sturdy walking shoes are recommended.
Directions to the site: The entrance to the is located near the intersection of the Byron Highway and Eagle Lane, in Knightsen. The best way to find the entrance to the property is to type "Byron Highway and Eagle Lane" into google maps. This will take you directly to the entrance to the property. However, Eagle Lane is a private road. You will need to turn into the driveway adjacent to Eagle Lane and drive through the open gate. Please stop to speak to the event volunteer to get directions on where to park. We have identified a space for cars to park that is farther into the property and is not right at the entry gate. Please drive slowly and carefully on the gravel road to the identified parking area. If you are not comfortable driving on the gravel road, please let the event volunteer at the front gate know and we will identify a parking spot for you and you may walk the gravel road.
Covid-19 safety recommendations: Masks and social distancing are recommended for people participating in this event.
Questions about this event? Contact Aaron: aaron@catalystgroupca.com or (415) 524-2224.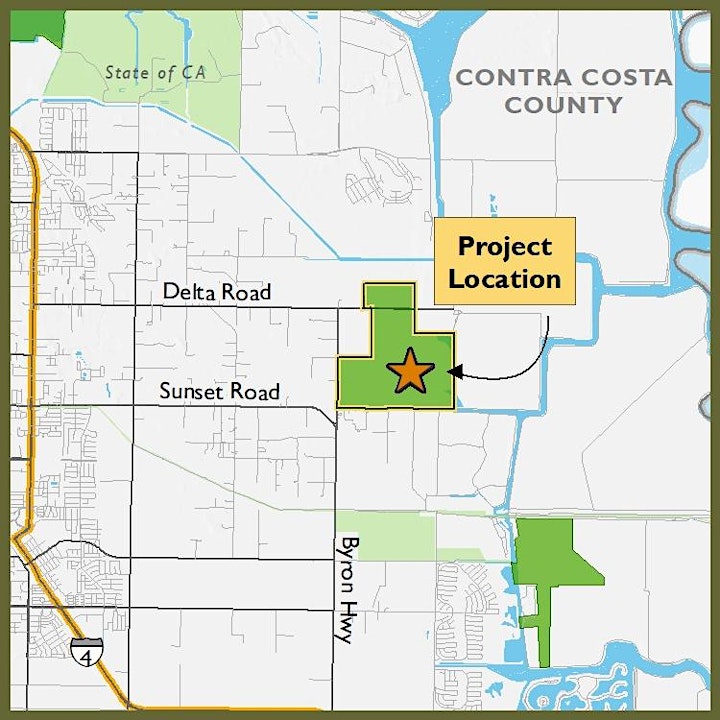 Organizer of Knightsen Wetland Restoration Project Open House