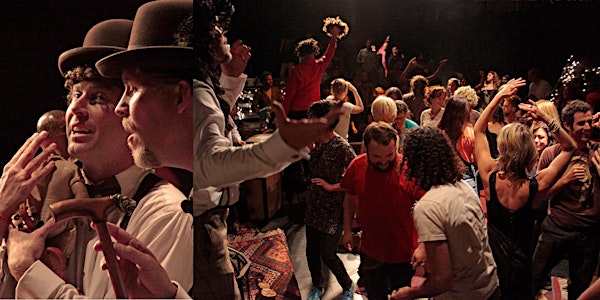 Knights of Revery · Theatre of Laughtre & Dreams · "Don't miss this!!!"-H.
When and where
Location
Ohmega Salvage 2403 San Pablo Avenue Berkeley, CA 94710
Description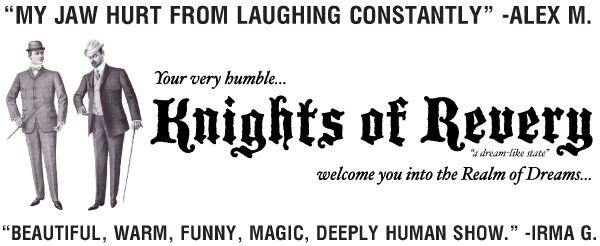 Welcome, welcome, welcome! The Knights of Revery welcome one and all* into the Realm of Dreams! Sir Psycho & Sir Pomp (as channeled through Brian Matthew Livingston & Robert Edward Earl Hickling) amuse ourselves and others by journeying between the realms of the conscious and unconscious, between fact and fiction, between here and now, between our creamy peanut butter and your smooth jelly. Please join us in a tender, delicately rough, delightful, slightly unpredictable experience of late night play and dreamery. A show. An experience. A party. Interact. Move. Dance. Put periods at the ends of short sentences. Imagine all of these in a swirling whirling chocolate and very cherry cordial. Put a spoonful of it in your mouth. Savor. You will leave knowing more people than when you arrived, and perhaps more about yourself. Pictured below are Sir Pomp & Sir Psycho from the September engagements.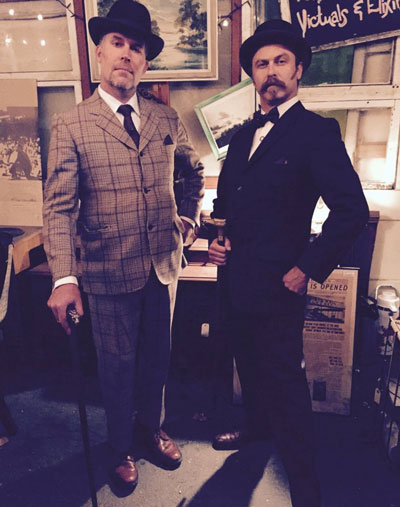 Though we are indoors, dress warmly—it is far easier to remove cloth than to spontaneoulsy weave (although spiders and caterpillars are welcome)! We do encourage dressing up if you like in dreamy attire—from pajamas to ballgowns to fairy wings to whatever you dream up (no need to, of course—only if it fills you with delight).
Each evening will be unique and possibly feature different special guest artists. Come to any or all!

With delicious, mouth-watering, other-wordly concessions by Lady O'Peabody's Victuals & Elixirs. Mmm, num, num, nummy. Pictured below are Lady O'Peabody & Elder Lord Fauntleroy.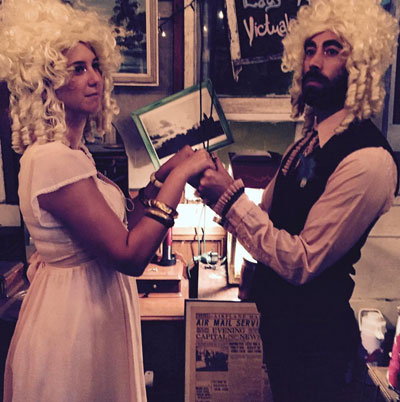 WHERE & WHEN
We will serve you in the Realm of Dreams on all of the following engagements: October 21 & 22, November 11 & 12, 2016 at the exquisite venue of Ohmega Salvage (see below), 2403 San Pablo Avenue, Berkeley starting at 8:00pm. Doors open at 7:30pm.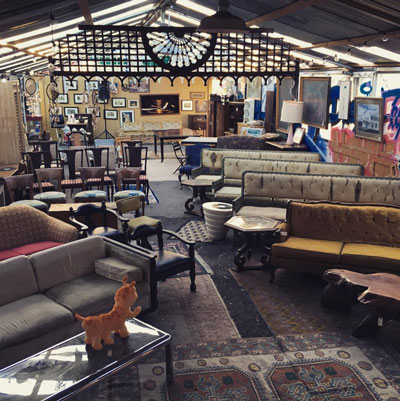 Tickets are $20. Purchase your ticket post-haste as the shows in the past have had a strong tendency to sell out with limited spots available each night!
*Adults are open to bringing their inner child; your real child, however, may learn all too quickly about inappropriate language and the naughty bits of life.
FILMOGRAPHY
Knights of Revery, Wanted Dead or Alive Music Video
Knights of Revery Show Trailer

RAVING 5-STAR REVIEWS
"WOW! What an amazing, inspiring and hilarious show last night!! I just wanted to say how much we enjoyed it—especially the audience participation—it was truly an experience. And wanted you to know that my dreams were SUPER intense and interesting last night. No doubt because of your Dreaming creation. Thanks so much!! Can't wait for the next installment of Sir Pomp and Psycho." -Jen B.
"This show was amazing! Interactive and engaging, Sir Psycho and Sir Pomp escort you into the Realm of Dreams and use your very own dreams and wishes to weave a magical evening of laughter, light, and song. Expect dancing, touching(with consent!), singing, and hypnogogia. I left feeling as if I had the best dream ever, and I want to dream it again!"
-Crystal W.

"You both created a real imaginarium the other night. I haven't laughed so hard in quite a while—and the veil between our usual consensus reality and many more possible takes on the stuff of life was wonderfully thinned: now that's a royal twofer. I very much look forward to your next round of revelry. Magic. Bravo." -Matt S.

"Such a wonderful night of laughs and ridiculousness. One of those shows worth getting up and going out to!" -Sefora R.

"Positively dreamy! The Knights of Revery are a true gift to the people of San Francisco. Helping us delve deep into the curious imaginarium of our dreams, they bring a levity to inter-planar exploration. A must experience!!" - Jason G.

"The show was the funniest of funny and so creative too. I escaped into dream land in fits of laughter and continued to belly laugh the whole way through. It is perfectly interactive and engaging. I have been telling everyone that they should not miss it. Don't miss this!!!"
-Hayden L.
"Thank you for bringing us the magic of play. The Knights of Revery created an exhilarating theatrical journey where each of us in the audience became part of the whimsical plot!! I loved it loved it am still revelling in the song, the costume, the old world set, the inspired characters, one-liners and aliveness of the whole production. Go Sir Pomp & Sir Psycho! Knights of Revery offers a dip into the dreamworld everyone ought to try."
-Catharine A.

"Still feeling the warm buzz of enchantment from Saturday's show. Sir Psycho and Sir Pomp have created something fey and hysterical, arch and groovy, conspiratorial and persuasively ethereal. Who wouldn't want to linger in the Realm of Dreams?" -Christopher M.

"Transformative immersive culture work. Healing modalities meet performance meets community organizing meets FUN TIME." -Annie-Rose L.

"The Knights of Revery are up to something really special... never seen an improv show like this before. Fun, touching, connecting, meaningful. Beautiful work, thank you so much!"
-Joshua A.

"Beautiful, warm, funny, magic, deeply human show that always leaves the audiences wanting more. We love you Knights of Revery. Thank you for creating this magical experience." Irma G.

"Knights of Revery was a magical journey that kept me on the seat of my chair [or perhaps edge of seat?], wondering through my dreamy imagination while laughing and smiling the whole way through! It is an experience not to be missed!" -Courtney C.

"You've cracked the code! We sang we danced we improvised. Oh! how I love sudden impulse. To reveal the truth that lives behind the mask of the critic.... To allow us to eat our own hearts. Thank you." -Mary H.

STAY IN TOUCH
Please feel free to love us on Facebook—why limit ourselves to like? You can sign up for the Pigeon Post (our mailing list & newsletter), follow our Instantaneous Gram, and tickle our Twitter (not particularly active there), and find out more about us and our shared realms at knightsofrevery.com.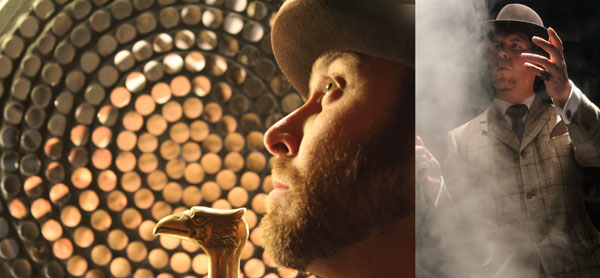 Photos by Adrian Arias, Robert Hickling, & Brian Livingston