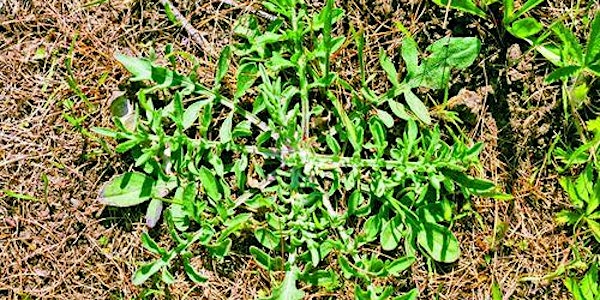 Knapweed Removal Project
If you are ready for a meaningful challenge, join this remote area spotted knapweed removal project near the Middle Deschutes River.
When and where
Location
71170 NW Lower Bridge Way Terrebonne, OR 97760
About this event
Rating:  Moderate; about 4 miles round trip,  200 feet vertical gain/loss, some off-trail travel
Guides: Marilynne Keyser
If you feel ready for a meaningful challenge, join Friends and Neighbors of the Deschutes Canyon Area (FANs) members for a remote area spotted knapweed removal project. The affected patch is a riparian strip along the Middle Deschutes River at the extreme north end of McKenzie Canyon (directly across from Riffle Road river access at Crooked River Ranch). We have obtained permission for hiking on mostly private land to this infrequently visited area. The path to the river is bounded by interesting canyon wall formations, and the steep drop down to the river follows an old ranch irrigation pipeline, adjacent to a spring-fed gully.
Our hike in is about two miles, and we will be carrying our tools. This area was treated in 2019 and again this past April, however, we were unable to remove all of the knapweed. Our goal is to remove all of the remaining knapweed along the river and in the steep and difficult gully. We will be digging up old plants to get to the new rosettes before they have a chance to bloom. Everything pulled will be stacked in place.
Workers need to wear old clothes, gloves, sturdy footwear. Bring plenty of water and a lunch. The best tools for this work are shovels with small but sharp blades for the weeds along the river, and smaller narrow spades for removal from rocky gully. FANs will have extra tools if you don't bring one.
Driving directions:
From Crooked River Ranch: Turn left on NW Lower Bridge Way. Past the turn-off for Faith, Hope, Charity Winery, watch for mile marker 10 on right. Continue on NW Lower Bridge Way, pass driveway with stone pillars on right. Turn right at next gravel road, 3 mailboxes, 5 green/white address numbers with 71170 at bottom. Continue east on gravel road, staying right at Y. Pass through open metal, solar livestock gate. Right at 71170 sign, continue downhill to parking area near woodpile and garage. Please be there by 9:00 a.m. as we will begin our hike no later than 9:15 a.m.
This event is sponsored by Friends and Neighbors of the Deschutes Canyon Area (FANs), a group founded in 2011 by landowners surrounding the Deschutes Canyon-Steelhead Falls Wilderness Study Area in Central Oregon who came together over their shared love of nearby public lands.  The focus area of FANs includes many special places such as Steelhead Falls, Alder Springs, the Peninsula, Otter Bench and Scout Camp.  Become a member by visiting our website at www.fansofdeschutes.org.  Memberships are just $10 per person per year.