Description
Discover why it's important to buy local food, the health benefits of eating locally grown produce, and why choosing local food benefits the environment.
Have you wondered why it's important to buy local food?
More and more people are seeking out fresh, local options for produce and other foods. And more restaurants are sourcing locally grown ingredients as well, often using the term 0km (Km0).
But what is "local" food? How big of an impact does eating local food have on your health and the planet? And why is it important to know more about where your food comes from?
What Is Local Food and Why Should You Care?
There's no formal definition of the term local food. But one common definition of "local" food is food grown within 100 miles of its point of sale or consumption.
More and more people want to know where their food comes from and the farming practices of the farmers that grow and produce it. And this is important for many reasons:
It helps you develop a connection with food.
You become more aware of what you're putting in your body.
You vote every time you shop, and with knowledge comes the ability to support foods and growers you believe in.
Why Buy Local Food? For One Thing, It May Be Better for Your Health
Local food can be better for your health for a few reasons. To begin with, local foods often retain more nutrients. Local produce is allowed to ripen naturally, while food that travels long distances is often picked before it's ripe. And food picked fresh and in season doesn't have far to travel before being sold.
Choosing fruits and vegetables grown in season may also be healthier. In addition, locally grown produce may be safer. When they are imported and out of season, fruits like tomatoes and pears are often picked unripe. And then, they are artificially "ripened" with ethylene gas.
Also, foods from local growers may contain less (or no) pesticides. Farmers have to pay an extra fee to become certified organic. Some small-scale farmers use organic methods but aren't certified because they simply aren't big enough to be able to afford the certification fees. Even if they aren't organic, small farmers tend to use fewer chemicals than large, industrialized farms.
You will have a chance to talk to farmers at trhe festival and ask them what (if any) pesticides they use.
Why Buy Local Food? It Can Be Better for the Environment
Food is one of the leading drivers of climate change.
Eating more local food reduces CO2 emissions by reducing food miles — the distance food travels from farm to consumer. The average piece of produce in the U.S. travels nearly 2,400 kilometers, while local food may only travel 160 kilometers (or less).
Local food helps preserve green space. When local farmers are well compensated for their products, they are less likely to sell their land to developers. Likewise, with growing consumer demand, young farmers are increasingly likely to enter the marketplace by developing unused space, such as empty lots, into thriving urban gardens — many of which are grown organically.
Eating more local food can be one part of the solution. But, local is not the whole picture of food sustainability. The impact our food choices have on the environment includes many factors.
In some cases, food produced farther away may be more sustainable if it's grown more responsibly, if it carries a smaller ecological footprint, or if it's in season.
Choosing more plant-based foods is an important part of the equation as well. If you want to eat a more sustainable diet, look for foods that are local and organic.
Other Reasons Why It's Important to Buy Local Foods
Health and sustainability are two excellent reasons to eat more local food. But they're not the only reasons. Here are some surprising, and not-so-surprising, benefits:
Fresher food tastes better

– When food is picked and eaten at the peak of freshness, it not only retains more nutrients, it also tastes better.
Small, local farms offer more variety.

Our industrial agricultural system uses a monocrop system. But smaller, organic farmers may grow a variety of organic and heirloom produce, which you might not find at the supermarket.
Supporting local food aids your local economy.

By choosing food produced locally, you're supporting your community, and you help keep local producers in business.
Local food creates community and connection.

In our increasingly online and isolated world, loneliness is a growing problem. Getting to know your local growers and shopping or volunteering at a local farmer's market counteracts this trend. And doing so can help you build meaningful human connections.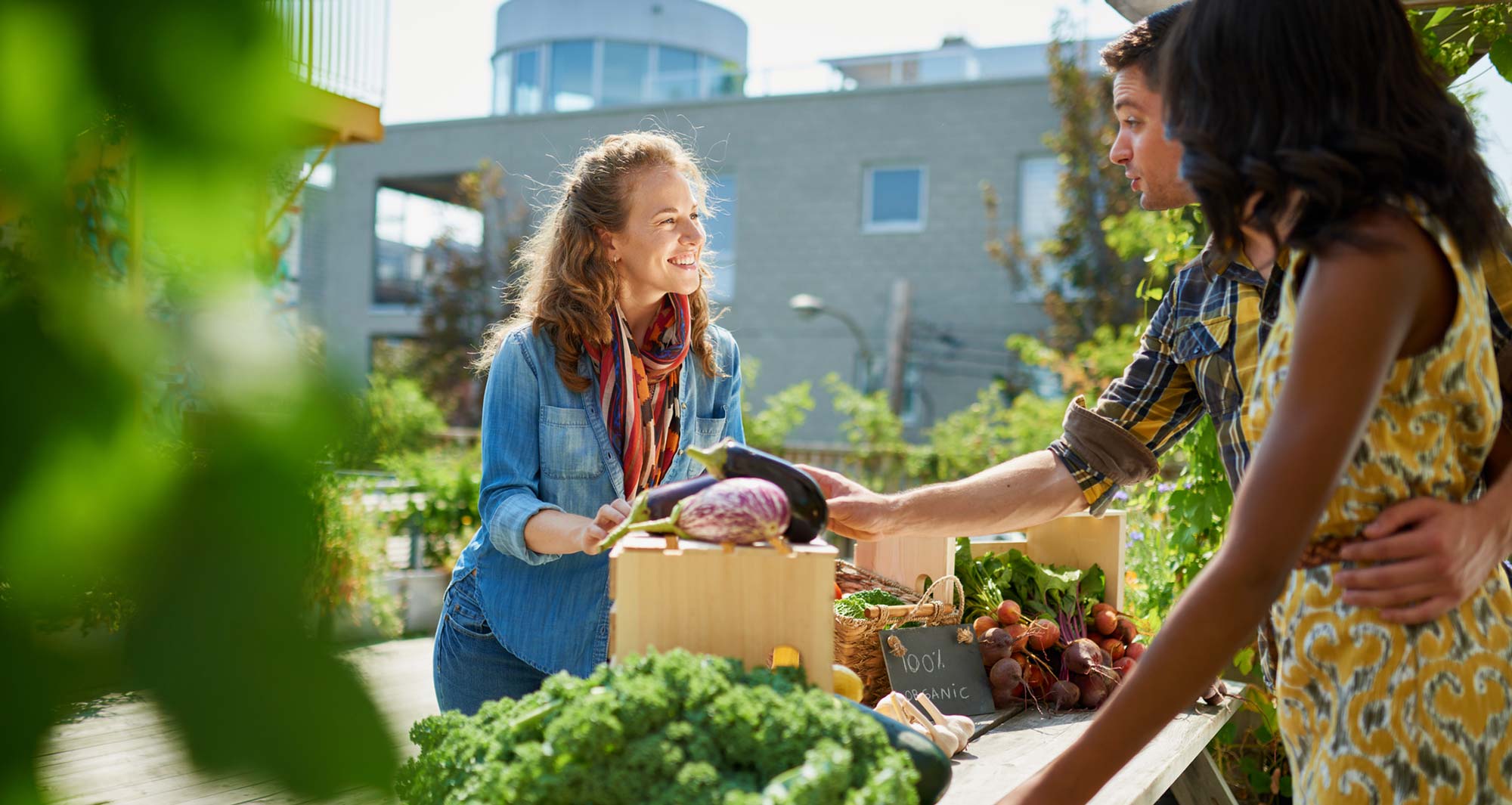 Descubra por qué es importante comprar alimentos locales, los beneficios para la salud de comer productos cultivados localmente y por qué elegir alimentos locales beneficia al medio ambiente.
¿Te has preguntado por qué es importante comprar comida local?
Cada vez más personas buscan opciones locales frescas para productos y otros alimentos. Y más restaurantes también obtienen ingredientes cultivados localmente, a menudo usando el término 0km (Km0).
Pero, ¿qué es la comida "local"? ¿Qué impacto tiene el consumo de alimentos locales en su salud y el planeta? ¿Y por qué es importante saber más acerca de dónde proviene su comida?
¿Qué es la comida local y por qué debería importarle?
No existe una definición formal del término comida local. Pero una definición común de alimentos "locales" es alimentos cultivados dentro de las 100 millas de su punto de venta o consumo.
Cada vez más personas quieren saber de dónde provienen sus alimentos y las prácticas agrícolas de los agricultores que los cultivan y producen. Y esto es importante por muchas razones:
Le ayuda a desarrollar una conexión con la comida.
Te vuelves más consciente de lo que estás poniendo en tu cuerpo.
Vota cada vez que compra, y con el conocimiento viene la capacidad de apoyar alimentos y productores en los que cree.
¿Por qué comprar comida local? Por un lado, puede ser mejor para su salud
La comida local puede ser mejor para su salud por varias razones. Para empezar, los alimentos locales a menudo retienen más nutrientes. Los productos locales pueden madurar de forma natural, mientras que los alimentos que viajan largas distancias a menudo se recogen antes de que maduren. Y la comida recolectada fresca y en temporada no tiene que viajar mucho antes de ser vendida.
Elegir frutas y verduras cultivadas en temporada también puede ser más saludable. Además, los productos cultivados localmente pueden ser más seguros. Cuando se importan y están fuera de temporada, las frutas como los tomates y las peras a menudo se cosechan sin madurar. Y luego, se "maduran" artificialmente con gas etileno.
Además, los alimentos de los productores locales pueden contener menos (o ningún) pesticida. Los agricultores tienen que pagar una tarifa adicional para obtener la certificación orgánica. Algunos pequeños agricultores usan métodos orgánicos pero no están certificados porque simplemente no son lo suficientemente grandes como para poder pagar las tarifas de certificación. Incluso si no son orgánicos, los pequeños agricultores tienden a usar menos productos químicos que las granjas industrializadas grandes.
Tendrá la oportunidad de hablar con los agricultores en el festival y preguntarles qué pesticidas (si los hay) usan.
grupo de hombres riendo alrededor de productos locales
¿Por qué comprar comida local? Puede ser mejor para el medio ambiente
La comida es uno de los principales impulsores del cambio climático.
Comer más alimentos locales reduce las emisiones de CO2 al reducir las millas de alimentos: la distancia que recorren los alimentos de la granja al consumidor. El producto promedio en los EE. UU. Viaja casi 2,400 kilómetros, mientras que la comida local solo puede viajar 160 kilómetros (o menos).
La comida local ayuda a preservar el espacio verde. Cuando los agricultores locales están bien compensados ​​por sus productos, es menos probable que vendan sus tierras a los desarrolladores. Del mismo modo, con la creciente demanda de los consumidores, es cada vez más probable que los jóvenes agricultores ingresen al mercado desarrollando espacios no utilizados, como lotes vacíos, en prósperos jardines urbanos, muchos de los cuales se cultivan orgánicamente.
Comer más comida local puede ser una parte de la solución. Pero lo local no es la imagen completa de la sostenibilidad alimentaria. El impacto que nuestras elecciones alimentarias tienen en el medio ambiente incluye muchos factores.
En algunos casos, los alimentos producidos más lejos pueden ser más sostenibles si se cultivan de manera más responsable, si tienen una huella ecológica más pequeña o si están en temporada.
Elegir más alimentos de origen vegetal también es una parte importante de la ecuación. Si quieres comer una dieta más sostenible, busca alimentos que sean locales y orgánicos.
Otras razones por las que es importante comprar alimentos locales
La salud y la sostenibilidad son dos excelentes razones para comer más alimentos locales. Pero no son las únicas razones. Aquí hay algunos beneficios sorprendentes y no tan sorprendentes:
Los alimentos más frescos saben mejor: cuando los alimentos se cosechan y comen en el pico de frescura, no solo retiene más nutrientes, sino que también sabe mejor.

Las pequeñas granjas locales ofrecen más variedad. Nuestro sistema agrícola industrial utiliza un sistema de monocultivo. Pero los agricultores más pequeños y orgánicos pueden cultivar una variedad de productos orgánicos y reliquias, que quizás no encuentres en el supermercado.

Apoyar la comida local ayuda a su economía local. Al elegir los alimentos producidos localmente, está apoyando a su comunidad y ayuda a mantener a los productores locales en el negocio.

La comida local crea comunidad y conexión. En nuestro mundo cada vez más en línea y aislado, la soledad es un problema creciente. Conocer a los productores locales y comprar o ser voluntario en el mercado local de un agricultor contrarresta esta tendencia. Y hacerlo puede ayudarlo a construir conexiones humanas significativas.