Location
Menara Sentral Vista
Menara Sentral Vista
Kuala Lumpur, Wilayah Persekutuan Kuala Lumpur 50470
Malaysia
KLHOP Weekly Prayer Room (In-Person)
About this event
Dear friends, we are happy to announce that we are finally able to reopen the prayer room for a time of worship and prayer in person!
➡️ WHAT IS THE PRAYER ROOM? 🙏
For those who are unfamiliar, our weekly Prayer Room is a place for both individuals and groups who are yearning to worship and pray with believers from different churches, and even denominations. All are welcome to join in and participate. You may read more about us on www.klhop.my.
➡️ WHEN DO YOU MEET? 🕢
Every Tuesday, 8:00pm-10:00pm
➡️ WHERE DO YOU MEET?
Level 16, Menara Sentral Vista, Brickfields 50470 Kuala Lumpur
➡️ MUST I REGISTER EVERY WEEK? 📧
Yes. Due to the limited number of seats, we would love to give others a chance to attend, should you not be able to make it on certain weeks.
➡️ HELP! I NEED CLARIFICATION❗
Do reach out to us via:
Email: klhopleadership@gmail.com
FB: KL House of Prayer (KLHOP)
IG: klhop.my
➡️ WHAT S.O.P MUST I ABIDE BY?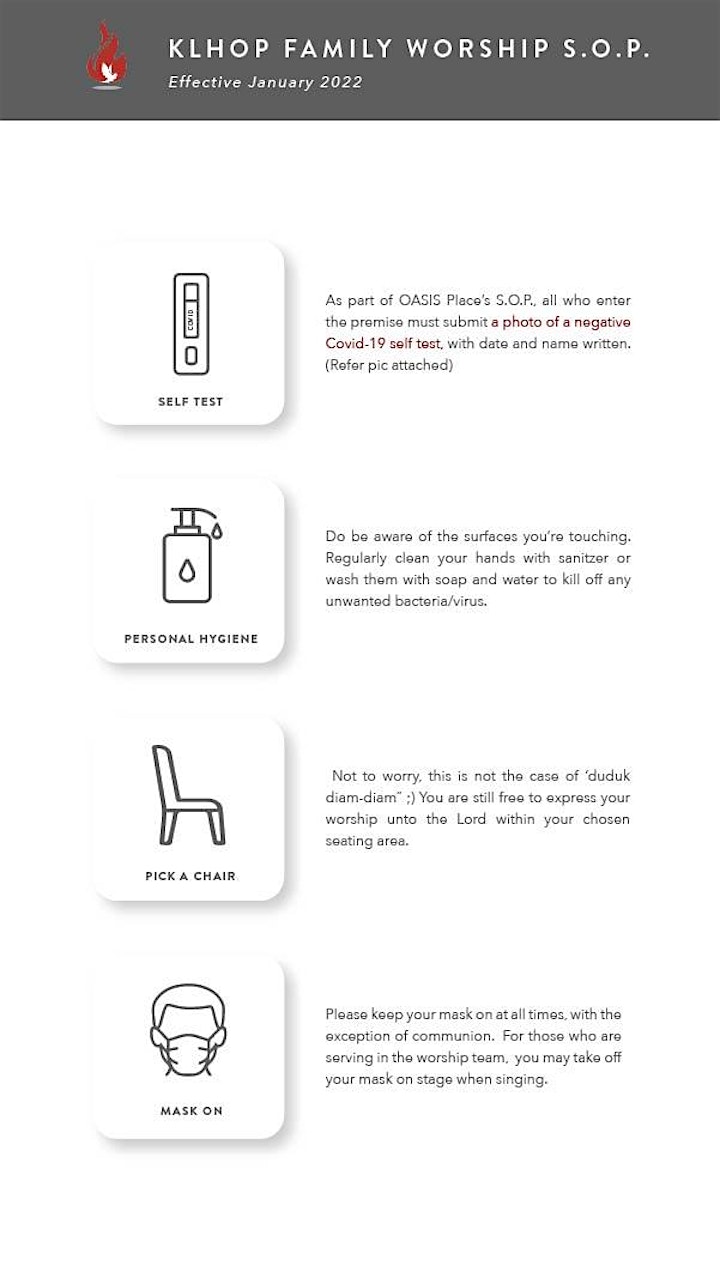 ➡️ RTK SELF TEST
Take RTK Self Test on Tuesday itself, upload photo of results before entering premise
Kindly note down your name and date on your self test kit as per image below

You will receive a confirmation email upon registration. The link to upload your results is under the 'Additional Information' section.