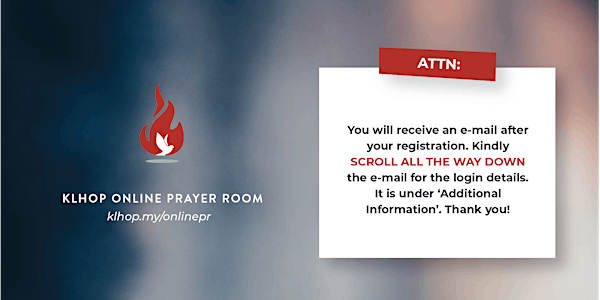 KLHOP Online Prayer Room
KLHOP Prayer Room 2022
About this event
Dear friends, due to the current COVID restrictions, we have moved our weekly prayer room sessions from physical meetings to online meetings. Although we deeply miss worshipping and praying together in person, we are thankful for the opportunity to 'come together' through technology!
➡️ WHAT IS THE PRAYER ROOM? 🙏
For those who are unfamiliar, our weekly Prayer Room is a place for both individuals and groups who are yearning to worship and pray with believers from different churches, and even denominations. All are welcome to join in and participate. You may read more about us on www.klhop.my.
➡️ WHEN DO YOU MEET? 🕢
Every Tuesday, 8:00pm-10:00pm
➡️ HOW CAN I GET THE ZOOM LINK? 🔗
As soon as your registration is verified, you will receive an 'Order Confirmation' email with a password to our prayer room website (refer F.A.Q. picture below). Do contact us if you run into any issues.
➡️ MUST I REGISTER EVERY WEEK? 📧
Please note that you only need to register ONCE to obtain the password. To access our weekly prayer room, head on to klhop.my/onlinepr and enter the password given.
➡️ HELP! I CAN'T FIND THE ZOOM LINK❗
If you need further assistance, do drop us an e-mail at klhopleadership@gmail.com.