Klezmer! - benefit concert for Two Bridges Music with METROPOLITAN KLEZMER
Description
Two Bridges Neighborhood Council present:

KLEZMER!
a benefit concert for Two Bridges Music featuring
Metropolitan Klezmer

Join us for a Klezmer-filled afternoon with a panoply of eclectic Yiddish repertoire and genre-expanding originals performed by the "delightfully rambunctious" ensemble Metropolitan Klezmer, in celebration of the Lower East Side's diverse tradition and history. And enjoy a culinary pairing with tasty treats from the famous Katz's Delicatessen!
Children can attend for free!
All proceeds will benefit the Two Bridges Music program, providing high quality music lessons at reduced rates in the Lower East Side since 2014.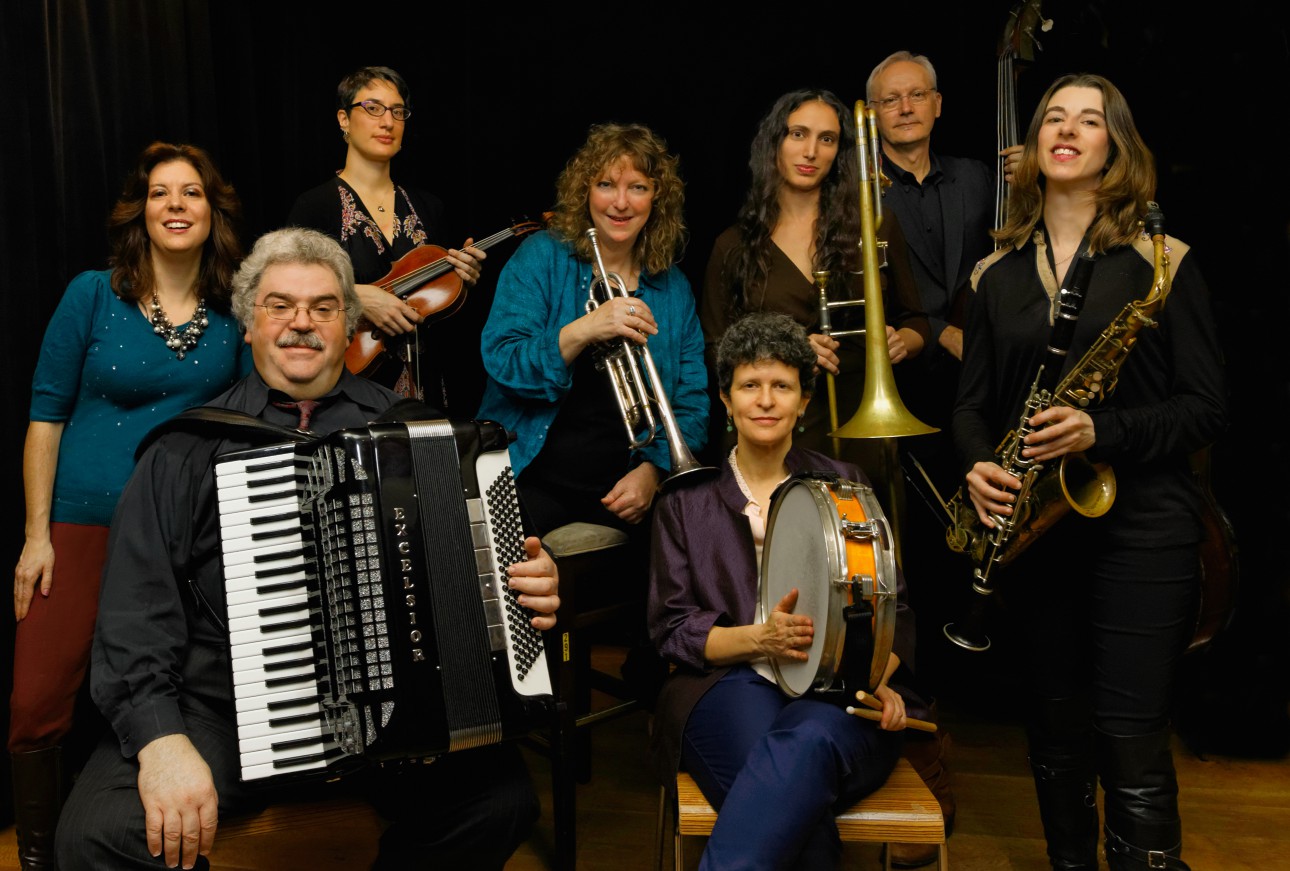 ---
with:
Debra Kreisberg - clarinet & saxophone

Pam Fleming - trumpet & flugelhorn

Ismail Butera - accordion
Dave Hofstra - double bass & tuba

Eve Sicular - drums | bandleader
About Metropolitan Klezmer:
Hailed as "one of the finest American klezmer bands" by Songlines Magazine (UK), Metropolitan Klezmer performs an exhilarating range of musical treasure with astonishing agility and refreshing depth.
Formed in 1994 by drummer/leader Eve Sicular, this collaborative adventure of eight exceptional New York musicians combines the best of downtown, classical and World Music scenes to create inspired neo-traditional interpretations and compositions around a panoply of eclectic Yiddish repertoire: ethereal trance, rollicking dance, imaginatively-arranged Yiddish swing and tango, plus genre-expanding originals such as klezmer cumbia.
Metropolitan Klezmer has toured from coast to coast, with recent debuts at Falcon Ridge Folk Festival, The MIM (Phoenix AZ), Torrance Arts (CA), and Brooklyn Botanic Garden (headlining Ghouls & Gourds festival). Among the group's special offerings, multi-media/live band program Music from Yiddish Cinema played to an overflow Lincoln Center audience at the Bruno Walter auditorium, featuring a panoply of archival film clips with context from Harvard-educated film scholar/bandleader Eve Sicular and live performance of the band's own lush adaptations of soundtrack music from beloved Yiddish movies both celebrated and obscure. The eight-piece group also drew a packed house for their Lincoln Center premiere at the David Rubenstein Atrium, as well as Southwest and West Coast venues including Scottsdale Center for the Arts. The group delighted audiences at The Corning Museum of Glass, Count Basie Theatre (Red Bank NJ), with full houses again and repeat engagements from BlackRock Center to The Strathmore (MD), Miami (FL) to Manhattan, and on campuses from Mason Gross School for the Arts to Elmira College. Jewish Week gave the band five stars [top rating], lauding their "wildly variegated flavors… Formidable… clever, spirited and smart musicianship." The Village Voice described this "outstanding group" as "delightfully rambunctious… hard-swinging," and Flavorpill beamed over "a sound that is not only exuberantly eclectic but also very danceable" from "modern-day purveyors of time-honored traditions."
About Two Bridges Music:

Founded in 2014 by classical pianist July Yang and now led by pianist and composer Cyrus von Hochstetter. Two Bridges Music provides high quality music lessons at an accessible cost to students of all levels and ages. Two Bridges Music's mission lies in fostering a love for learning and discovering music, guided by each student's own curiosity and creativity.

The Two Bridges Music Concert Series regularly brings professional musicians and ensembles to the Lower East Side to share their music and artistry, play concerts and lead workshops for audiences. All performances and workshops are offered free of charge and are supported, in part, by public funds from the New York City Department of Cultural Affairs in partnership with the City Council.