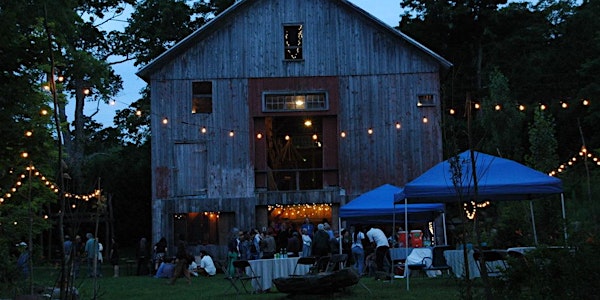 KlezCummington 2022
A Homegrown & Community-Rooted Klezmer Festival in Cummington, MA
Date and time
Saturday, August 13, 2022 · 11am - 10pm EDT
Location
KlezCummington 88 Porter Hill Road Cummington, MA 01026
Refund Policy
Contact the organizer to request a refund.
Eventbrite's fee is nonrefundable.
About this event
Welcome to another beautiful year at KlezCummington!
We are so looking forward to being together!
Please note:
*LIMITED CAPACITY: We strongly request that you register each attendee individually (if possible!) so we can best organize contact information, get a sense of numbers, and reach out to you! Thank you!!
*LIMITED PARKING: Carpooling strongly encouraged: Looking for/offering a ride? KlezCummington Ride Share!
KlezCummington 2022 Schedule
SATURDAY, AUGUST 13th, 2022
Come anytime, leave anytime!
11am - 12:30pm // BAGEL-MAKING WORKSHOP(w/ Sam Coates-Finke)
+ 11:45am: KLEZMER SLOW JAM (w/ Howard Ungar)
12:30pm // LUNCH! Homemade Bagel Deli
1 - 1:45pm // LUNCHTIME CONCERT: Levyosn
2 - 2:45pm // PRESENTATION: "Transylvanian Folk Music Pedagogy: Getting to know the Fiddlers" (w/ Zoë Aqua)
3 - 3:45pm // KLEZMER INSTRUMENTAL WORKSHOP: "Playing Kiselgof" (w/ Christina Crowder)
+ YIDDISH TKHINES ZINGERAY! (w/ Noam Lerman)
4 - 4:45pm // YIDDISH LANGUAGE WORKSHOP: "Klezmer-Loshn: The Secret Argot of Yiddish Musicians" (w/ Mikhl Yashinsky)
+ KLEZMER JAM (w/ Zoë Aqua)
5 - 7pm // VEGETARIAN POTLUCK DINNER + Shabbos Tish + Yiddish conversation table
7 - 9 // EVENING CONCERT + DANCING: Mamaliga and Burikes
9pm // HAVDOLE (led by Sadie "Zeydi" Gold-Shapiro & Abigail Weaver)
~ LATE NIGHT JAM ~
And!! ... All-day // ART INSTALLATION: "Slonim Revisited" by Emmett Leader
Program Descriptions
BAGEL-MAKING WORKSHOP
Led by Sam Coates-Finke // 11am-1pm
Bagels and deli rye have become the ubiquitous Jewish breads in America, but they descend from a rich tradition of dozens of other breads. Join us for wood-fired bagel baking in the morning, wood-fired rye baking in the afternoon to learn some of the many variations on these classics. We will be, in some ways, quite literally transcending time and place as we bake in a wood-fired clay oven and with stone ground flour as Jews have done for thousands of years.
KLEZMER SLOW JAM
Led by Howard Ungar // 12-1pm
All ages, levels, and instruments welcome! This jam will be an accessible jam geared towards klezmer beginners, but anyone is welcome. Tunes will be played slowly, and sheet music/charts will be provided. Bring a tune to play and share, or come to learn!
PRESENTATION: "Transylvanian Folk Music Pedagogy: Getting to Know the Fiddlers"
Presented by Zoë Aqua // 2-3pm
Zoë is a klezmer violinist currently completing a Fulbright research grant focused on Transylvanian folk music pedagogy. In this presentation, she will talk about some of the musicians she's met in Transylvania, show videos and share stories from them about how they learned, the context of the music both past and present, and how they're passing on their styles of playing to the next generation.
YIDDISH TKHINES ZINGERAY!
Led by Noam Lerman // 3-4pm
What are yiddish tkhines? Did the people who pray(ed) tkhines sing or chant them? How do we engage with them today? Come to Yiddish Tkhines Zingeray to sing new Yiddish tkhines songs, written by contemporary songwriters, and learn more about the herstory of Yiddish tkhines!
KLEZMER INSTRUMENTAL WORKSHOP
Playing Kiselgof: Exploring New Repertoire from the Kiselgof-Makonovetsky Digital Manuscript Corpus
Led by Christina Crowder // 3-4pm
Tunes will be taught primarily by ear, but sheet music will be available for those who would feel more comfortable using it during the session, and for anyone who likes to take home. All ages and instruments welcome.
A chance encounter in Tokyo a few years ago led to the unlikely release of thousands of unique musical manuscripts in a Kyiv archive previously unavailable to contemporary klezmer musicians and scholars. The Kiselgof-Makonovetsky Digital Manuscript Project is an international digital humanities project connecting participants with the work of important klezmer musicians from late-nineteenth and early-twentieth centuries. With the release of the Kiselgof-Makonovetsky Digital Manuscript Project (KMDMP) materials we have about five times more easily available eastern European klezmer music in score/manuscript form than previously available. In its first eighteen months, volunteers have digitally notated more than 900 melodies from a corpus of approximately 1,400 tunes! This class will be a chance to jump into this tremendously fun new "tune pool" and swim around a bit. We'll learn a few terrific tunes, and compare the charts we're working from with the manuscript originals.
YIDDISH LANGUAGE WORKSHOP
Klezmer-Loshn: The Secret Argot of Yiddish Musicians
Led by Mikhl Yashinsky // 4-5pm
If you're nervous for a show, you're "drelye" (jellied calf's foot), cold and shaking like aspic. You glance at your "tsibele" (onion) — watch — and see it's starting soon. You want to "vern a hoz" (become a hare) and make your escape. But where to? Why, a session on klezmer-loshn! — the colorful slang of professional Eastern-European Jewish musicians of which the above phrases are a sample. Learn about this largely forgotten jargon, and begin incorporating some of its real gems into your own speech in this lively linguistic session. For all levels of Yiddish knowledge.
ART INSTALLATION
"Slonim Revisited"
By Emmett Leader // All-day!
Emmett Leader's work Slonim Revisited is an installation that is a window into the world of Judaism and the Jewish Diaspora. It weaves two stories, one dealing with his youth in rural Vermont, US, and
the other based upon the pre-World War II Eastern European Jewish shtetls of his grandparents and their ancestors. This installation is a visual feast made up of a wooden shelter with earthenware panels on the walls, a large pair of doors, clay ritual objects on wall pedestals and various clay and found items on mantles. The artwork uses a folk, vernacular style and the overall effect is of a barn cum shrine; a holy space within a rural setting.
KlezCummington Details
Where:
88 Porter Hill Road, Cummington, MA. Located 24 miles northwest of Northampton. KlezCummington will be hosted on a beautiful 14-acre property cared for by Emmett Leader. It includes a beautiful barn, wood fired bread oven, garden, orchard, fields, woods, and a quiet brook. A short car ride away... you can go hiking and swimming at the Chesterfield Gorge and eat ice cream at the Old Creamery Coop!
What:
During the day there will be jam sessions, workshops, baking, lunchtime concert + bagel deli, and other activities. Bring an instrument, or come to hang out and enjoy the music and the woods! All ages welcome. Join us in the evening for a potluck dinner (including bread baked in the cob oven!) and a concert/dance party with tunes from Mamaliga and Burikes! We'll close shabbos with a havdole under the stars and bring in the night with a dance party to live klezmer music!
Cost:
We are fortunate to have received grant funding to cover some of the cost of this event, including food, equipment, and artist honorariums. Donations are gladly accepted to help cover the remaining costs. We are appreciative of your generous contributions!
Please register for KlezCummington here on Eventbrite: Sliding-scale donation: ($0-180 per person). No one turned away for lack of funds.
Additional donations can be made to: Venmo (@Klezcummington); Paypal (rltzvia@gmail.com), and cash/checks donations will be accepted on site.
Food:
LUNCH will be a bagel "deli" complete with homemade bagels made in the wood-fired clay oven from the morning bagel-making workshop with Sam Coates-Finke!
POTLUCK DINNER + fresh bread baked in the cob oven + borsht (made with local veggies from Sawyer Farm) + more!
Please bring a vegetarian potluck dish to share! (no fish!)
All food will be strictly vegetarian (no fish). For more food options, the Old Creamery Coop (a small grocery/deli) is located a 5 minute drive away. We will eat grandly!
Amenities:
There is electricity, running water two porta-potties (ADA/accessible). There is no wifi. Verizon and AT&T get good service. T-Mobile... not so much. There is Wifi at The Old Creamery Coop, a 5 minute drive away.
Accessibility:
The concerts will take place in a barn which has two entrances. One of the entrances has two steps to the main level, and the other entrance is a narrow ramp. The ground in front of the ramp is uneven. There will be two rented porta-potties (ADA/accessible) a short walk away from the barn. The parking will be down a slight hill from the event, but there will also be more accessible parking spots right next to the barn. There will be chairs set up all around the event for sitting down. Many of the events during the day will take place entirely outside. In the evening, the bands will play inside the barn, and folks are welcome to listen either from inside the barn or outside the barn on the lawn. We ask that everyone be respectful of others' choices around masking and social distancing, and expect everyone in attendance to be fully vaccinated. If you have specific questions regarding accessibility, please contact us at info@klezcummington.com.
Parking:
Parking will be located on the property. There will be signs to help you find where to go!
**THE NUMBER OF PEOPLE THAT WE CAN ACCOMMODATE IS LIMITED
** Carpooling is STRONGLY encouraged! **
Looking for/offering a ride? KlezCummington Ride Share!
Arrival:
Arrive anytime after 11am on Saturday!
Come anytime, leave anytime!
RSVP for the KlezCummington and individual workshops is strong encouraged (helps us get a sense of numbers) but not required. RSVP & register through Eventbrite.
COVID-19:
All participants must be fully vaccinated (kids/anyone unable to be vaccinated at this time, please wear a mask). At this moment, masks are optional for fully vaccinated people, but everyone should decide what feels most comfortable to them. Please stay home if you have been recently exposed to Covid or are feeling sick. We are closely monitoring local cases and will update guests about our COVID safety protocols as needed. KlezCummington will take place entirely outside or inside the barn with many windows, doors and ventilation.
Questions:
Contact us: info@klezcummington.com
Not on the KlezCummington Email List?? Sign up HERE! Check Spam/Promotions folder for confirmation email!)
You are invited to share this event with your close community and friends if you think they would be interested. Please do not share this information publicly in large forums.
A GROYSN HARTSIKN DANK !!
We're so looking forward to another beautiful year together!
See you soon @ KlezCummington 2022!!