Description
Saturday Nov. 29th, 2014
Moetown Lee, J. Carter, The Art Behind the Tape and ABL Radio presents
Klasiks
@
Metro Fuxion
554 Piedmont Ave (in the heart of Midtown)
for Tickets go to Klasiks.eventbrite.com
Klasiks is all about the music that made you dance. The party anthems and the music that helped form your memories..... Klasiks is about sweating out your hair, your feeting hurting from dancing and leaving the party thinking 'Damn that Dj made my day".
Its the holiday. You worked hard all year long. You deserve a good ass party. It's time...

We will be rocking out 25 years of Party Klasiks from 1980 - 2005 everything from Prince to Biggie, Madonna to Outkast, New Edition to Nirvana (Pop. Rock, Hip Hop and Reggae) Klasiks.... We even doing a Slow Jams set! So freshen up brothers!
We will be collecting Winter attire to help warm up the less fortunate for the holidays. Please help and contribute!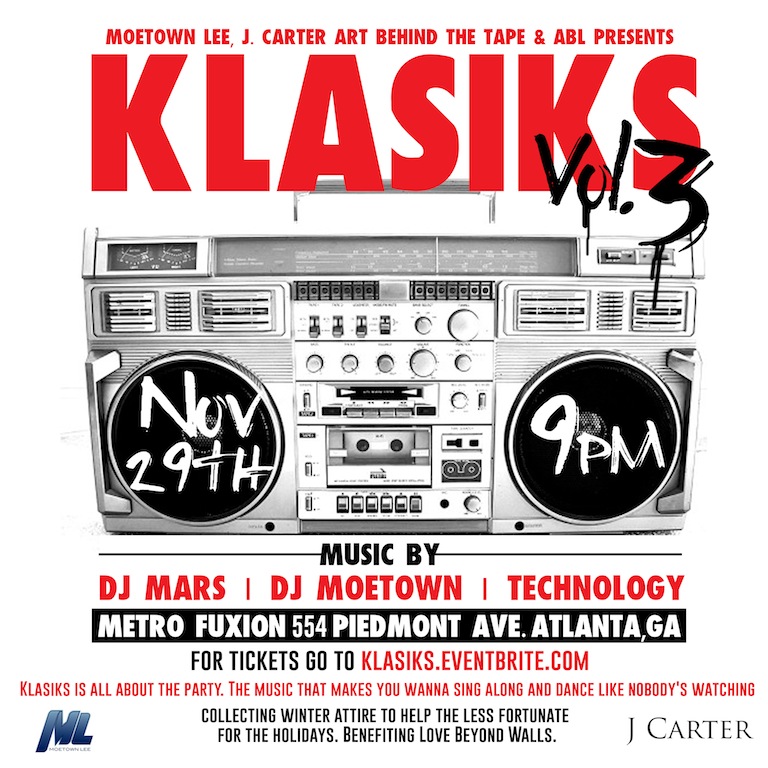 ** this is the anti-wallfower and vip gazing party! So in the proud words of the 2 Live Crew... "if you ain't come to party take yo lame a$$ home!!!!"
Music by Atlanta's Klasik party rockers

klasiks.eventbrite.com