Support families and build our annual scholarships for our high quality Montessori Antibias founded school.
About this event
Klahanie School Annual Pie Auction for local Vashon-Maury Island Fun LiveSteamed!
Be the first to take part in our dual intimate in-person and virtual safe distancing Pie Auction raising funds for our Klahanie School island families! All proceeds directly build our annual school scholarships for children in our classes for present and future. Thank you for helping celebrate community and the joy of flavors and pie delectable delights baked especially by local baking artisans. Please help shape the fun and flavor of this connected event together sharing enjoyment of the magic of the pie artisans and Klahanie School Class made floral art pieces featured for live auction.
In-Person option with Very limited seats for In-Person dinner, auction excitement and celebrations, don't miss the fun! Transportation details to and from parking for the event will be emailed to in-person attendees July 2021.
Virtual LiveStream will allow families to pickup their dinner at 2-4pm/Klahanie School and head to the comforts of their home to bid and win pies!
Pie pick-ups will be at Klahanie School 8-9pm (or earlier when arranged, please email klahanieschool@gmail.com for specifics)
Please check out our school http://www.klahanieschool.org/ for more programming and school information.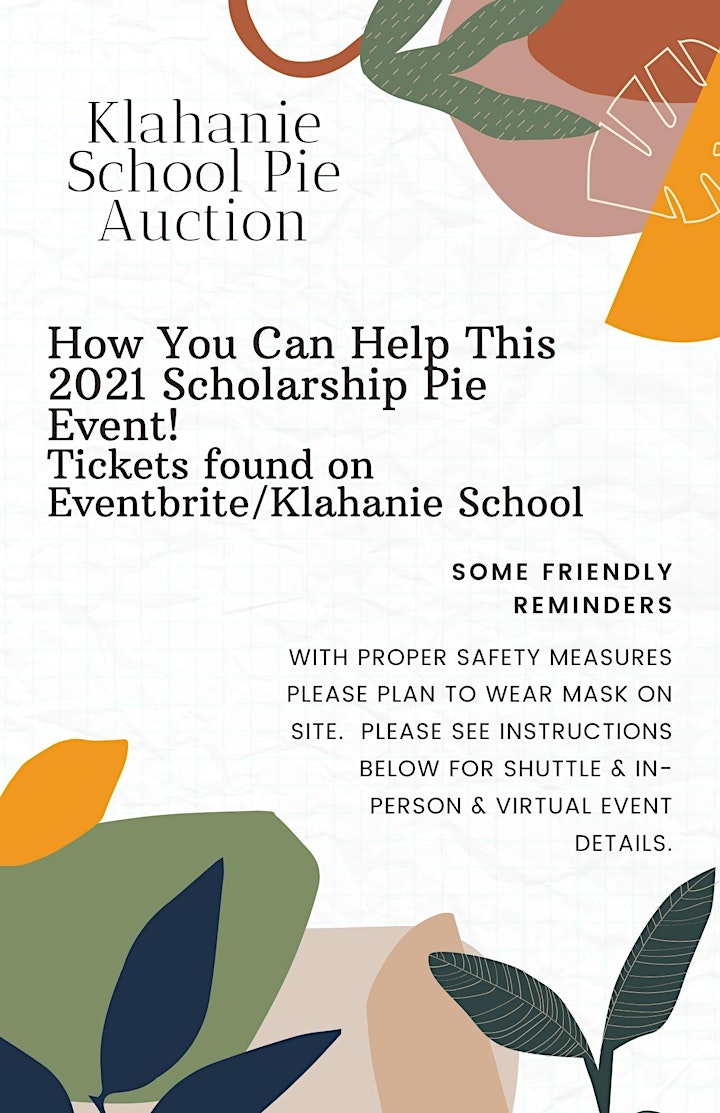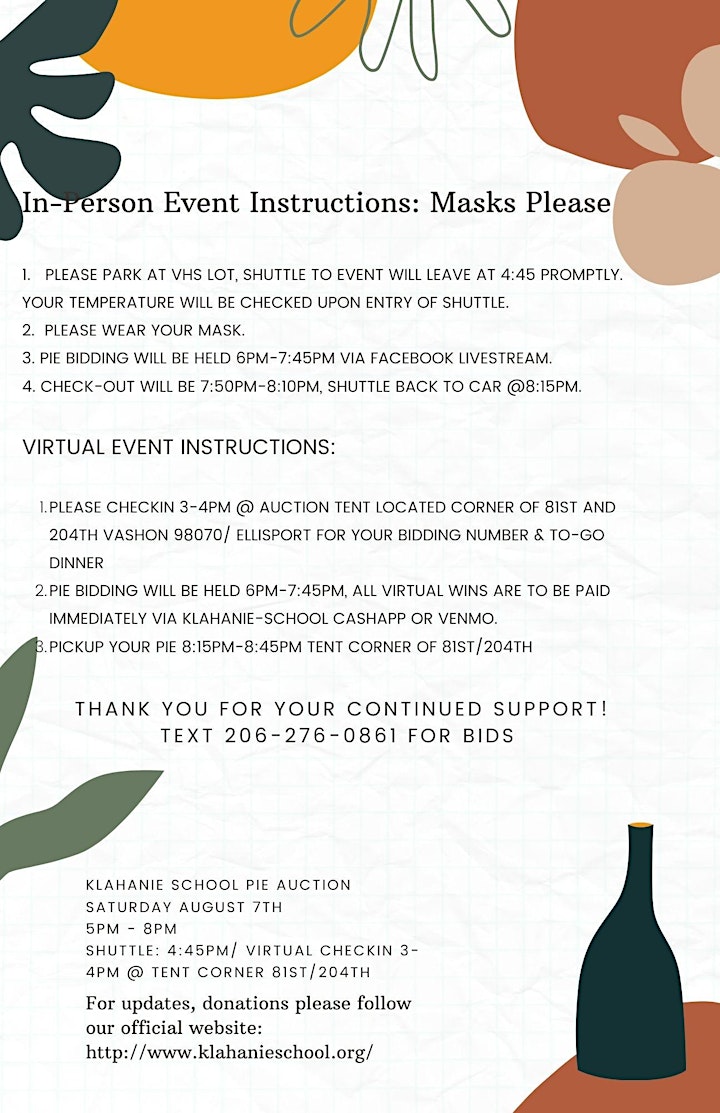 Organizer of Klahanie School 2021 In-Person & Virtual Pie Auction Scholarship Fundraiser
About Klahanie School:  
Montessori Empathy Development School for ages 2.5-6yrs in a multi-age environment
Young children hold a unique and inspiring level of empathy and love. We want to help nurture that precious gift to the fullest degree with the introduction and later practice of holding space with people outside of the family experience. We believe no child is too young for the wonderment of connection may it be with humans or the flora/fauna of the earth.

With the practice of presence, acceptance and nurturing while a child experiences new levels of human emotion, a trust building environment is created so individuals may freely express emotions and learning process. Peace introduction and practice are a core foundation for the classroom experience.

We are focused on expanding the child's love of self, others, earth and learning. Children are encouraged in a nurturing method to actively explore the world at self-supported pace. Klahanie is the Native American meaning, "enjoyment of the outside world" and that is exactly what we encourage for human enrichment; the appreciation, love and respect of the world we are offered in order to further the growth of self and greater world care. Our intention is to instill a love of life and the confidence necessary to explore and adapt to our ever-changing world. 

Montessori philosophy foundation is "Follow the child." Using the interests and needs of the children as a guide, a learning environment is created. The environment is prepared to be developmentally appropriate and interesting while nurturing the creative and problem solving methods. The prepared environment encourages children to move about at will, making choices and building skills toward independence.

Additional education exposure and practice of compassionate listening/communicating in Circle and Anti-bias format, offering time to explore empathy and connection practices.  The Montessori method of "follow the child" partnered with Emotional Intelligence and Compassionate Listening practice to follow the needs and interests of the participants to create a container space of safety to express and celebrate Self and Connecting in an age appropriate and engaging environment to deepen relationship with self and community.
With a world full of disconnect and extended family many times living far away, we feel committed to offering an environment where parents can experience sincere levels of support.  

Klahanie School admits students of any race. Klahanie does not discriminate against applicants or students on the basis of race, color, religion, financial background or ethnic origin.
Klahanie School was created to support all young children and families who seek opportunity for early educational experience and family advocacy. Klahanie means, "enjoyment of the outside world." We feel honored that our school is many-times a child's first tender steps into the outside world. We continue to work creating ways we can boost our scholarships so early child education is affordable and available to our entire island community.