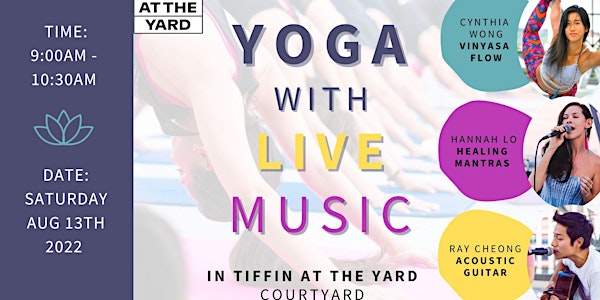 [KL] Yoga with LIVE Music w/ Cynthia Wong, Hannah Lo, Ray Cheong @ Tiffin
Location
Tiffin At The Yard
Off Jalan Ipoh
Kuala Lumpur, Federal Territory of Kuala Lumpur 51100
Malaysia
Refund policy
Contact the organizer to request a refund.
Eventbrite's fee is nonrefundable.
YOGA with LIVE MUSIC - led by visiting international yoga instructor Cynthia Wong, set to live music performance by Hannah Lo & Ray Cheong!
About this event
Yoga with LIVE Music led by Cynthia Wong, Hannah Lo, & Ray Cheong!
Let the harmony of live music and yoga take you someplace magical...
Set in the spacious grounds of Tiffin at the Yard's courtyard, under high sunlit ceilings and amongst the trees, let Cynthia Wong guide your breath and movement in harmony with the soul soothing tunes of Hannah Lo and Ray Cheong! Just imagine flowing as you bathe in live improvisation, meditative soundscapes, healing mantras and songs to uplift your spirit.
The dynamic vinyasa flow class will help you build flexibility and strength, then ease you into a calm balanced state. Designed for all levels, no prior experience necessary, with modifications offered for all levels.
Yoga, wrapped in moving melodic voices and gentle guitar. An experiential event inviting you into a novelty practice that will evoke senses unlike any other yoga practice out there. One that can guide you into a deeper expression of freedom, expansiveness, and joy, so that you can be inspired by who you want to become, and how we can rise stronger than ever before, together.
Within the welcoming courtyard, natural light, and community park vibes, let's kickstart the weekend with a fire to light up KL like no other and together flow into brighter days!
Our session will also kickstart the SUNNY DAYS weekend festival happening that weekend, bringing food, music, art, fashion & more to celebrate a post-pandemic KL (more at @tiffineats @mysunnydaysfest)
DETAILS to join our Yoga to Live Music session:
VENUE: Tiffin at the Yard, Courtyard
TIME: 9 -10:30am
TICKETS - individual or bundle:
- 1 for rm85
- 2 for rm75 each
- 3 for rm65 each
Register for your spot here: https://tinyurl.com/yogalivemusic
BYOMat, water and hand towel
**This is also Kid Friendly event - for children old enough to participate.
**Spaces are limited (20 have signed up as of Aug 5th)
YOUR GUIDES:
Visiting international yoga instructor & retreat leader Cynthia Wong, spiritual songstress & healing guide Hannah Lo, and widely acclaimed singer-guitarist & multi-medium producer Ray Cheong are 3 forces who have collaborated for this event and many others in inspiring indoor and outdoor spaces all across KL from 2016 to 2018! This will be our 8th time joining forces, exactly 6 years after the very first Yoga + Live Music event under an expansive outdoor dome to kickstart our series. Here's more about the trio:
—
* CYNTHIA WONG is an international yoga teacher and entrepreneur, passionate about creating inspired events filled with magic to help people design their own authentic dream life.
She's taught yoga in 18 countries for over 3000+ students, further designing and running by the end of this year 15 yoga adventure retreats across 7 countries - Malaysia (Perhentian Islands), Bali, Maldives, Sri Lanka, USA, Croatia, and Santorini, Greece. She's organized over 200 of her classes outdoors, integrating the magic of nature, which excites her about the Tiffin courtyard location! Originally from Chicago and first living in KL back in 2012, Cynthia is deeply grateful for the KL community. She feels forever blessed to have started her yoga teaching here in 2015 after the first of many yoga teacher certifications in Bali, leading her to discover her passion for inspired event design.
She still travels the world, partially based in Hawaii. She's currently also a virtual corporate wellness consultant, group travel designer worldwide, and a retreat strategist, coaching-consulting yoga teachers and wellness facilitators to design and fill their own dream retreats. She's driven by a desire to discover what magic happens when we live with wild abandon, give without expectation, and love without fear… in order to Live in Adventure any day! You can learn more at cynthiatravels.com, or connect via @cynthiatravels on IG, @cynthiatravelsyoga on FB.
—
* HANNAH LO is a Singer with a passion for spiritual music. She sees her voice as an instrument to uplift audiences with music from the heart.
In her 12 years in the entertainment industry, Hannah's career has evolved from Celebrity Model and Emcee to Singer and Women's Love & Relationship Coach.
Through performing with gifted musicians and vocal alchemists, Hannah's musical training deepened in America where she learnt the power of improvisation and using her singing voice as medicine for the soul. Her choice of music spans sacred chants, meditative rock, dream folk, atmospheric soundscapes and pop soul.
In 2015, Hannah toured China with her partner Ash Nair, where their debut single 'The Fire was introduced with raving reviews. She has since performed amongst global artists at Murfest's Urbanite Concert, on variety shows like NTV7's Bella TV, with a solo showcase at No Black Tie – one of the most sought after venues for musicians and discerning music-lovers, and co-headlining the first Unleashing Your Genius at Gaslight Cafe & Music.
Hannah is known for bringing her unique magic to the stage and enchanting audiences with soul stirring music.
—
* RAY CHEONG is a singer-songwriter and guitarist who's performed across Malaysia, Southeast Asia, UK and Europe over the past 10 years. He's gathered over a millions views on YouTube and 2 live albums.
He's accompanied and opened for notable artists from Australia,UK, US, & Malaysia in concerts across the world and in different genres. His music is influenced by heros such as Jimi Hendrix, Tommy Emmanuel, John Mayer, Incubus, Matchbox 20, The Beatles, Tom Jones, Bee Jees, among many more.
Ray is currently working on his debut studio album, touring with his latest single 'Blue', and working with a loop station live performance setup.