Description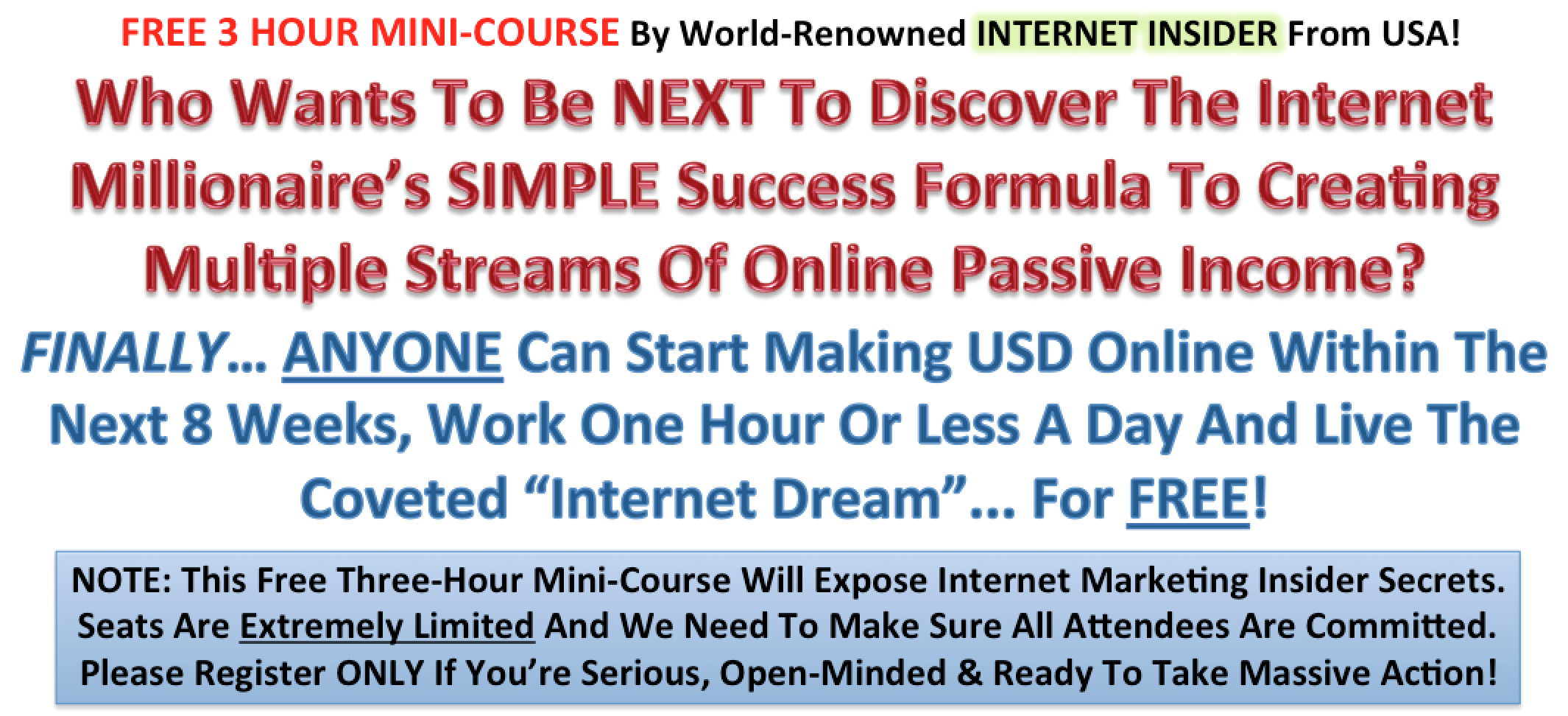 ATTENTION BUSINESS OWNER, ASPIRING ENTREPRENEUR AND FUTURE SUCCESS STORY:

Are you frustrated with your current financial situation and work lifestyle?
Do you feel like there are never enough hours in the day to do everything you want to do?
Would you like more time to spend on revenue generating activities and on things that matter most to you?
Does it make you feel guilty to not be able to make time for your family, kids or partner because you're always working?
Is the stress and frustration of your under-appreciated work having a negative impact in your personal life?
If you answered "yes" to any of these questions, then today is your lucky day because you are about to discover how you can transform your life into a smarter and more profitable Internet entrepreneur.
The best part - You will significantly cut down the amount of hours working so you can actually spend more time doing things you enjoy with those you love in your life.
This is all possible because of the power of the Internet, and it's no secret at all that fortunes have already been made online, and there's plenty more where that came from... Enough to make everyone in the world a millionaire.
Do you want to be one of them?
Don't just take this at face value... Take a look at what these previous students have to say: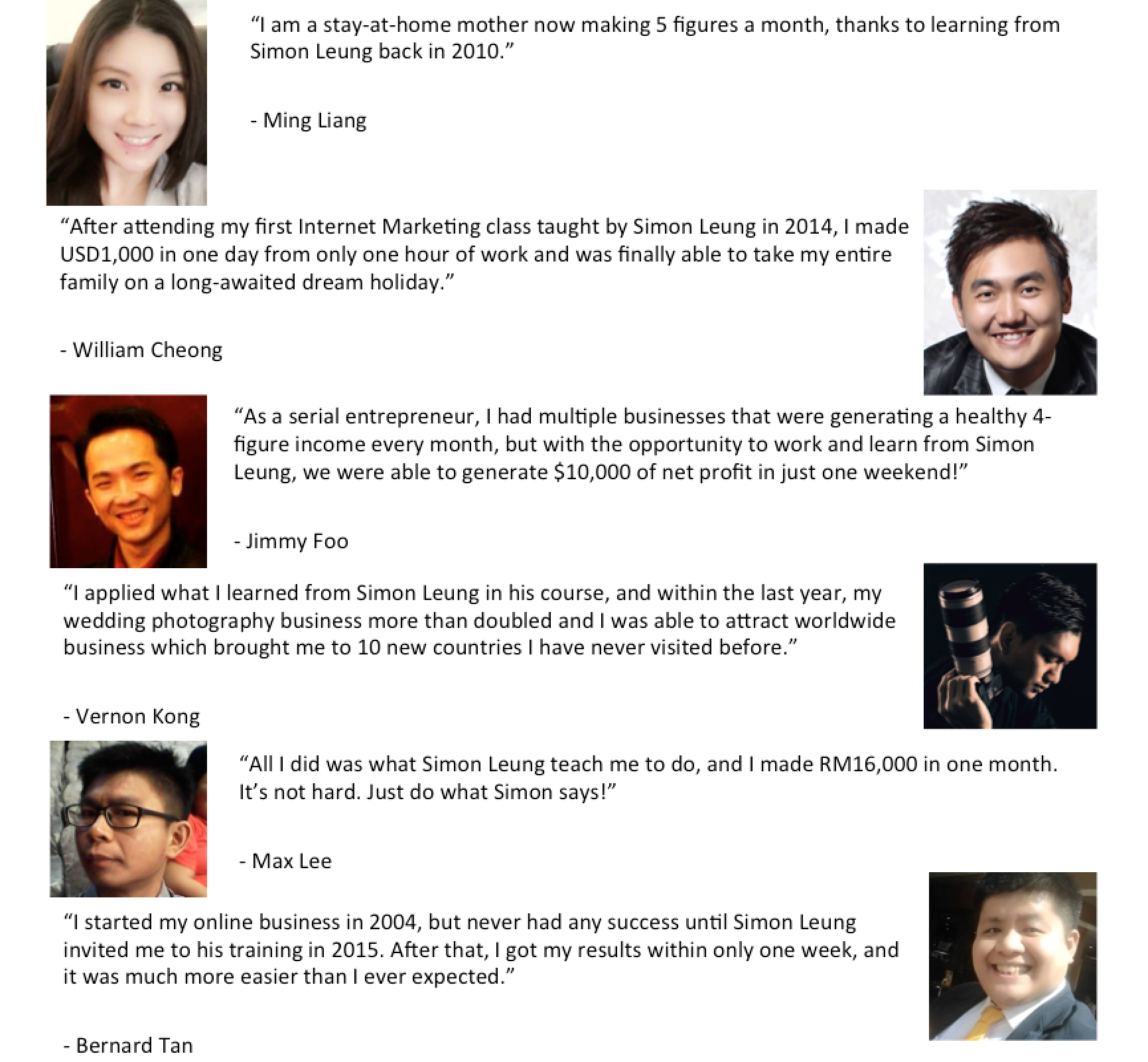 These are REAL students... with REAL success stories... Do you want to be next?
Allow me to let you in on the secret: They are using a top secret million dollar formula that almost NOBODY else knows about, much less qualified to teach.
Want a hint? They are not even selling a single thing.
In what may be the final session in Malaysia of 2016, this TRUE Insider from the USA will reveal:
How to get started promoting any online or offline business you want
What high-valued products you can give away for free to make money
Where to find more profitable giveaway products than you can handle
Who you should be targeting every day to receive these free products
Why this is without a doubt the easiest way to generate income online
When you should focus online or offline to maximize your profits
Which available tools to use that can actually automate your entire business
PLUS: Private walkthrough of an actual, multi-million dollar online project
And much, much more...
But that's not all...
For live attendees, not only will you get the rare opportunity to meet and learn from the Internet Insider himself, but you may also win the chance to receive FREE LIFETIME MENTORSHIP from him.
BONUS - All attendees will receive FREE ACCESS to a Private Million Dollar Online Resources Page... 100% complimentary simply by attending this live session!
To learn how, you will definitely need to listen in person by securing your seat through this registration page.
Warning: Because we want to restrict the number of attendees so that our content can make a bigger impact, we will conduct the event at my business partner's small office, where space-restraints means we must strictly limit this to 20 people.

We cannot have more because we simply cannot fit any more, and at the time of this writing, we are already at about 90% capacity.
This means that as soon as we are full, we will have NO CHOICE but to close the registration for this event, and if you're lucky, we may schedule another event in the future so that you may attend an upcoming session.

But if you're not so lucky, once you missed out on this event, it may never happen again.
UPDATE: Because of all the buzz surrounding the anticipation of the Internet Insider's return to Malaysia, we may need to close off this registration page earlier than expected.
Be sure to register yourself and anyone you would like to invite while registration is still open. If you see that the registration is closed, then it is unfortunately too late to register.
Do yourself a favor and take the next 10 seconds to secure your seats now before it's too late.