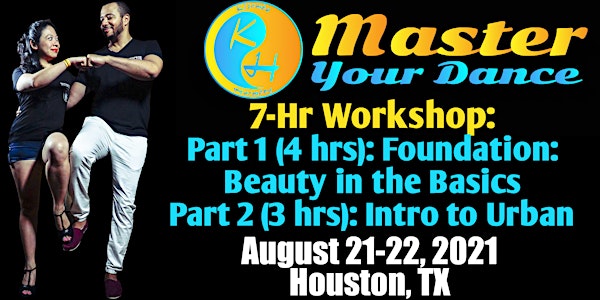 Kizomba Master Your Dance Workshop Foundation and Intro to Urban
Join us August 21-22 for a Kizomba Workshop! Foundational basics Saturday from 1-5pm and Intro to Urban Sunday 1-4pm!
When and where
Location
Sirrom Studio 9803 Stella Link Houston, TX 77025
About this event
Interested in learning to dance Kizomba? Interested in solidifying your foundation and taking your dance to the next level? Interested in learning more about the group of new styles such as Urban Kiz, Kizomba 2.0, Urban Kizomba, Kizomba Fusion, etc. that we collectively refer to as "Urban"? Looking to try something new with a fun group of people?  Then join us August 21-22 for a fun and educational 7-hour workshop experience!
This 7-hour workshop will be split into Saturday and Sunday Workshops. NOTE: For the health and safety of all, N95/KN95 MASKS ARE REQUIRED TO BE WORN AT ALL TIMES DURING CLASS, NO EXCEPTIONS.
Workshop descriptions are below! You can join us for both days, for the Saturday Foundation workshop only, or the Sunday workshop (with instructor permission ONLY as described below).
Saturday, August 21 (1-5pm)- Foundation: Beauty in the Basics (4 Hours)
In this 4-hour workshop, you will be given the tools to develop a strong Kizomba Foundation in a unique and fun way. Our pedagogy, called the Unified Theory of Kizomba™, is based on the idea that by learning a sequence of base movements and techniques, you can develop a strong Foundation and the ability to dance well to any music, and in any style you desire! No experience necessary, no partner required!
Sunday, August 22 (1-4pm)- Intro to Urban
In this 3-hour workshop, you will be introduced to ideas and techniques that are common to Urban Kiz, Kizomba 2.0, Urban Kizomba, Kizomba Fusion, etc., including but not limited to techniques and tools to allow you to express musicality in new and interesting ways!
INSTRUCTOR PERMISSION IS REQUIRED FOR THE INTRO TO URBAN CLASS. You must have completed a Master Your Dance Foundation workshop (such as the Saturday 8/21 workshop), be a weekly class student, or have taken privates with us to take this class. This is to ensure the class will be safe and challenging for everyone, as familiarity with the basics according our pedagogy is necessary.
Sound good? Then join us, it's gonna be fun!
We are also starting up weekly classes on Wednesdays starting August 4! For more info, check out https://kizombaharmony.com/classinfo!