About this Event
Welcome to an all-access pass to some of the world's biggest movers & shakers in education!
Learn about the global changes in education from Crimson CEO, Jamie Beaton! Discover what it takes to gain admission into the world's most revered universities, from former Admission Officers of Stanford, Carleton & Northwestern! Find out what it takes to become a doctor in NZ & AUS from a House Surgeon at North Shore Hospital, WDHB.
Come along on August 25th for all of this AND MORE!
This event is a must for any students, parents, teachers and career's counsellors.
We have speaker sessions from 10.30am - 4.00pm, but you don't have to stay the whole day! You are welcome to attend the sessions that interest you!
*本次活动期间有中文服务和咨询。

SPEAKERS
1. Jamie Beaton, Co-founder & CEO - Crimson Education
Gained admission to 25 of the top universities in the world including Ivy League universities and Cambridge
Graduated from Harvard with A.B and M.S in 3 years
Youngest ever admitted student to Stanford Business School (MBA, MA In Education)
Youngest ever winner of Stanford's Arjay Miller Award - Top 10% in graduating class
Youngest ever analyst at Tiger Management, one of the world's most elite hedge funds
Oxford University Rhodes Scholar PhD
2. Charlie Cogan, US Consultant - Carleton University
US Strategic Consultant with twenty-two years of experience in college admissions
Assistant Director of Admissions at Northwestern University for 5 years, before joining Carleton College to launch and run the International Admissions Program for a further 17 years.
Cogan holds an MA from Northwestern University and degrees from Carleton College in Minnesota, where he studied history and political science and four languages.
Alongside an extensive career in education, Cogan played intercollegiate basketball, tennis and club rugby, and dedicated 3 years of his life to serve in the Peace Corps in West Africa.
3. Martin Walsh, Former Admissions Officer - Stanford University
Martin Walsh held the position of Admission Officer at Santa Clara University for a number of years before moving on to Stanford.
At Stanford University Walsh was named Assistant Dean of Admission, charged with evaluating submissions from New England's famous boarding schools and, of course, applications from international students in South America, India and Europe.
Walsh holds a degree in History from Santa Clara University and graduate degrees in education and law from San Francisco State University and the University of California - Hastings College of the Law.
4. Todd Rigg Carriero - Crimson Rise Strategy Consultant
University of Michigan graduate, with a degree in Astronomy and Astrophysics.
Noted as having discovered two moons of Saturn (Siarnaq and Tarvos).
18 years of teaching experience, from pre-school to adults.
During his career, Carriero has created national-level standardised assessments, contributed to published textbooks, and has been a founding member of the third Montessori High School in New Zealand.
Carriero was also an Admissions Officer at a California State University and a New York Medical College
5. Dr How-Shin Tsao, MBChB , Chairman- MedView.
House Surgeon, North Shore Hospital, WDHB.
University of Auckland, Bachelor of Medicine & Bachelor of Surgery
National Outstanding Scholarship Award recipient.
A+ average in pre medicine admissions grades.
Research Papers sent for publication to Cambridge University Medical Journals.
Over 6 years experience, helping over 1500 students gain admissions into medical schools across Australia and New Zealand.
6. Tessa Berger , Director - Crimson Athletics
Attended Florida Gulf Coast University on a Division I full athletic scholarship.
Majors in business management and accounting with a concentration in entrepreneurship.
Earned a perfect 4.0 grade point average (A+) whilst also gaining prestigious Presidents List honours.
NZ representative in soccer
Competed in the U17, U20 and FIFA Women's World Cup and received the honour of being named ASB Bank Young Sportsperson of the Year in 2011.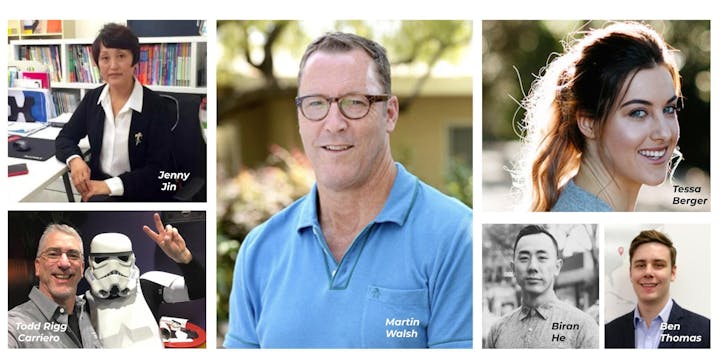 AGENDA
10:00 AM - Arrival
10:30 AM – The Future of Education: Jamie Beaton
Jamie outlines the current changes in education across the globe
What the education industry will look like in 10 years
How Crimson is paving the way in the EduTech space
11:00 AM – Live Auction: Lunch w/ Jamie Beaton & Sharndre Kushor
Bid on a two-course lunch for two people, joined by Jamie Beaton & Sharndre Kushor
Enjoy the beautiful scenery and food at the RNZYS Members Restaurant, and chat with the two young Kiwi's listed in Forbes Asia 30 Under 30!
Proceeds will be donated to the Sir Peter Blake Trust Charity
11:15 AM - Your Pathways to the World Stage
From Academic Admissions, to Athletic Scholarships, discover how Kiwi students are making a name for themselves on the world stage!
Hear from Ben Thomas, Tessa Berger, and Richard Gorrett, as they unlock the pathways to the US & UK, and reveal how Kiwi students are gaining admission to the world's top universities!
12:00 PM - Sailing Grinder Competition
Flex your muscles on an Emirates Team New Zealand foiling grinder
The winner will receive a RNZYS sailing pack
12:15 PM - Stanford, Carleton, Northwestern - University Admission Officers
Admission officers are the gatekeepers of every college. They read applications in a matter of minutes and determine the future of high-flying students from around the world!
Dialing in from the United States to share insights will be former admission officers, Martin Walsh and Charlie Cogan
Martin Walsh will use case studies to discuss what makes a student application stand out and what qualities US College Admission Officers look for
Charlie Cogan will discuss how students can develop a narrative throughout their extracurriculars, personal essays and references
1:15 PM - Becoming a Doctor: Dr. How-Shin Tsao, MBChB, House Surgeon
Understand the 3 major admissions parameters used in medical schools in New Zealand: Entrance exams (UCAT vs UMAT), Academic performance thresholds, Medical interviews.
Get a sneak peek at the Med School curriculum
A day in the life of a doctor
2:00 PM - Medical Demonstration
Learn how to perform life-saving medical sutures on injured fruit!
Volunteer to join our doctors on stage
2:15 PM - Starting Early - How to Rise to the Top
This session is designed for parents with children 14 yrs and under
Todd Rigg Carriero breaks down the importance of starting early and demonstrating proficiency beyond the classroom
How to build resilience, self-management and effective communication skills
3:00 PM - Musical Performance
A musical piece by Albany Music School
3:15 PM - Building a Solid Education Foundation
This session is designed for parents with children 14 yrs and under
How to create a strong academic base in primary and intermediate school
3:45 PM - Wrap-up
For an insight into the US & UK experience, visit Crimson Education's YouTube channel.
Crimson Education has a 94% success rate in supporting students to gain admission to 1 or more US Colleges and a 100% success rate in supporting students to gain admission to 1 or more UK Universities.
*本次活动有中文服务和咨询。

扫面下方二维码即可关注Crimson教育集团官方微信,获取更多中文信息.