Multiple Dates
Kiva Borrower Info Session: Crowdfunding Loans via DC Kiva Hub @ DSLBD
Access 0% interest, $0 fee loans for your DC Business using funds crowdsourced through DC Kiva Hub @ DSLBD
About this event
About Monthly Borrower Information Session
Are you a DC-based business or DC resident entrepreneur seeking to finance your operating business or a new business idea?
Join Department of Small and Local Business Development (DSLBD) 's Innovation & Equitable Development (Inno.ED) team to learn about Kiva Crowdfunding Loans available through DC Kiva Hub @ DSLBD!
Meeting LOGIN INFO will be emailed morning of the Info Session to all registrants.
Oct 18th Info Session - DC Green Business focus
Through DC Kiva Hub @ DSLBD, eligible business borrowers can access crowdfunding loans that offer:
0% interest for Kiva-managed loans between $1000 to $15,000
No fees, $0 costs to the business
Loan fund disbursement within 60 days for successful campaigns
Access to a worldwide community of investors seeking to help small businesses
Extensive guidance from DSLBD and Kiva Trustee partners on how to apply for loan, create successful online funding pitch, and repay loan if awarded
WE WELCOME applications from DC businesses and DC resident entrepreneurs of most circumstances including: early-stage; low/no revenue, low credit scores, prior bankruptcy and justice-exposed entrepreneurs.
Kiva loans via DC Kiva Hub @ DSLBD and the Money Monday workshop series are part of DSLBD's District Capitalized program that supports financing the creation, operation and growth of DC businesses, and the partners who help them. Kiva US is an international nonprofit that connects businesses to capital through community to help create a financially inclusive world.
Questions?
District Capitalized or accessing capital for your DC-based business > contact Camille Nixon at Inno.ED@dc.gov or 202-727-3900.
Need Translation?
Free language interpretation is available. (202) 727-3900
La interpretación gratuita a otros idiomas está disponible. (202) 727-3900
我们提供免费的翻译服务。(202)727-3900
Une interprétation linguistique gratuite est disponible. (202) 727-3900
무료통역 서비스를 제공합니다. (202) 727-3900
Ukalimani wa lugha bila malipo unapatikana. (202) 727-3900
Có thông dịch miễn phí. (202) 727-3900
لترجمة اللغوية متوفرة مجانا. (202) 727-3900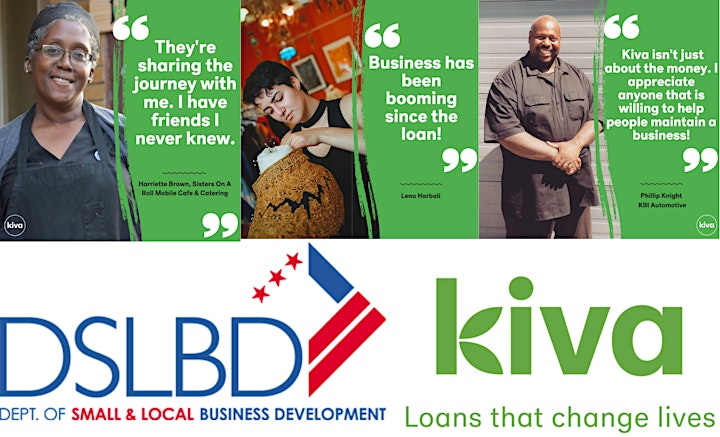 Organizer of Kiva Borrower Info Session: Crowdfunding Loans via DC Kiva Hub @ DSLBD