Kids in the Spotlight celebrates 10 years of helping foster youth heal through the power of filmmaking with a star-studded gala.
About this event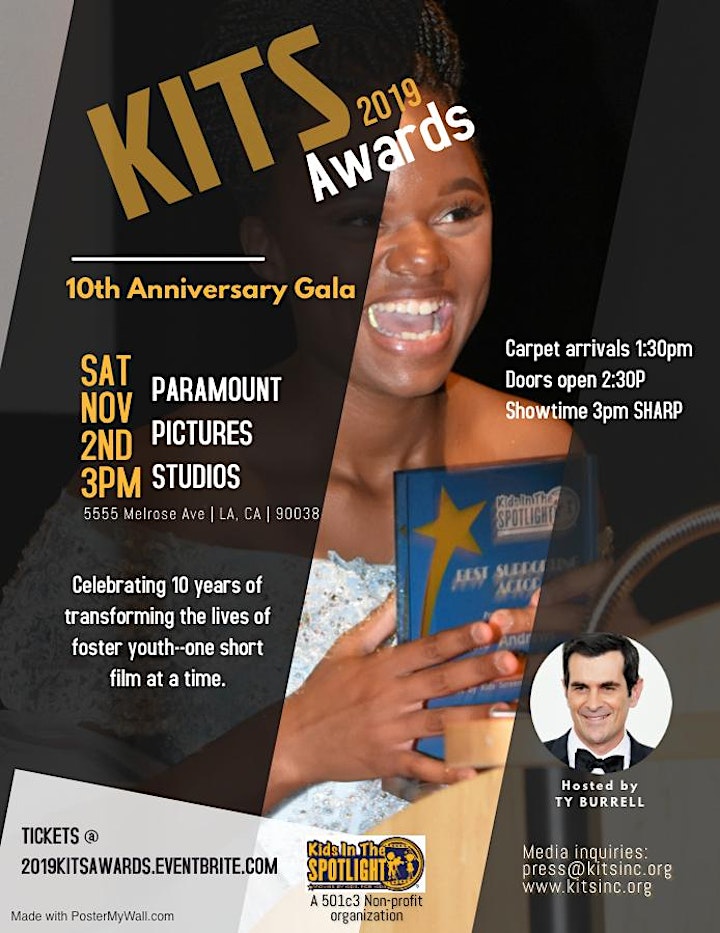 This year's Black-tie/Blue Carpet event will be held at the historic Paramount Pictures Studio lot on Saturday, November 2nd. Carpet arrival and silent auction at 1:30 pm. Theater doors open at 2:30pm Showtime is 3pm. Reception immediately following.
[ALL VIP TICKETS INCLUDE AN EXCLUSIVE GIFT BAG]
Award-winning actor, and longtime KITS Ambassador, Ty Burrell heads the line-up as some of Hollywood's brightest stars turn out to help Kids in the Spotlight (KITS) celebrate its 10th anniversary of changing the lives of foster youth by providing a space for the voices of the unheard and healing through the art of filmmaking.
In just ten years "KITS Kids" (ages 12-22) have written, cast, and acted in 80 short films. Each year their accomplishments are feted at a gala screening and awards presentation, the KITS Awards (formerly known as "Movies By Kids Screening & Awards).
To learn more about Kids in the Spotlight, visit: kitsinc.org