Kitchen Witches - A Comedy Play

Thursday, March 31, 2011 from 7:00 PM to 9:00 PM (PDT)
Event Details
Kitchen Witches - Comedy Play
by Caroline Smith, Directer  by Connie Morgan
ABOUT THE PLAY:
Isobel Lomax and Dolly Biddle are two "mature" cable-access cooking show hostesses who have hated each other for 30 years, ever since Larry Biddle dated one and married the other. When circumstances put them together on a TV show called The Kitchen Witches, the insults are flung harder than the food! Dolly's long-suffering TV-producer daughter Stephanie tries to keep them on track, but as long as Dolly's dressing room is one inch closer to the set than Isobel's, it's a losing battle, and the show becomes a smash hit as Dolly and Isobel top both Martha Stewart and Jerry Springer! It's food, fights, fireworks and forgiveness.
You are now in a TV studio, a member of the live audience.  YOU are part of the play.  Audience participation is welcome and encouraged.  When you see the "Applause" sign, please applaud!  You may be surprised and delighted at other ways you can participate.  
Enjoy the show
!

THE PLAYERS: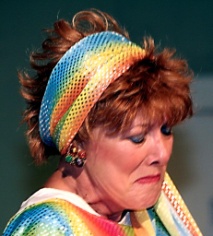 Irka Davis
- A long time thespian, Irka joined the GPT stage 14 years ago.  Actor in 13 productions and director of nine others, she is also a GPT board member.  "Playing Dolly Biddle and developing my character(s) in
The Kitchen Witches
has been the most rewarding so far."  She hopes not to disappoint you in this play.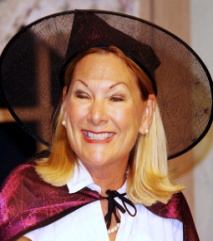 Kathleen Taormina – With no previous stage experience, she first appeared on our stage in our 2007 holiday program, Holiday Coast to Coast.  Since then, she has acted in Citizen Mendez and Exit the Body. "Being in a play is time consuming, but so much fun.  The laughs we share during rehearsals make it all worthwhile.  We hope to leave you laughing, too!"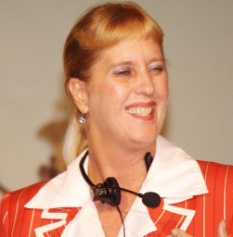 Sonya McDougal – Born Sacramento, the middle child of five kids, raised in Lake Tahoe, graduated from George Whittell High School (Class of 1973), some music theatre in college, raised three kids, retired in Baja on April 22, 2009.  Volunteer bartender for La Sociedad, married to the Commodore of the Punta Banda Yacht Club, backstage manager for Headlines and loving life in Baja.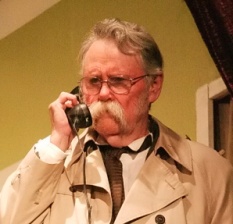 Allen Van House– got his experience at the US Army Playhouse (Frankfurt) in Beckett and Waiting for Godot. At the GPT he performed in Headlines and most recently in Craig's Wife.
REVIEWS: 

"Canadian playwright Caroline Smith has whipped up a hilarious tale."-Simcoe Times-Reformer
"Take a handful of animated actors, add a lively and responsive audience, let the plot thicken and you get a savory show that's sure to please even the fussiest palate."-The Orangeville Banner  
LOCATION:
San Felipe BC Mexico, El Dorado Pavilion
Thursday - March 31st
Dinner (not included): 5PM
Cocktail Hour (no host bar): 6PM
Showtime: 7PM
Cost:  $15.00 pre-sale - BUY YOUR TICKETS NOW!
$15.00 for Baja Good Life Club & $20.00 Non-mamebers at door.
US toll free 800-LUV MEX1 Ex. 4 or MX Cell 686-230-9933.
When & Where
Kilometer 176
San Felipe, 21850
Mexico

Thursday, March 31, 2011 from 7:00 PM to 9:00 PM (PDT)
Add to my calendar
Organizer
Baja Good Life Club
The events and tours produced by the BGLC are designed to provide a great time in a unique, exciting and informative way. The BGL Cclub strives to design the best entertainment, music and tours possible at a discounted rate. Non-members are welcome to participate in any tour or event at non-member rates and must be invited by a current Member of the Good Life Club. The BGL Club offers discounts to the members on insurance, tours, travel, dining, lodging, medical services and more. www.bajagoodlifeclub.com
BGL Club was established in 2007.
San Diego, CA: 619-550-2730
San Felipe, Baja: 686-230-9933
memberservices@bglclub.com