Learn what seasonal dishes and wines will wow hearts and warm tummies throughout the holidays and new year!
About this event
Join us Wednesday, Dec. 1, 2021 @ 7 pm on Zoom when three Richmond, Va.-based experts in food, wine and culture indulge us with some holiday cooking and 'spirits' trends. Helping to whet our palates will be Benita Johnson, a private wine sommelier and founder of the Vine Wine Club; Chef Emmanuel "Manny" Baiden, owner of Manny Eats snd Catering; and Latika Lee, publicist and founder of The Lotus Literary Lounge. Visit Eventbrite for more details.
ZOOM LINK TO JOIN EVENT: https://us02web.zoom.us/meeting/register/tZAtf-6pqjsjHdDyt23drlLWv7RNcNY-pz-U
Special guests: Chef Manny of Manny Eats
Benita Johnson of the Vine Wine Club
Latika Johnson Lee , founder, The Lotus Literary Lounge
Thank you to MLH Assets Management, LP for your sponsorship!!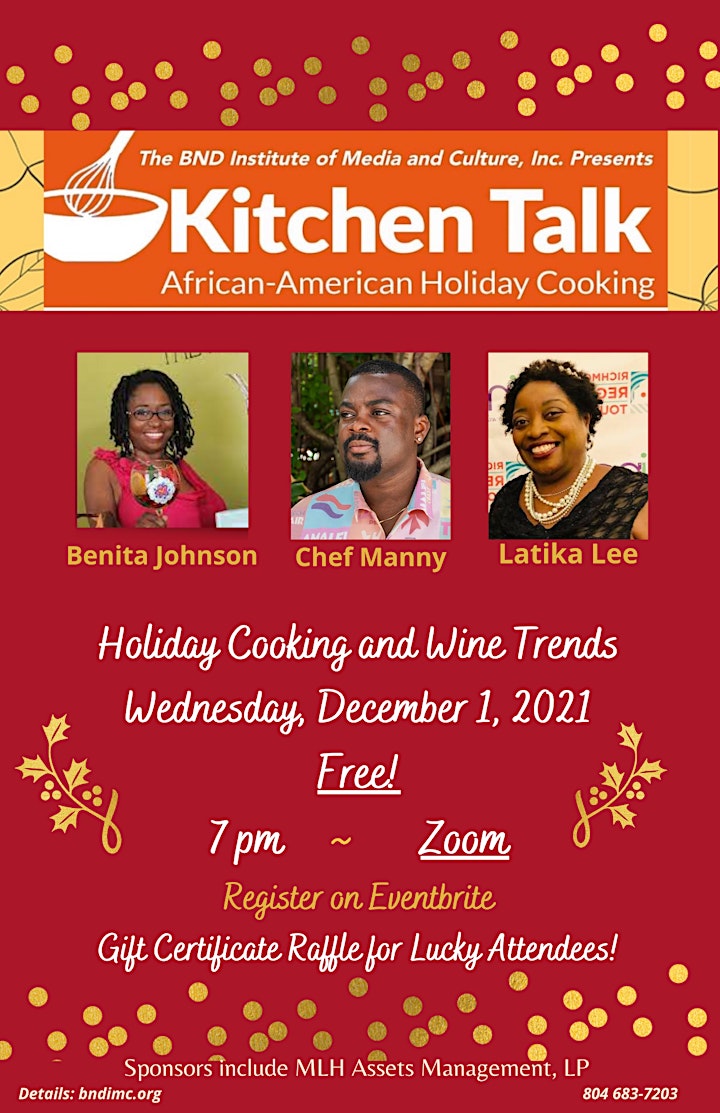 Organizer of Kitchen Talk: Holiday Cooking and Wine Trends
The BND Institute of Media and Culture was founded in 2016 by Bonnie Newman Davis, a journalist, journalism educator and media consultant. The Institute provides programs, services and training dedicated to educating and engaging diverse audiences about contemporary news media and its impact on African-American life and culture. The BND Institute of Media and Culture is a 501 (c) (3) charitable and nonprofit organization.