Description
Join us for "Perfectly Pears" culinary event at the Kitchen Gardens with Chef Mary Platis
We are beginning our Fall season with the incredible California Pear. Come by and celebrate the day with a menu of local fish from our coast, a light refreshing salad, ending wtih a crispy warm pear dessert.
October 12,2016
Time: 11:00-1:00
Cost: $45.00
Todays' Menu:
Local Mahi Mahi with Pears and Endive
Baked Warm Goat Cheese Pear Salad
Crispy Phyllo Pear Strudel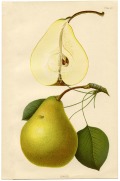 Don't miss our Artisans
Visit with our local artisan and take home a Fall inspited craft.
Our floral designer will help you create a garden pearscape.
Dress comfortably while spending your lunch hour relaxing among the beautiful shaded trees of our "Porch" setting.
Get Creative, Cooking and Crafty!
Chef Mary